/ Source: TODAY contributor
About a year ago at this time, brides-to-be on both sides of the Atlantic nervously fussed with their wedding favors and fidgeted with their RSVP cards with similar worries on their minds: Would their long-planned April 29 weddings be eclipsed by the blinding spotlight shining on Westminster Abbey in London?
Many who couldn't alter their own April 29 wedding plans genuinely wondered whether their big day would be upstaged and overshadowed — but not Katie Steiner. She and her fiancé Chris Dunlop decided to embrace Prince William and Kate Middleton's nuptials in a way their wedding guests will never forget: When the moment arrived for the Dunlops to make their grand entrance at their reception, they did so wearing crowns.
"We came out waving like they do — you know, really proper?" said Katie Dunlop, 31. "That was our tribute. It was a hit."
As an added touch, Katie and Chris handed out crowns to everybody who wanted to boogie on the dance floor.
"Everyone really liked the crowns," Katie recalled, noting that the regal coincidence made their entire wedding day "more festive and fun." Even the priest who married them in a beautiful Catholic church tapped into the excitement over William and Kate's wedding.
"During the homily, he said he had told his friends he was going to the royal wedding, and his friends were like, 'What?! You got invited?!'" Katie said. "But of course, he was talking about our wedding."
As the royal couple celebrates their second anniversary, take a look at some of the memorable public moments of the last two years. The prince and his bride tied the knot before a worldwide audience on April 29, 2011.
TODAY.com profiled Katie and Chris a year ago as their April 29 wedding date approached. Unlike some other couples in our story, the Chicago couple were excited about sharing their day with the royal couple. Katie pointed out that her first name was similar to Kate's, and Chris noted that he looks a lot like Prince William.
"He thinks he does," Katie joked last year at this time. "I'm like, 'No, you don't!' But he does look like him a little."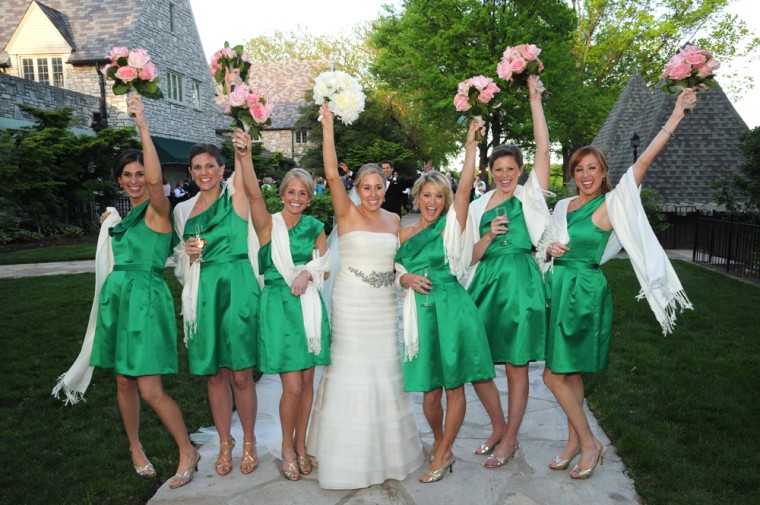 While it may not have been quite as lavish as William and Kate's, the Dunlops' wedding in St. Louis was pretty fancy. It included a reception at a country club, a cocktail hour, a multi-course sit-down dinner, a stunning cake, a live band, seven bridesmaids, seven groomsmen, two flower girls and two ring bearers. The couple invited 200 guests, and Katie wore a Vera Wang gown. After the wedding, Katie and Chris enjoyed an island honeymoon — not in the Seychelles like William and Kate, but on St. Lucia and Nevis in the Caribbean Sea.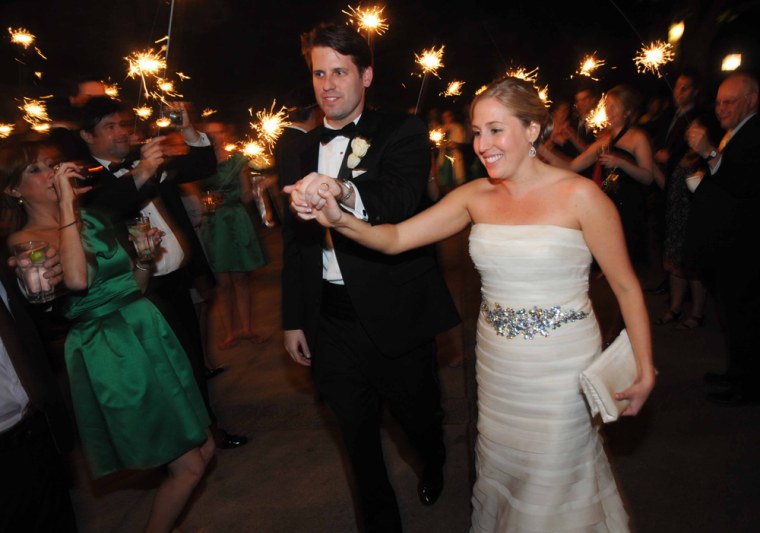 In the months following their wedding, Katie and Chris didn't get a puppy the way Kate and William did, but they did have to deal with pregnancy rumors in royal-couple fashion. Before long, the truth couldn't be concealed: They're due to have a baby girl on June 15.
In the meantime, Katie is working as a leasing representative for three malls in the Chicago area, and Chris, 30, is an account executive for a local television station. They're as happy as they ever were that their wedding date featured a brush with royalty.
"We'll always remember our wedding anniversary," Katie said. "It's fun. It's just a nice association to have."
Need a Coffey break? Friend TODAYshow.com writer Laura T. Coffey on , follow her on   or read more of her stories at LauraTCoffey.com.