61 years ago, Donald and Dorothy Lutz's wedding photographer stood them up, leaving the lovebirds with only a single picture to remember their big day. But six decades later, they got a very special belated wedding gift — a beautiful anniversary photo shoot, inspired by the Disney movie "Up."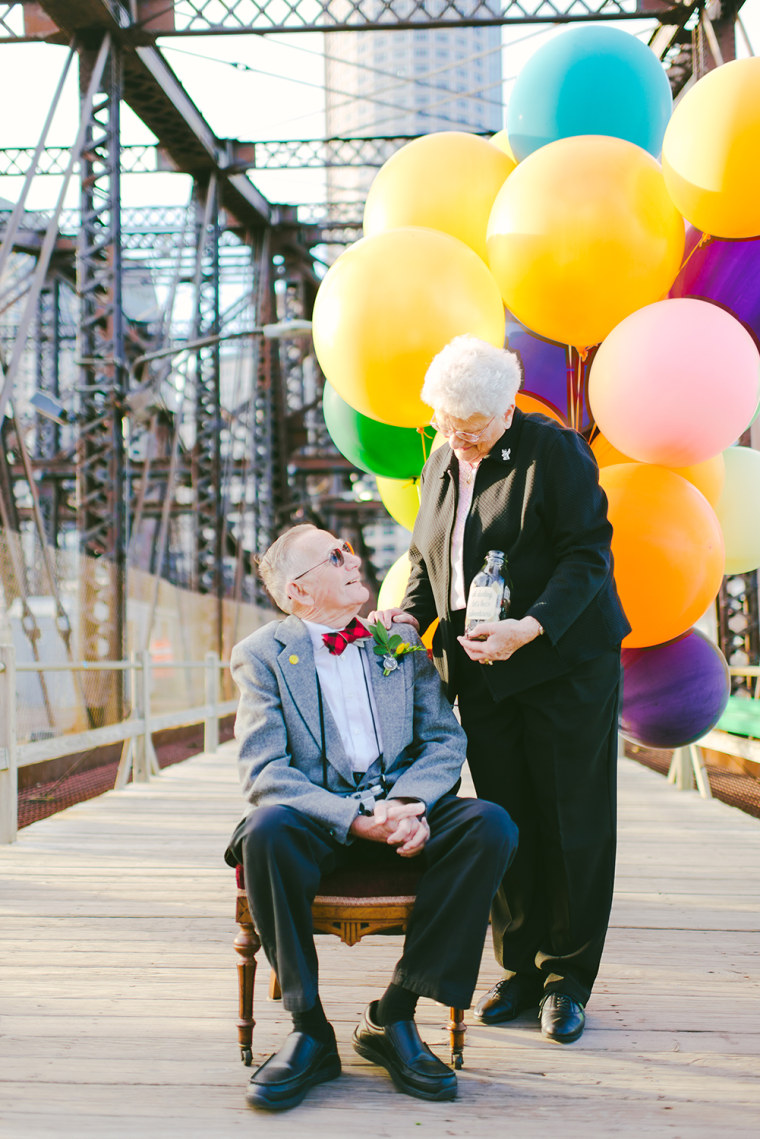 The idea began when stylist Lauren Wells — who is married to the Lutzes' grandson Matt — and her photographer partner Cambria Grace found themselves with a bunch of colorful balloons left over from a photo shoot. After a conversation with her husband, Lauren got the idea for the "Up"-inspired shoot and decided the photos would be a gift for her grandparents-in-law.
"It was actually a little bit of luck and coincidence," Wells told TODAY.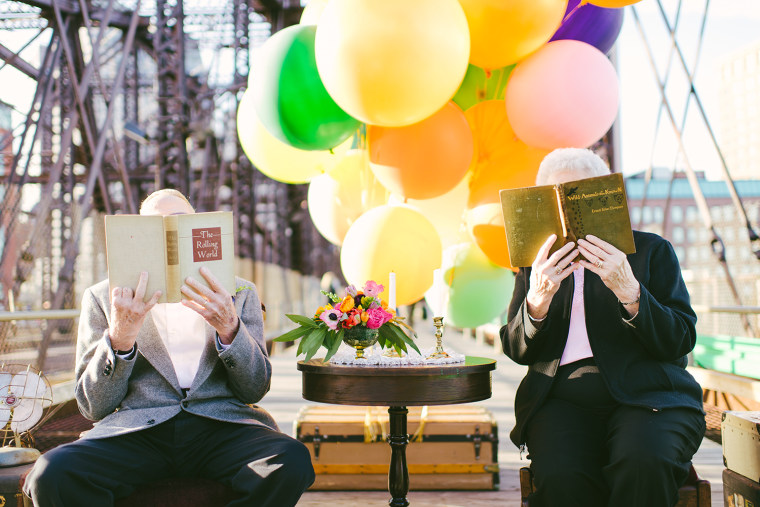 The shoot took place on Boston's Old Northern Avenue Bridge, chosen for its "industrial" look, and was a true family affair, with Matt's sister Abby assisting — and keeping pedestrians from crossing the bridge and walking through the shots.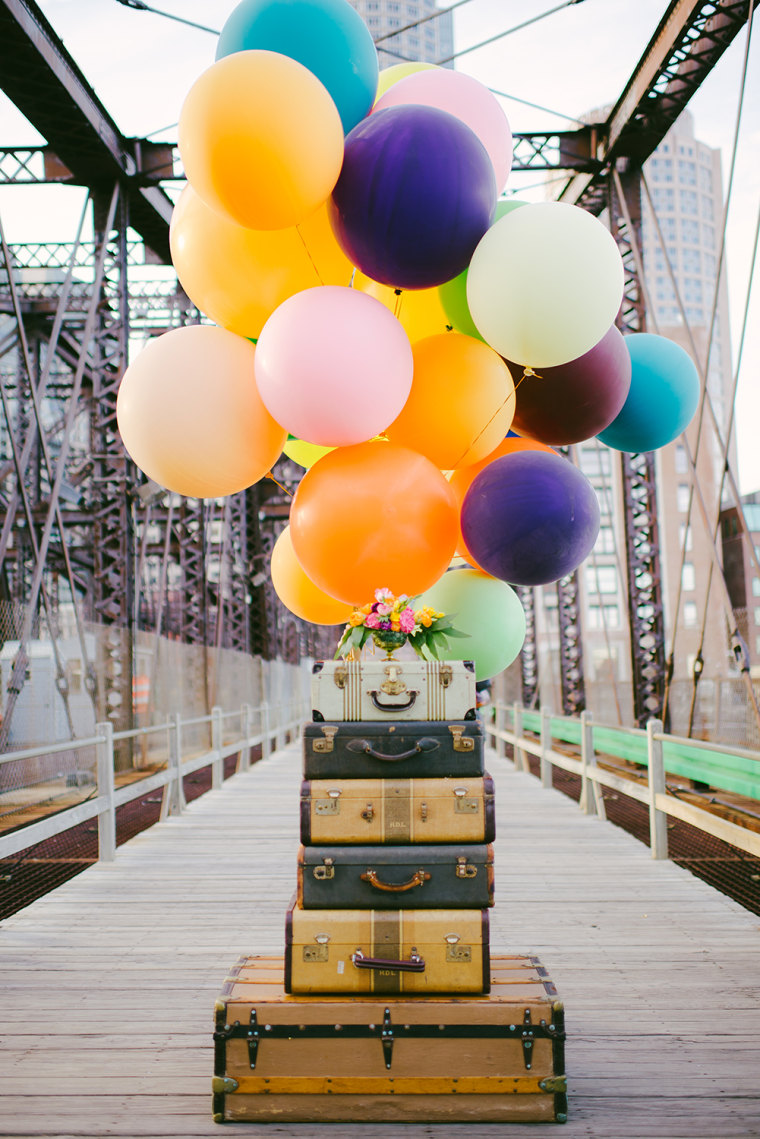 While "Nina and Grandpa" didn't know how a photoshoot worked, Wells says they were more than game to participate, which didn't even take much work in the costume department: "He is always wearing a bowtie, so he didn't even have to dress the part!"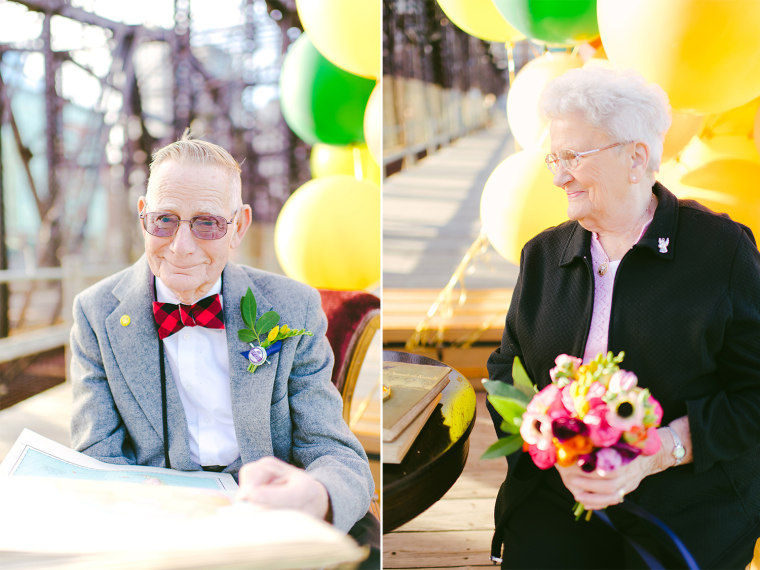 There was just one problem: Neither grandparent had actually seen the movie. A relative screened the opening sequence for them so they could see the inspiration for the balloons, but passed on showing them any of the sadder scenes.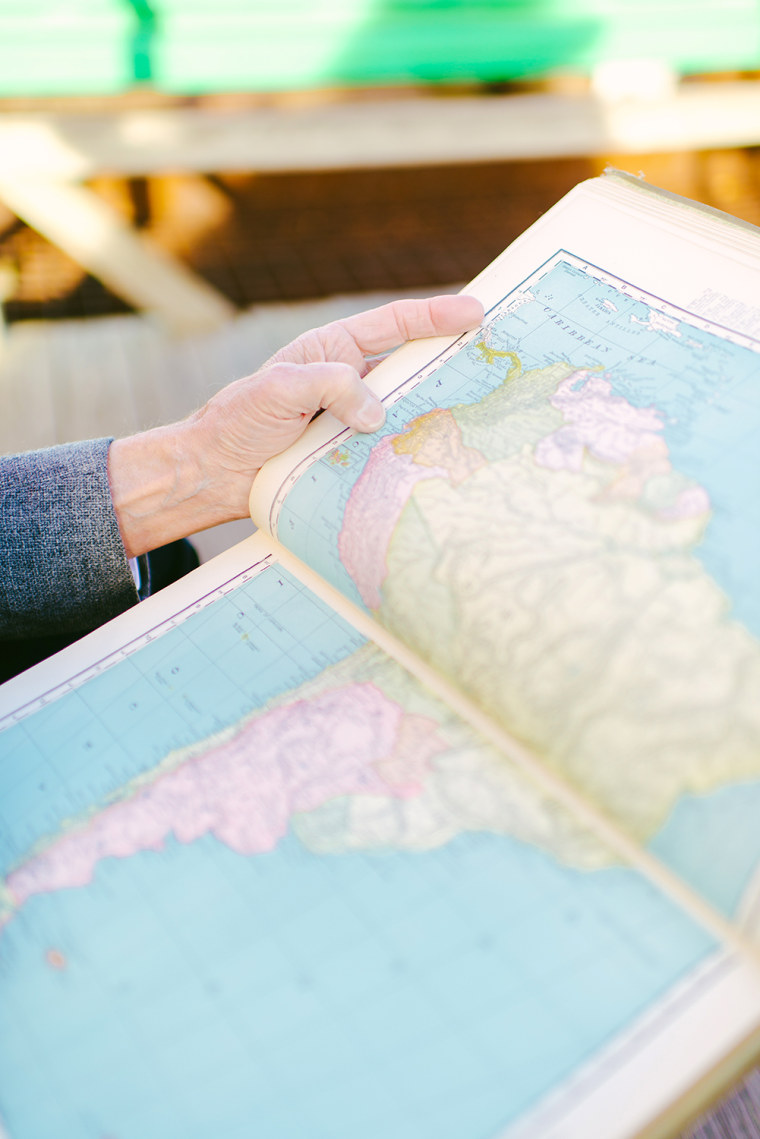 "They were adorable and super into it," Grace says of the Lutzes. "I asked how they met and he said that he was going off to war and he told her that if she wrote to him, he would write back. They became pen pals, then friends, and fell in love and have been together ever since."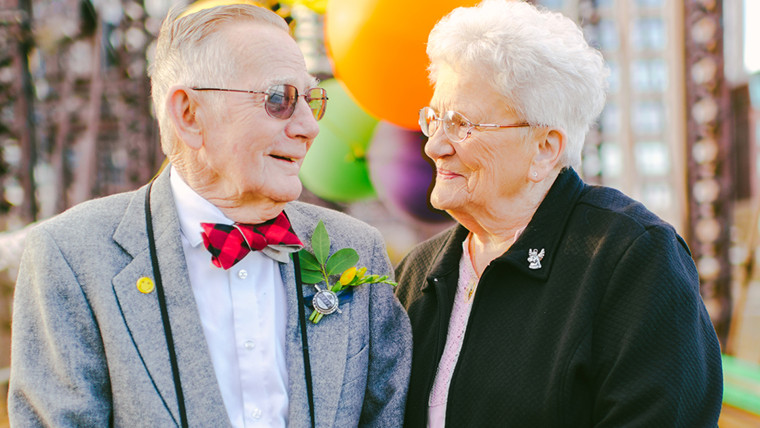 Once the photos were finished, Wells posted them on the wedding website Style Me Pretty, where they started to go viral within hours as people shared the images far and wide on social media. Admirers wrote to Wells and Grace from as far away as China, Spain, and Australia — some even asking if they could arrange custom photo shoots for their own parents or grandparents.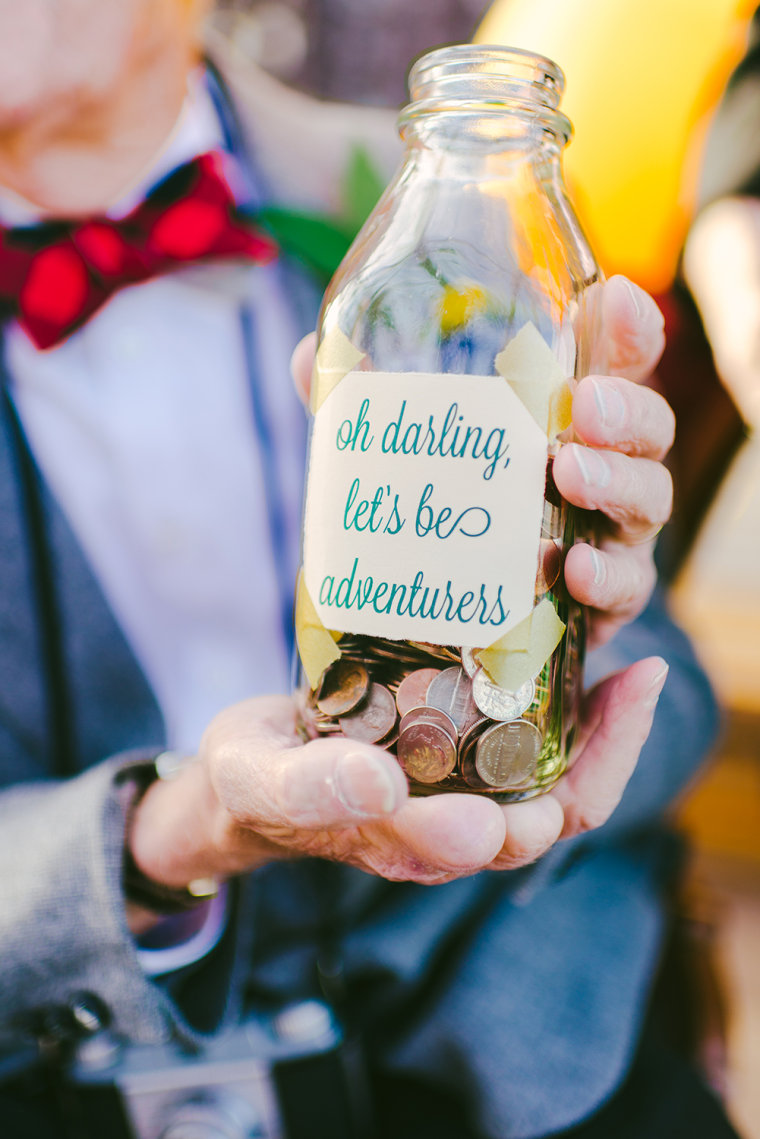 For the two friends and collaborators, the real treat was how many positive reactions the photos got. "The outpouring of well wishes have been so nice and heartwarming," Wells says. "I read 100-something comments from all over the world and started crying. It doesn't matter where you live, everyone loves love."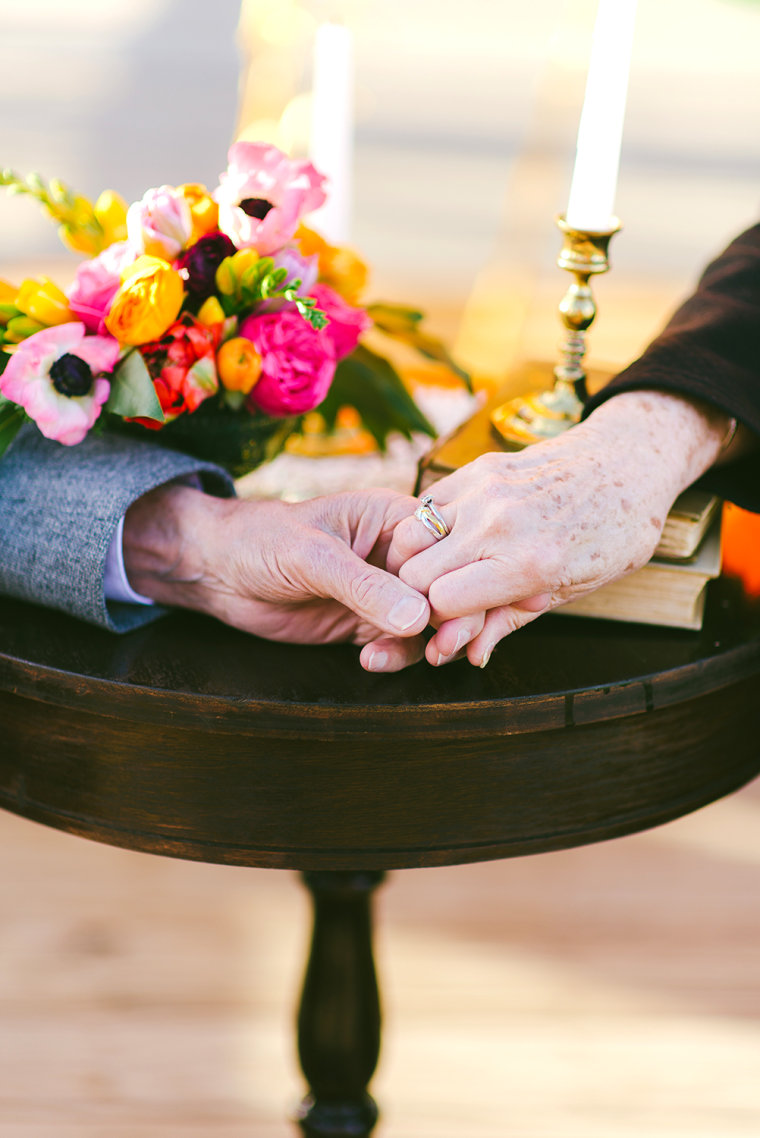 And the best reaction, of course, came from Grandpa and Nina themselves. A relative read the Style Me Pretty comments aloud to the couple, but they had to ask someone to print the pages out so they could send copies to friends who didn't have computers. Inspired by that, Wells and her husband put the photos together into a beautifully bound scrapbook and presented it to the Lutzes on Christmas morning.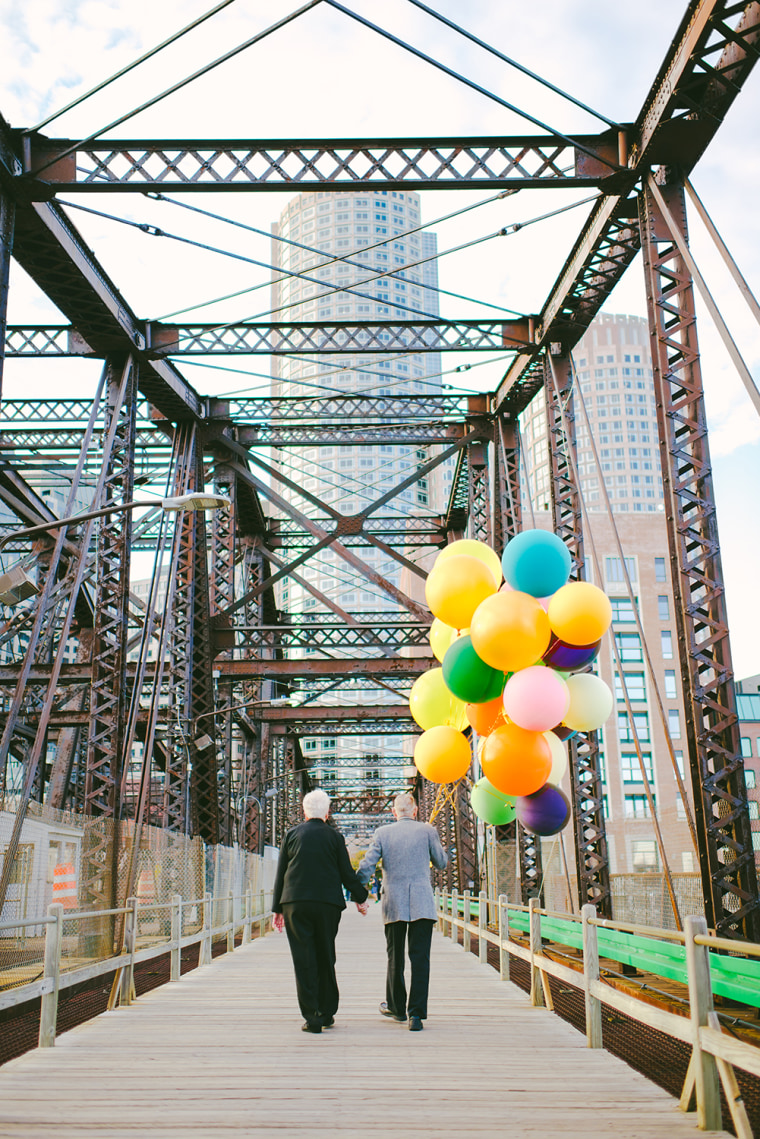 Although it's back to business as usual for Grace and Wells, who primarily do editorial photo shoots for brands and events, they know they might not ever get an assignment as special and meaningful as the one they did with the Lutzes.
"Nothing will ever be as good as this shoot," says Grace. "Nothing can beat this."