When Massachusetts woman Robin Sutherland received a bouquet of flowers Wednesday night in sympathy for her mother being put into hospice care, she had no idea who could have sent them.
The only people close to Sutherland who knew about her 90-year-old mother's worsening health were her husband and a friend who had been with her most of the day on Wednesday. Then her husband read the card attached, which was signed by the "officer who pulled you over this morning."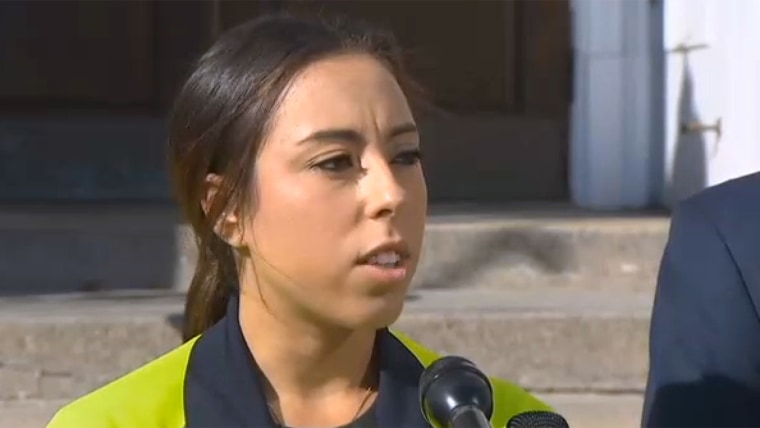 "When he read me the note, I was in shock, not understanding how a police officer after interacting with me for two minutes would go out of their way on their own money and their own time to be so nice,'' Sutherland told TODAY.com.
RELATED: 5-year-old girl buys ice cream for mourning state troopers to 'make them smile'
Officer Ashley Catatao, a five-year veteran of the Somerville Police Department, had pulled Sutherland over for doing 40 miles per hour in a 30-mile-per hour zone that morning. Catatao asked Sutherland, who lives in nearby Winchester, when the last time she had a speeding ticket, and she said 1985. When Catatao went back to her police cruiser to check if that was true (it was actually 1988), Sutherland broke down crying as the emotion of her mother's condition and the loss of multiple family members of the last year hit her.
Sutherland's 107-year-old mother-in-law, her father and a favorite aunt have all died within the past year.
"The enormity of all the losses in the family just hit me,'' Sutherland said. "I'm now the older generation, and it gets you. You just don't expect that, but that was the first quiet moment I had to think about it. I just let the emotion come over me and tears were running down my face."
RELATED: Police officer shares meal with homeless man: 'Nobody wants to eat alone'
Catatao returned to simply issue Sutherland a warning when she saw her crying.
"Even though she's 90, you're never ready to lose a parent,'' Catatao told TODAY.com. "When she told me the story, it hit me emotionally. I had to keep it together because I was working."
Later that night, an expensive bouquet of flowers in a purple vase arrived with a note from Catatao that read, "I'm very sorry to hear about your mother. I hope you find comfort in knowing she lived a long life and will continue to live on in your heart and in your memories."
RELATED: Scholarship offers follow for D.C. teen who danced 'Nae Nae' with local cop
Catatao is a single mom of a 14-month-old son and is very close with her sister and mother, the latter of whom she recently moved back in with.
"It hit me that one day it could be me saying goodbye to my mother, or my son saying goodbye to me,'' Catatao said. "I couldn't imagine the pain she was feeling. I just felt like I wanted to do something to make her smile and tell her that this stranger does care about you."
"It was a really thoughtful thing and just took me by surprise,'' Sutherland said. "Despite fact that waves of sadness come over me, seeing the bouquet on Wednesday and then bringing it to my mom yesterday morning, it was just really helpful. You talk about emotional intelligence, Ashley really does have it."
RELATED: Police officer dishes out ice cream — not tickets — to people he pulls over
In 2012, Catatao received a Life Safety Award when she ran into a burning building to help firefighters rescue people. Her gesture to Sutherland has prompted officers from other departments to reach out to her.
"They're appreciative that it brings positive attention to us,'' she said. "This isn't something that's rare. It happens all the time. You just don't hear about it."
Follow TODAY.com writer Scott Stump on Twitter.