When Dallas police Senior Cpl. Damon Cole heard the story of one 7-year-old boy named Bryce Schottel battling cancer, Cole knew that cheering Bryce up was a job for Superman.
Cole is a member of Heroes, Cops and Kids, a group of Dallas-area officers who spend their own time and money dressing up in superhero costumes to cheer up children at various events.
Although Bryce, who was diagnosed with lymphoma on Feb. 28, lives in Smithton, Illinois, that didn't stop Cole from making the 11-hour drive from Texas.
"When I saw Bryce's story and saw that he is a big Superman fan it broke my heart,'' Cole told TODAY.com. "I immediately thought of my own 7-year-old daughter and how hard it would be to go through something like that."
Cole said that he reached out to a local officer, Kurt Schmulbach, who originally brought the story to Cole's attention and was also an old friend of Bryce's father. Schmulbach connected Cole with Bryce's parents, Brian Schottel and Regina Carlton, to see if he could pay Bryce a visit, no matter how far away it was.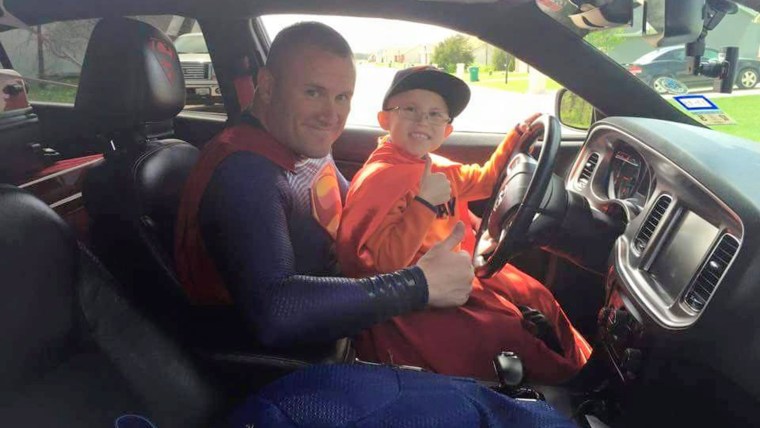 Cole packed up his Superman and Iron Man costumes into his Dodge Charger, which is customized with the Superman logo, and decided to make a special trip on April 15.
"If I can make that little kid's day, I don't care if I have to drive to New York or Maine or Seattle,'' Cole said. "Why not do it? I'm not rich, I'm not famous, but kids light up when they see me in the car and the costume."
The boy and his family were blown away as Cole surprised Bryce by showing up in his Superman costume, letting him check out his Superman ride, and giving him a key chain and a spare cape that Bryce wore during the entire visit. The two played video games and Hot Wheels together, and at one point Cole helped comfort Bryce after he got sick because of his treatments.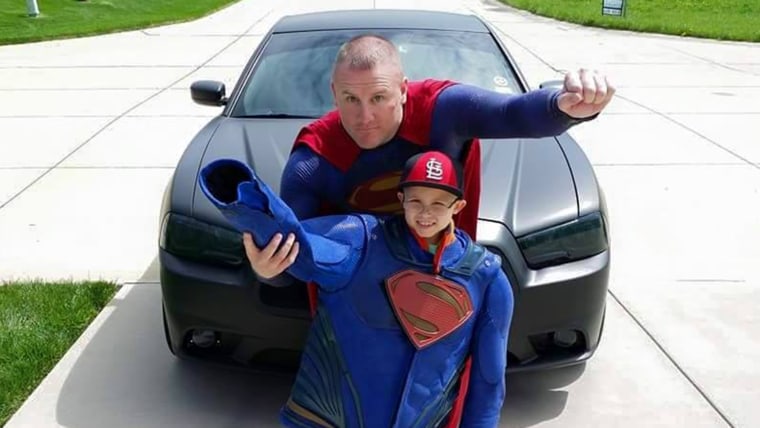 "Anybody can go to Party City buy a costume and wear it for a kid, but it's how you interact with them that makes the difference,'' Cole said. "When you start talking to them about other stuff, it helps them forget what's going on with them."
Cole also threw on his Iron Man suit for Bryce and even visited Bryce's elementary school, which Bryce has not been able to attend since his diagnosis (but he still talks to his classmates via FaceTime). Cole also left Bryce with a special gift: the Superman logo he had sewn on the front of the bulletproof vest he wears on duty.
"I told him that Superman logo has protected me fighting crime and bad guys for the last eight years of my career, and now it's going to protect you,'' Cole said.
Cole said that he still keeps in regular contact with Bryce and his family, and plans on making a visit to the hospital where Bryce is being treated at the end of the month.
The end of Cole's long trip also showed him the generosity of others as he encountered some trouble on the way home. While driving through the night, a truck in front of him ran over a shredded tire on the road. The tire went flying into Cole's Superman car, destroying the front and back bumpers on the customized car.
"After it happened, I actually had a few officers who heard about it contact me saying they wanted to put money in an account to help me get it fixed,'' Cole said. "I told them that's why I have insurance for. I'm healthy, and my family's healthy, and that's all that matters, so send that money to Bryce and his family instead."