Captain Joseph Barca has been a member of the Yonkers Police Department for 44 years and can still remember an emergency call he fielded more than 20 years ago like it was yesterday. 

The New York police officer was the first on the scene on Dec. 28, 1993, after receiving a call that an infant was not breathing only blocks from where he was patrolling. The baby girl's father was holding her in his arms when Barca showed up and performed artificial respiration. He could tell the air was not reaching her lungs, so he flipped the 2-month-old girl over and performed an obstructed airway technique in which he sharply hit the girl's back until a wad of mucous came out, and she started breathing again. The girl was rushed to the hospital and survived the harrowing ordeal. 
That day turned out to be the beginning of a longtime bond. That little girl, Shammarah Hamideh, is now a grown woman who will be getting married on Aug. 17. Barca and his wife, Helen, will be flying out to Chicago to attend the wedding after having remained in touch with the Hamideh family all these years. Shammarah, a nursing school graduate, will marry Mohammed Salah, a truck driver, and plans to move to Chicago.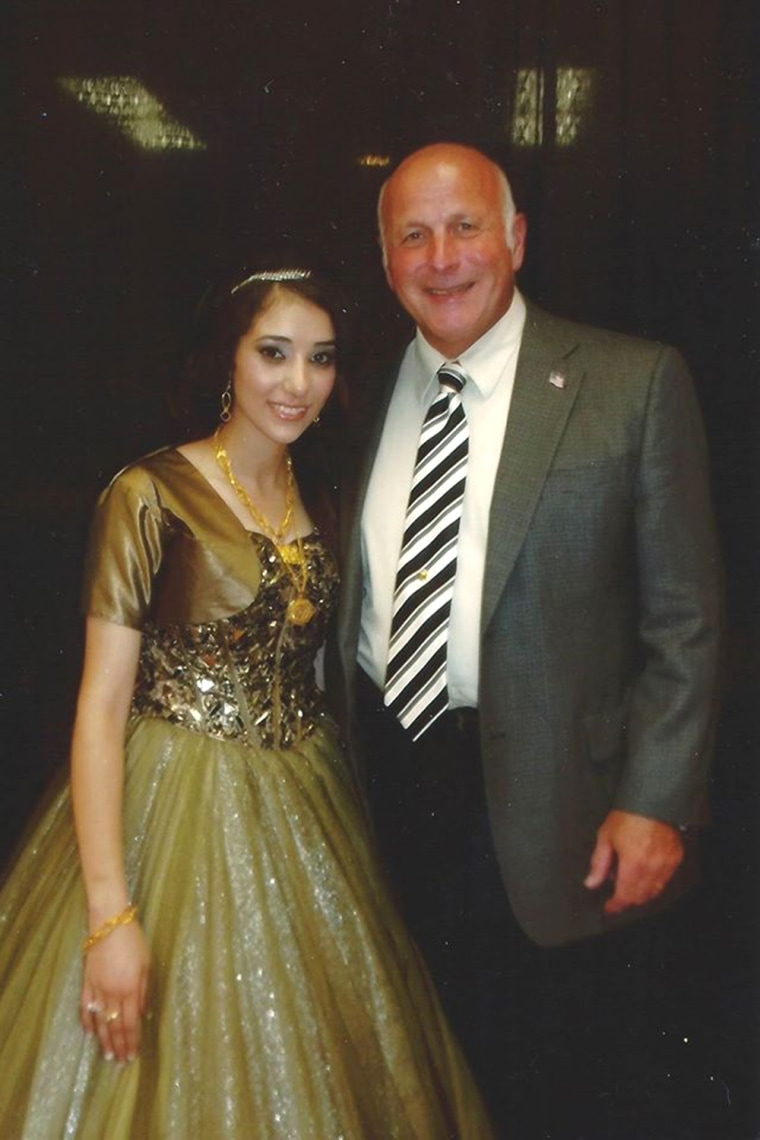 "It's almost like a fairytale,'' Barca told TODAY.com. "When they called me up last year to tell me about the wedding, I said, 'Just give me the date, and it will be no problem getting out there.' It's just a wonderful feeling that you can't put into words." 
After Barca saved Hamideh's life, the two families became close, with Barca being invited to dinner at the Palestinian-American family's home a few months after the incident and regularly staying in touch. The Hamideh family moved to Buffalo in the early 2000s, but Barca would still regularly send Hamideh  birthday cards and check in with a phone call every now and then. 
"After it happened, her father told me, 'We gave her life the first time, and you gave her life the second time,' and that's the way they've treated me ever since,'' Barca said. "They have said, 'You're her American father." 
"He's so sweet," Hamideh told the Westchester Journal. "He's very considerate — every year on my birthday, he sends me a birthday card and check. They treat me like I'm their daughter."
Barca, who was a sergeant at the time of the call in 1993, had many like those over the years that ended tragically, so Hamideh's is one that always sticks in his mind. He received a commendation for his work that day, and the Yonkers Police Department recently unearthed the article on its Facebook page. 
"It's a fresh as if it was yesterday, to have a save like that,'' he said. "Even though it's been 20-something years, certain jobs you don't forget about. I worked in the emergency service unit for 30-plus years, and this was one where we actually could make a difference and save her."
Follow TODAY.com writer Scott Stump on Twitter and Google+.