In the midst of cancer treatment, a young girl in Missouri got a big surprise when iron workers wrote her a "get well" message on a construction beam.
Ginger Keith, whose 2-year-old daughter Vivian is being treated for leukemia at St. Louis Children's Hospital, told TODAY.com the spray-painted well wishes appeared one day in late July.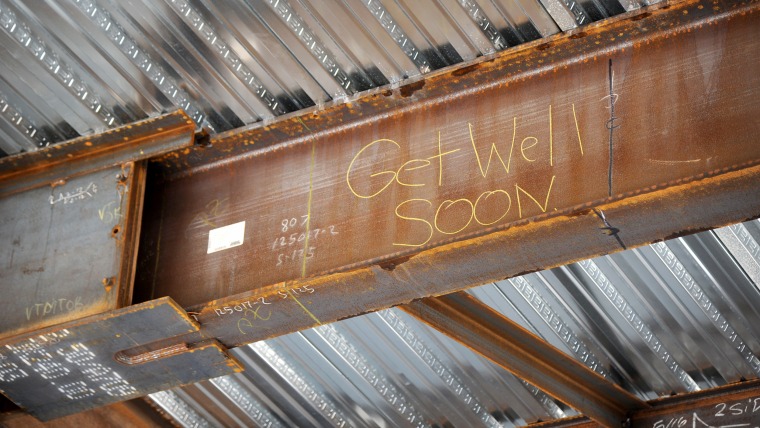 "We've always watched the construction, from day one since we've been there," she said. "Vivian likes to hang out in the window and play with her figurines. She likes to wave and we watch the crane. And sometimes we get a wave back."
The construction is part of an expansion project in partnership with Barnes-Jewish Hospital.
During a recent trip to the hospital, where Vivian is undergoing chemotherapy, Keith, who lives in Arnold, Missouri, said she noticed two of the workers trying to get her and her daughter's attention.
RELATED: Taylor Swift donates $50,000 to an 11-year-old cancer patient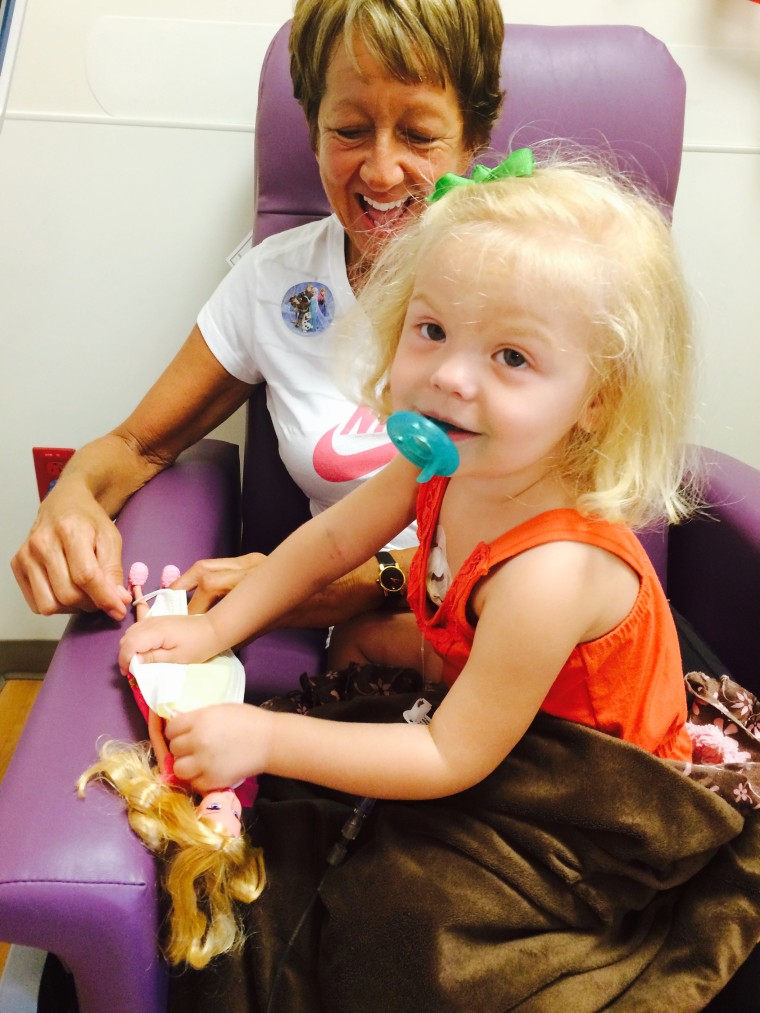 "They were waving like crazy at us and pointing at the beam and it had 'get well soon' written on it," she said.
"It was so sweet," Keith added. "It's hard for [Vivian] to grasp the extent of it, but we know. And I know she's not the only one they were waving at — a lot of kids play in the window. It just means so much. That they're taking the time, that they're doing this for the kids."
Greg Combs of the construction crew told TODAY.com that he and co-worker Travis Barnes just wanted to cheer the young girl up.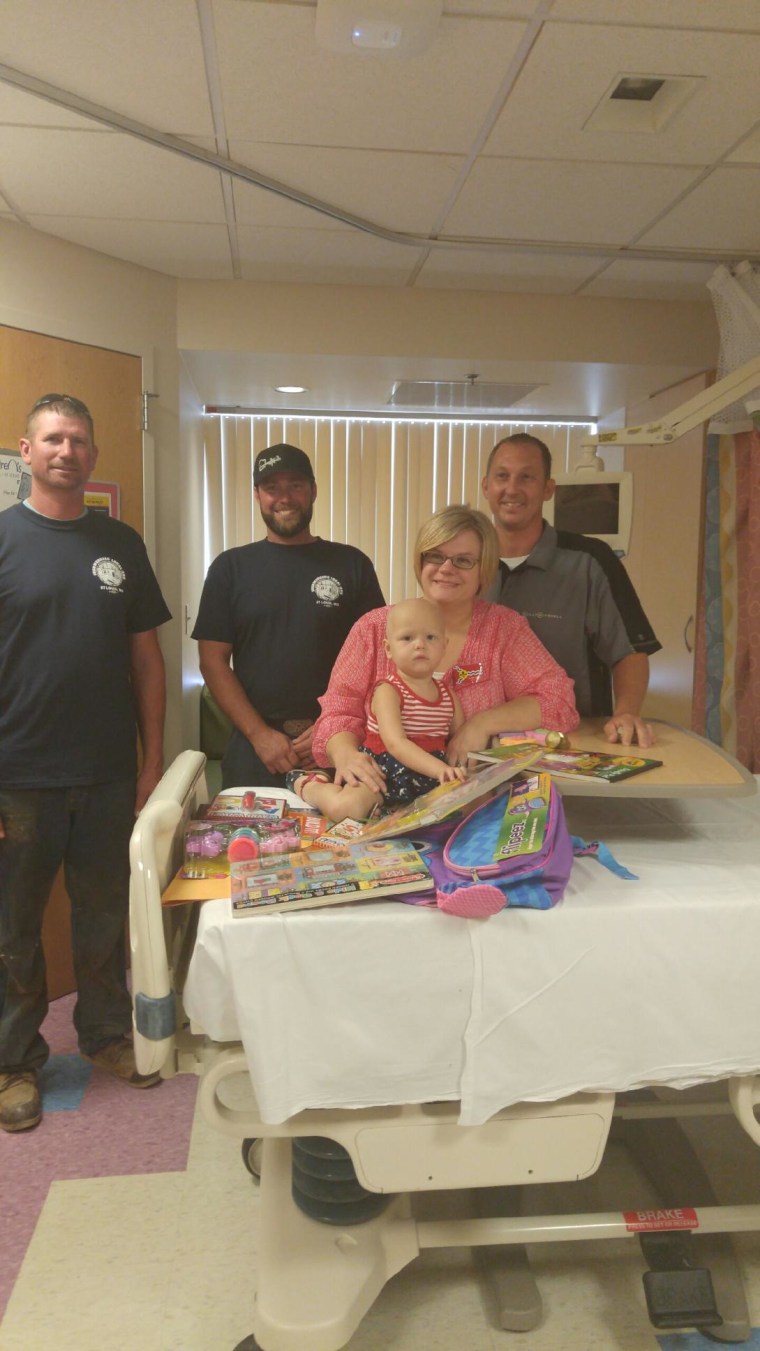 "We're the two guys up on the building that the crane brings beams to, so we're pretty close to her window," he said. "She was waving at us and we were waving back and forth, and this went on for a day or two. One day, I just radioed down to one of the guys on the ground and said, 'Hey, write 'get well soon' on this next beam.'"
Combs and Barnes recently met with the Keith family.
"It was awesome," Combs said. "Just to see how something so little made her and her mom and dad so happy. That's when it hits you."
RELATED: Hotel chain offers 'keys of hope' to cancer patients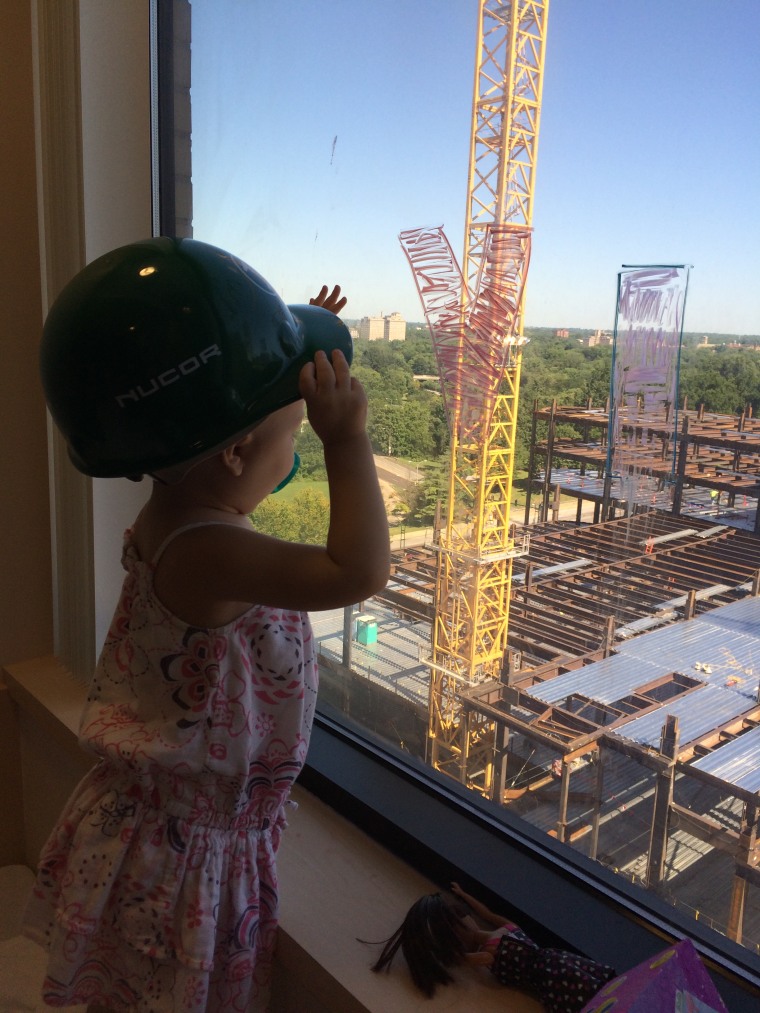 Vivian was diagnosed in February with acute lymphoblastic leukemia, the most common form of childhood leukemia, which affects the cells that normally fight infection, according to the hospital.
It's not the first time construction workers have left messages for hospital patients: The same thing happened earlier this summer at Stony Brook Children's Hospital in New York.