Republican Rep. Sean Duffy, a Wisconsin congressman who was on the cast of MTV's "The Real World" before he went into politics, opened up on Tuesday about his decision to resign due to health issues involving his ninth child.
Duffy, 47, and his pregnant wife, Fox Nation host Rachel Campos-Duffy, 47, said on "Fox & Friends" Tuesday that their daughter, who is due in October, has "a couple holes in her heart."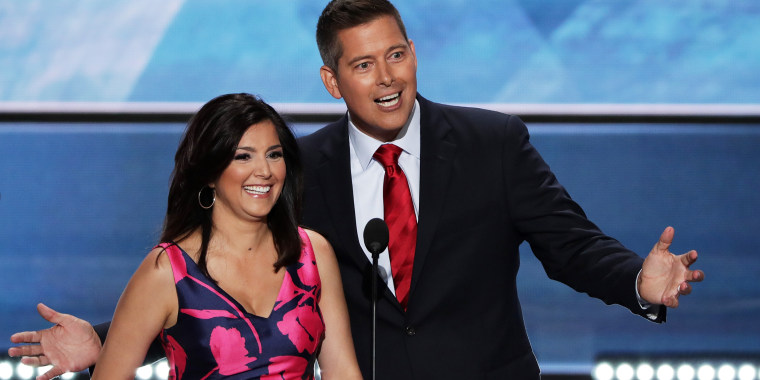 "After she's born, whether it's two to six months after life, she's going to need open-heart surgery," Sean Duffy said. "They gotta crack her open and fix the heart. They walked us through this yesterday. So I announced I was leaving Congress as I was walking in to meet with the heart doctor about what's gonna happen with the baby."
He expanded on the challenges of serving in Congress and being with his family, which includes eight other children who range in age from 3 to 19. He met his wife on the set of MTV's "Road Rules: All Stars" in 1998.
"I love politics, but I love my family, and I think it's always a balance," he said. "The schedules are grueling. I'm out in D.C. four days a week, and then I'm back with Rachel. But when I'm back here with Rachel and the kids, I have a big district, and you got to travel around and see people and we get beat up a little bit as members of Congress. We're a favorite punching bag."
Duffy posted on Facebook Monday that he recently learned that his unborn daughter has a heart condition and "will need even more love, time, and attention due to complications."
"I kind of felt like I was at my funeral yesterday," he said on Fox Tuesday. "I'll figure out different things to do where I can have a better balance where I can support Rachel and the kids, but not with the same schedule that I have as a U.S. congressman."
Duffy, who was on "The Real World: Boston" in 1997, plans to resign on Sept. 23. Democratic Gov. Tony Evers will call a special election to fill the vacancy and is researching options for when to hold it, said the governor's spokeswoman, Melissa Baldauff.
The couple noted that this is the first of their children who has had any health complications.
"Yeah, it's going to be a little more stressful, but this little baby will have eight other siblings to wrap their loving arms around her, and we're going to do it as a family,'' Duffy said. "We'll figure out a different way to balance our lives."
Duffy has been widely mentioned as a possible candidate for U.S. Senate or governor in 2022. Duffy leaves Congress with about $2.4 million in his campaign fund, based on the most recent report that ran through June 30. He didn't rule out a return in the interview on "Fox & Friends."
"I might come back to politics,'' he said. "I don't know what I'm going to do. It's just at this time, I need to take a moment and make sure Rachel and I and this baby are healthy and doing well."
Duffy replaced 15-term Democratic Rep. Dave Obey, who announced his retirement 10 months after Duffy entered his first race for the seat. Duffy had been a district attorney for eight years before being elected to Congress.
State Sen. Tom Tiffany, a Republican who lives in Duffy's district, was one of the first to release a statement after the retirement was announced, thanking Duffy for his service and wishing him luck.
Tiffany issued a second statement later Monday, saying he'd been receiving a "number of calls asking about what's next," a nod to questions about whether he may run for the seat. He said he planned to talk to his family and announce his plans soon.
National Republican Congressional Committee Chairman Tom Emmer tweeted that Duffy was right to put his family first. He warned that any Democrat who tries to take the seat will have to defend what Emmer called that party's radical open border agenda, socialized health care and "lust for impeaching President Trump."