Indoor cycling classes have gotten ridiculously expensive in New York, so one resident has fought back, making freewheeling use of the city's new bike share program.
Fabrizio Goldstein, a comedian who goes by the self-deprecating moniker "Fat Jew," leads free workouts on stationary bikes when they're docked and not in use. In one video posted on a men's digital lifestyle magazine, Goldstein is shown leading a group of supposedly homeless people in spinning classes.
"This is a cardio party! You guys feel the burn?" he shouts to the group, while wearing a midriff-baring shirt that shows off an ample belly.
The video has since received more than 500,000 YouTube views within days of its post last week, and what started as a gag has spun into what Goldstein calls "a real thing."

"I have an army of interns putting up schedules for classes that will be held all over the city in the next few weeks," Goldstein told TODAY.com. "They will be in different locations each time. Anybody can join in."
Goldstein insists he's being serious about the classes, even while joking about how he came up with the idea while "sitting on a Citi Bike eating pear-flavored gelato" and realizing the pedals on the bike still moved even when it was locked in a stationary position.
NYC Bike Share, which operates the Citi Bikes program, did not respond to repeated requests for comment on Goldstein's plans – or similar use of the bikes when docked and not being utilized by paying customers.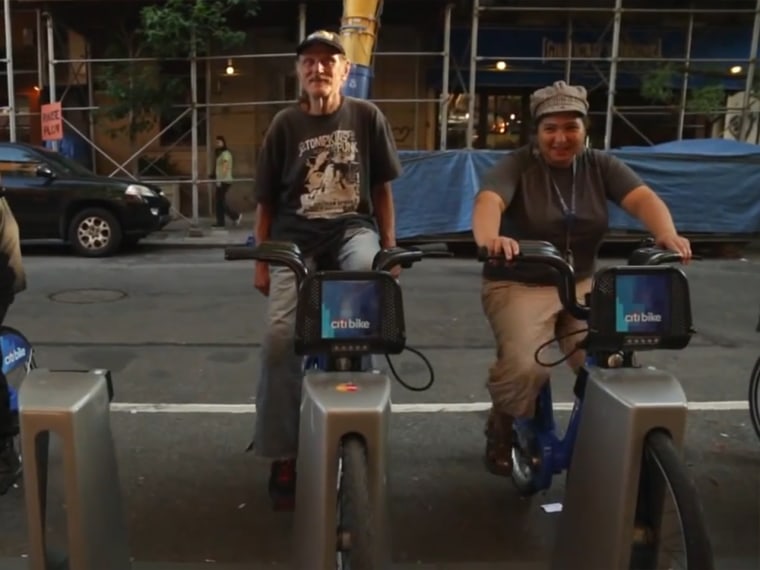 Over the weekend, however, city officials announced more than 100,000 people signed up for the new bike-sharing program in less than a month of operation. About 161,000 rides were recorded last week alone, with more than 30,000 of them occurring Friday, they said.
The program, named Citi Bike because of the $41 million Citibank sponsorship, offers more than than 6,000 bikes at 330 stations in Manhattan and parts of Brooklyn.
Annual membership costs $95, while a day pass costs $9.95, which is a fraction of the cost of an individual spin class in many New York gyms.
"I'm holding these classes because working out on stationary bikes has become so insanely expensive," Goldstein said. "SoulCycle and flywheel are like $40 a class! Ridiculous."
Goldstein said he hasn't heard from Citi Bike organizers, but would like to "so we can turn this into a real thing."
On Twitter and in interviews, Goldstein acknowledges his overweight physique may lead some to question whether he is qualified to teach a fitness class.
"I may be fat, but my core is super strong, and my calves are very powerful," he said.

On a more serious note, he admits he is getting help from friends to help him power through the next spin class he leads later this week.

"I am recruiting spin teachers and friends who are in less horrible shape than me to teach classes," said Goldstein, who described the response to his efforts as amazing.

"People are really behind me in my quest to help every New Yorker have a sick gorgeous bod," he said.