Ethan Zachery Scott, until last month, never knew how vibrant the colors of the world were. And he was in awe of what he saw.
Scott, 24, is colorblind, and sees things "in a way that are a little bit more dull than usual," he said in a YouTube video he posted on June 30. In the video, the vlogger opens a pair of EnChroma glasses that were a gift from his fiancé, James, who is off-screen filming Scott's reaction. With the glasses, Scott finally saw what color the office supplies, plants, grass and flowers really looked like.
"My brain couldn't comprehend what I was seeing. I was completely overwhelmed and astonished. The leaves of the plant near the window seemed to be on fire, it was unlike anything I've ever seen before," Scott told TODAY.com. "The entire world looked alien to me, but so incredibly beautiful. What really took my breath away was when I saw purple. My heart was pounding and I felt like I couldn't breathe. It was like seeing magic in real life."
What's special about the EnChroma glasses (which range from $329.95 to to $439.95) is that they re-establish the correct balance between signals from the three photo pigments in the eye of the color deficient.
Scott said that for him, he can see, "some pink and some green' it's just sometimes green looks brown or yellow and pink looks silver or blue."
MORE: 'Big time flashing': After 30 years, blind man sees with 'bionic eye'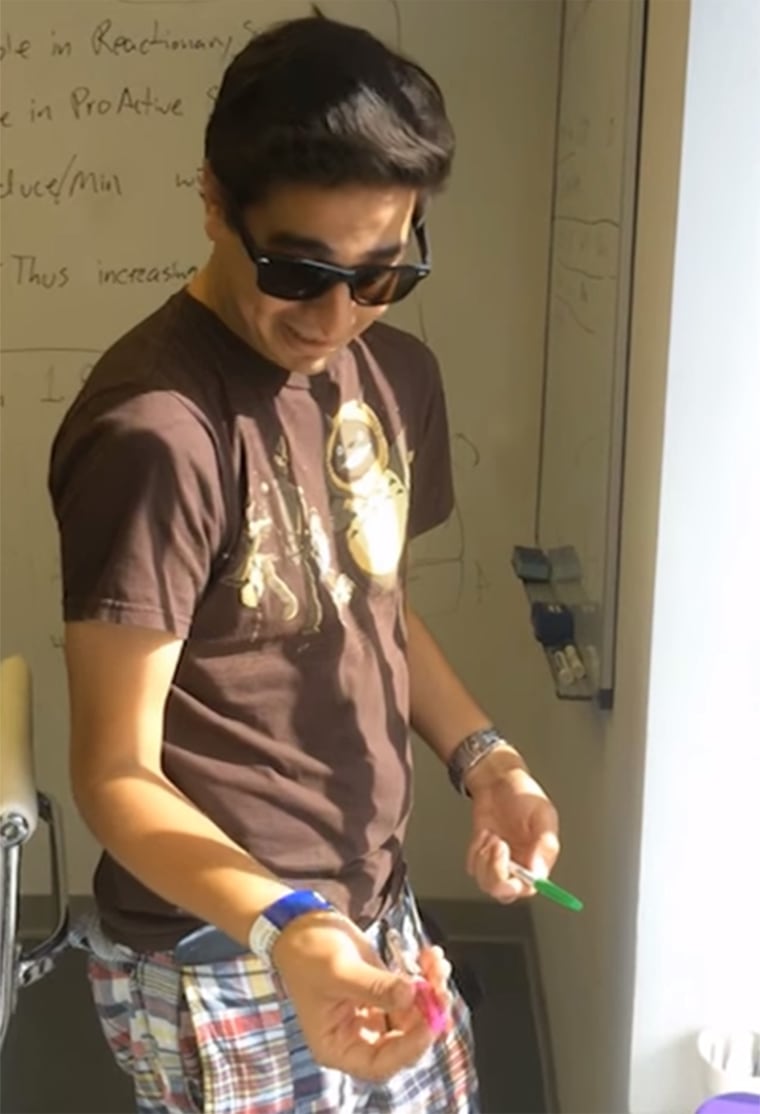 Seeing the vibrancy of colors for the first time was an "overwhelming" experience for Scott, and also very "scary" at the same time. But through the video he laughs, in amazement, of what he's now able to see.
Scott told TODAY that growing up, he had always felt insecure about being colorblind.
"Coloring with crayons without their labels was next to impossible," he said. "When I got older, I didn't think about it as much. You learn to adapt and find shortcuts. I've learned to memorize most flowers are purple, not blue or this shade of yellow looks darker or dirty, so it must be green."
EnChroma was delighted to see Scott's reaction to the glasses, the CEO telling TODAY:
"We are really thrilled to see the emotional, excited reaction of yet another color blind person who can now appreciate the full spectrum of colors for the first time in their life due to EnChroma's glasses. Ethan Scott's video is a reminder of all the things, big and small, in everyday life that those of us with normal vision take for granted."
For Scott, he said the glasses have been life-changing.
"Each and every day is an adventure," he said. "I'm constantly finding new things that surprise me, like how vibrant sunsets can be or how interesting $5 bills are! I'm always exciting to go to sleep, so I can wake up and put them back on in the sunlight."