An eyewitness to the shooting at a Colorado Planned Parenthood clinic where three people died and nine others were injured during a five-hour standoff with police described how she and other clinic patients barricaded themselves in a room to survive the attack.
MORE: 3 dead after gunman attacks Colorado Planned Parenthood
Kentanya Craion said she was in a room near the lobby of the Colorado Springs' clinic during Friday's attack when she heard people screaming, "Everyone get down." She then heard gunshots and saw the gunman open fire.
"I watched him shoot at least two to three times before I actually reacted and went to to try to shelter myself," Craion told TODAY's Erica Hill Saturday.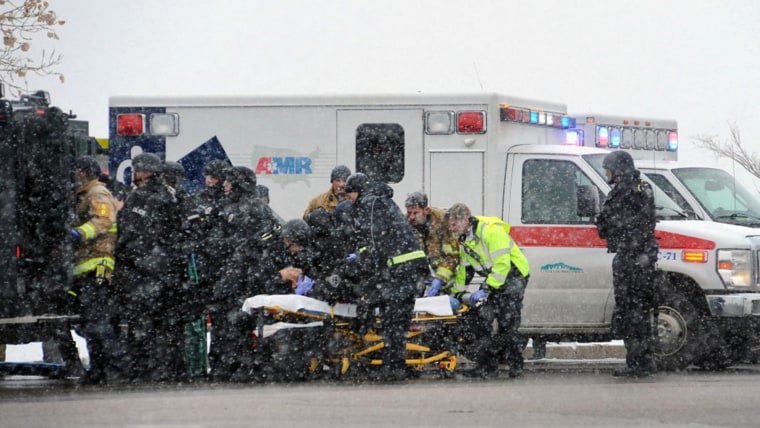 Craion ran through the clinic trying different doors — all of them locked. Finally a door opened to a room where Craion found two other people.
"I was able to alert [them] that there was a gunman, because they were unaware of [there] actually being a gunman on site," Craion said. "From there we grabbed the table, we placed it against the door. We sat there for up to five hours."
RELATED: Planned Parenthood Gunman Gives Up After Colorado Standoff That Left 3 Dead
Without locks on the door, Craion and the two others, whom she said were patients, had to keep out the gunman was the table and, if needed, their own force.
"At one point we were plotting what we would do if he actually came into the room," said Craion, adding that the three decided that if he did enter they would try and tackle him, "just to get out of the situation alive."
MORE: Why was this Planned Parenthood targeted?
During their five-hour wait, Craion said that they tried to keep each other calm, which was a challenging task when just beyond the door violence played out. At one point, the three listened as the police and the gunmen sparred.
"You could literally hear gunshots and [police officers] trying to find this gunman and this gunman shooting back. There were a few bullets that entered in the room and you could see the gunfire, or the powder from the actual gun," described Craion.
None of those lost or injured in the shooting were Planned Parenthood staff or patients said Dawn Laguens, EVP and CEO of Planned Parenthood Federation of America.
"They are all safe and accounted for," Laguens told TODAY's Craig Melvin Saturday, adding that Planned Parenthood was not aware of any threats against the clinic. Protests occur regularly outside, but they "are always well -managed," Laguens said.
RELATED: Why was this Planned Parenthood targeted?
Currently, Planned Parenthood has no plans to enforce security on clinic premises. Laguens suggested that there was no reason to, because of how well the Planned Parenthood staff was able to manage the attack, and the fact that no staff or patients were harmed.
"We are very confident that our security procedures that we were instituting were working well and we always take security very, very seriously at Planned Parenthood, and we're open today, by the way," said Laguens, who also gave thanks to the "brave officers" and said that Planned Parenthood's heart goes out to those who were lost in this tragedy.
As for what prompted the attack, Laguens said she can't speculate. Planned Parenthood has been a target of violence in the past, most notably because it offers abortions.