/ Source: TODAY staff and wire
Five years after she went missing from her Colorado home, Willow the cat has been reunited with her owners.
Back together with Willow, whose journey took her from Colorado to New York City, her owners are grateful for the technology that helped them identify their long-lost kitty.
The Squires family — mom Jamie, dad Chris and their three children — visited TODAY on Friday with Willow, who has been on a whirlwind media tour since she was recently discovered in Manhattan, far from her original home in Broomfield, Colo. The family was able to identify Willow thanks to a microchip that had been implanted in her when she was a kitten.
"It felt a little surreal,'' Jamie Squires told TODAY's Matt Lauer. "If it can bring some attention to microchipping, or people finding lost animals, we're fine with that.''
"We actually think it should be almost a requirement like (when) you get rabies shots, get your cat microchipped, (or) your dog microchipped,'' Chris Squires said. "It's very important.''
The cat, who was found healthy and well-fed, has been a particular source of delight for the Squires' three-year-old daughter, Lola, who hadn't been born when Willow went missing from the family's home near the Rocky Mountains.
"We talked about it, even to Lola, and I don't think anyone is really ever going to know the actual truth of what actually happened to her,'' Jamie said. "It's better just for us to think she's been off on some great adventure. We travel a lot as a family. It's good to think (Willow) was doing the same thing.''
How the calico cat ended up on a Manhattan street remains a mystery. But three children and their parents are certainly glad that she'll be headed home with them.
"Hey, kitty cat!" squealed Lola, as she greeted the cat for the first time at the Hilton New York hotel on Thursday evening.
The reunion — which came just moments after the family arrived at the hotel — was taped. TODAY flew them out to New York and they'll visit NBC's studios for interviews early Friday morning.
The cat's adventures — which mom Jamie Squires now hopes to parlay into a children's book — were the subject of intense speculation in some circles. The news website Gothamist claimed an exclusive when an unnamed tipster said a New York man "fell in love" with the cat while on a ski trip in Colorado and adopted her. A blogger for The New Yorker wondered whether she'd "be bound to complain that nothing stays open late enough," upon her return to Colorado.
During Willow's absence, the Squires family fielded calls from people in India claiming that Willow had been seen and emails from people in New Zealand regarding the missing kitty. That's why when Willow turned up in the Big Apple, it was hard to believe at first.
"We were really actually shocked,'' Jamie said. "We agreed not to tell the kids because we absolutely did not want them to get their hopes up and then it not be her.''
Willow disappeared when a contractor left the front door ajar during a home renovation project five years ago. The family sent out frantic online messages and put up posters around their home in Broomfield. But when Willow didn't return, they assumed the petite 2-year-old had been eaten by a coyote.
But it turns out Willow was never on the menu. On Sept. 14, a man brought her to Animal Care & Control in New York, saying he had found her on East 20th Street. A quick scan identified a microchip implanted when she was a kitten. The chip contained a code linked to a database of owner information. Despite moving from Broomfield to Boulder, the Squires had updated their information, making it easy for authorities to contact them.
When Jamie's husband Chris got the call, the couple doubted it could really be Willow. They asked the shelter to send a photo of the cat in question.
"We were really excited,'' Jamie told TODAY. "We weren't actually 100 percent sure. We wanted to make 100 percent sure and have them send a photo, but it's her.''
Sure enough, it was long-lost Willow.
At the Hilton, Jamie Squires marveled at the weight the cat had put on. She seemed to be well-cared for, with a shiny coat and tipping the scale at a healthy seven pounds when she was found.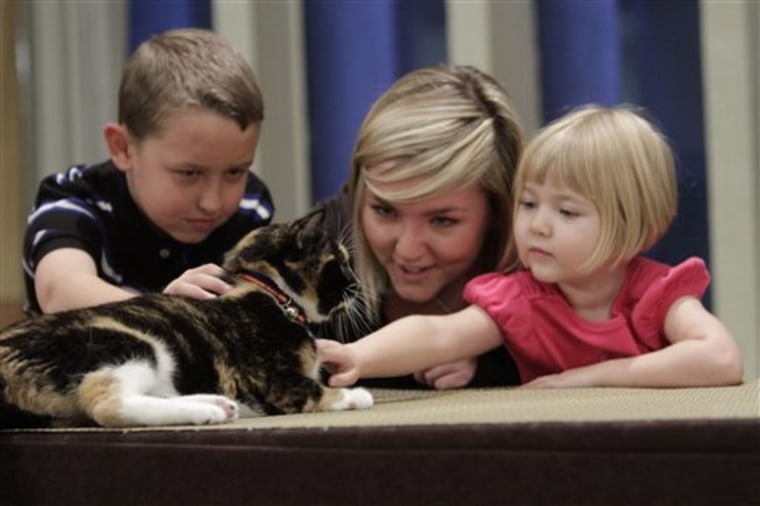 The children — the older two are Jack, 10 and Shelby, 17 — delighted in asking where Willow could possibly have been for all that time. They may never know the answer. But Jamie Squires, who has vacationed around the world with her family, tells them Willow might have done some globe-trotting of her own.
'Never give up'
Willow is set to fly back to Boulder on Sunday. She will join her former housemate, a yellow Labrador named Roscoe, and a new one: an English mastiff named Zoe.
Julie Bank, executive director of New York's Animal Care & Control, which runs the city's animal rescue and shelter system, said the unlikely reunion underscored the importance of implanting microchips in pets. All animals in city shelters get the chips before they're adopted.
Bank added that when a pet goes missing, people often give up hope too soon.
"You should never give up," she said. "You never know when your pet is going to return home."
The Associated Press contributed to this report.