We come into contact with strangers most every day, but it is rare when one does something to make a truly special impression on us. When someone we've never met, and whose name we never learn, goes out of their way to do something kind for us, we may take to social media to share our delight, and perhaps even try to locate the mystery person.
That's what Megan Shufflebarger recently did. The mother of three took to Facebook to share the heartwarming story of her encounter with a mysterious young stranger.
She'd been shopping in a Target in Lafayette, Indiana, with her soon to be three-year-old daughter, Kinley, who was admiring potential birthday presents.
A young man who'd overheard the two asked little Kinley which was her favorite doll. She replied, "I really lub dis one," Shufflebarger recounted on Facebook.
The teenager then chuckled, plucked the doll, and walked off with it.
"I told her it would be okay, [that] there are more [dolls]," wrote Shufflebarger.
But another doll wasn't needed — as minutes later, the young man returned with the doll Kinley had been eyeing.
He gave it to her in a bag, along with the receipt and wished her a happy birthday.
"What a reminder to never [lose] faith in humanity and to be generous and pay it forward. To this generous young man, whoever you are, I hope you see this and more importantly, I hope you know what a good young man you are."
Shufflebarger's post, which has now been shared over 150,000 times, eventually connected her with the benevolent stranger, whose name is Tario Fuller.
Fuller is a 19-year-old freshman at Purdue University, where he plays running back on the football team.
Though his story has gone viral, Fuller isn't interested in the attention. (Neither, apparently is Shufflebarger. She didn't respond to multiple requests from comment from Today.com.)
"He just did this out of the kindness of his heart," Matt Rector, associate athletics communication director at Purdue told TODAY.com.
"He's received tons of interview requests, but he just wants to let it be where it is — a random act of kindness — and get no credit for it."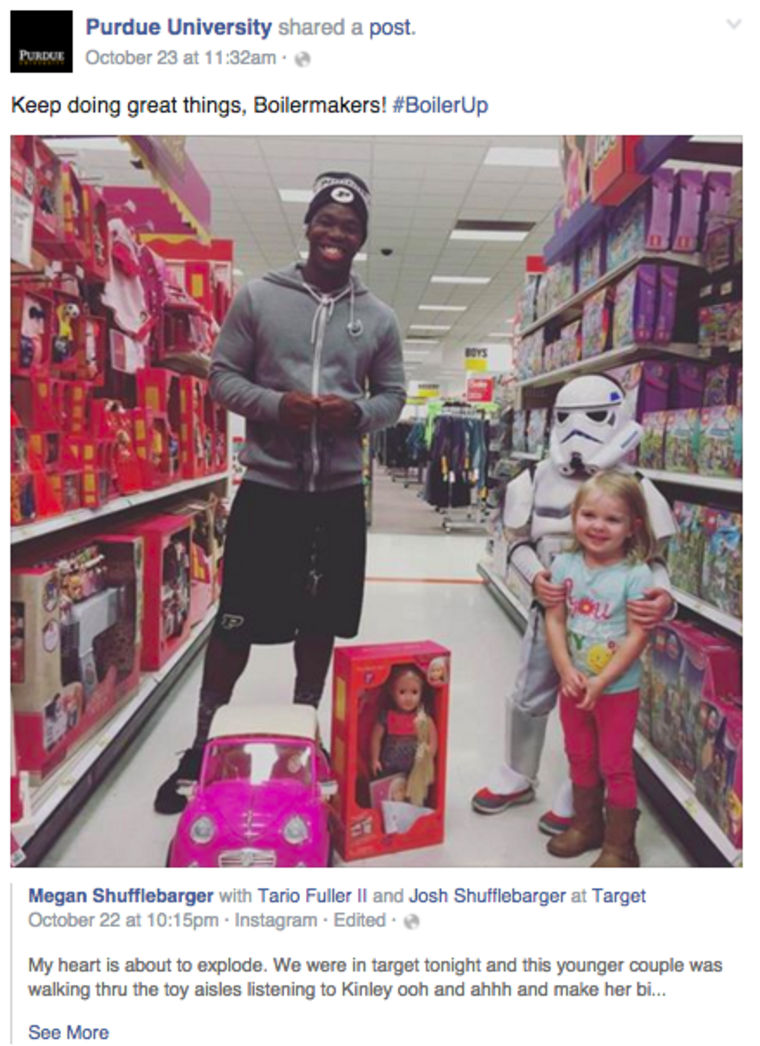 It's a little late for no credit, especially after Purdue shared the post on its Facebook page with the caption: "Keep doing great things, Boilermakers! #BoilerUp."
Target also hailed Tario for the kind gesture.
"Not only did Tario Fuller make 3-year-old Kinley smile with his kind gesture, but it's bringing smiles to so many others that have heard this heartwarming story. Thank you, Tario!" the retail giant said in a statement to Today.com.