By all appearances, Christina Huffington was a child of privilege, showered with attention and love by her wealthy parents and attending an Ivy League college. But behind closed doors, the Yale University student was snorting lines of cocaine alone, "six or seven times" a day.  
Huffington, the daughter of media mogul Arianna Huffington, describes her long, slow descent into a seven-year cocaine addiction in a new article she penned for Glamour magazine.
It was "absolutely un-glamorous," she told Savannah Guthrie in an exclusive interview Wednesday on TODAY. "It was very much me by myself, in my apartment using drugs all day, from morning to night. There was nothing fun about it. I wasn't at fun parties. I was really depressed, I was scared, I was anxious. I sort of felt isolated and alone and I thought I would never get out of there."
Huffington said she is opening up about her ordeal to paint a realistic portrayal about drug addiction, and how it strikes people regardless of their economic and social background.
"I have been really blessed, and that's part of the reason I struggled coming forward. What I want to show is that addiction can strike, no matter what," she said. "You can come from a loving family. You can have financial resources and you can still feel that pit of loneliness and emptiness and that desire to fill it with substances, so I just wanted to give a different face to the disease."
At one point, Huffington said her path to self-destruction prompted her mother to drive her to the doctor for random drug testing. Despite her daughter's denials, the Huffington Post founder told her: "I'm scared of what a good liar you are."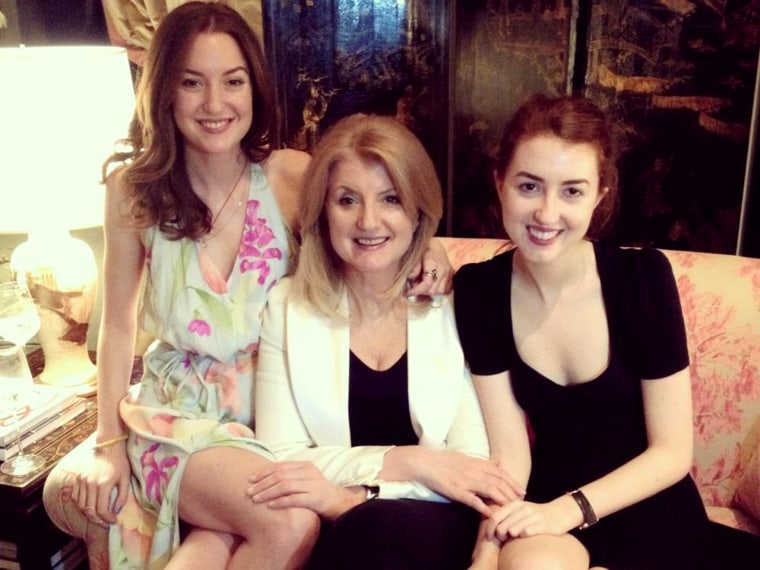 Christina Huffington, now 24, said cocaine wiped away all the insecurities created by her parents' divorce (her father is former Republican congressman Michael Huffington), boarding school anxieties and wanting to live up to high expectations she set for herself. She was 16 when she first tried the drug. 
"In a millisecond I was overcome with euphoria. Every insecurity vanished," she says in the magazine's September issue.
"And just like that, cocaine became a regular thing. My friends and I would go to the mall after school; we said we were getting chicken fingers, but I'd meet the drug dealer and spend $50 on a gram, then a long-time housekeeper would pick us up," she said of her childhood in Los Angeles. "We didn't even have our licenses, but there we were, doing coke at each other's houses."
Huffington first revealed her addiction in an April article published on her mother's website.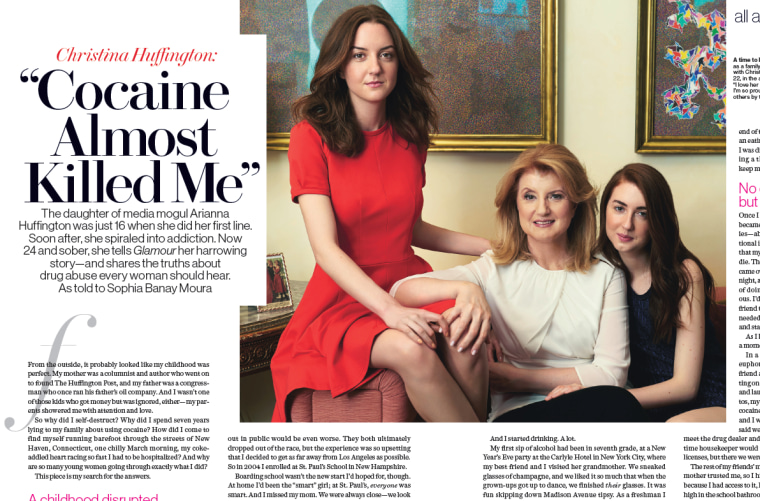 On TODAY, Arianna Huffington said she hopes her daughter's story will help others struggling with addiction and prevent parents like herself from getting emergency room calls from children after their drug binges. 
"Millions of young people in their teens and 20s struggle with alcohol and drug addiction," she told Guthrie. "If Christina's story can prevent one parent watching now from getting the call that I got, 'Mommy, I can't breathe,' and help one young or young man come out, reach out for help and know you can turn your life around, then it will have been worth it."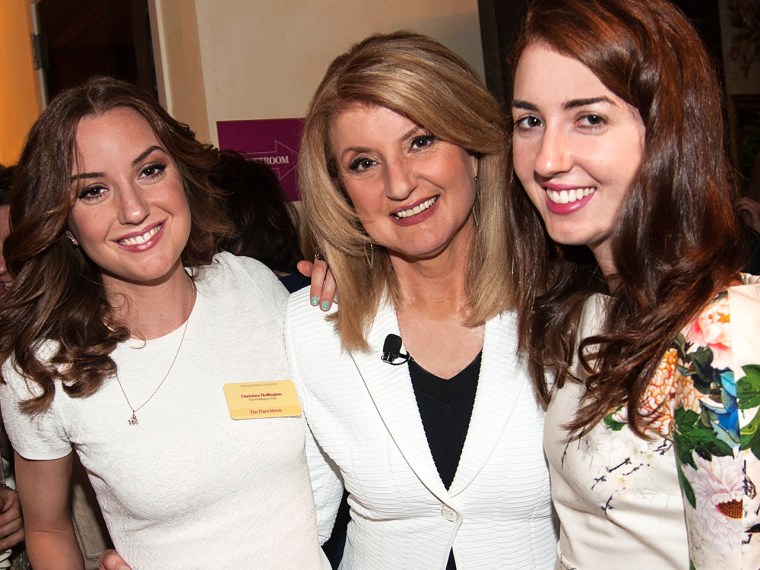 In the article, Christina Huffington said she initially hid the addiction from her mother, who first only realized her daughter had an eating disorder and had her treated for bulimia. After her mother discovered her drug problem, she stopped "cold turkey" until years later during her sophomore year at Yale.
"With one hit I was off to the races again, using four days a week," she said. "I'd start in the morning and snort coke six or seven times before bed. I faked a casual attitude: When I did drugs with friends, I'd pretend I did it only with them."
After an "epic nosebleed," Huffington quit for more than a year but her willpower dissolved the first night of her senior year after learning that ex-boyfriend had started dating a close friend.
"For three months I used it almost every day," she said.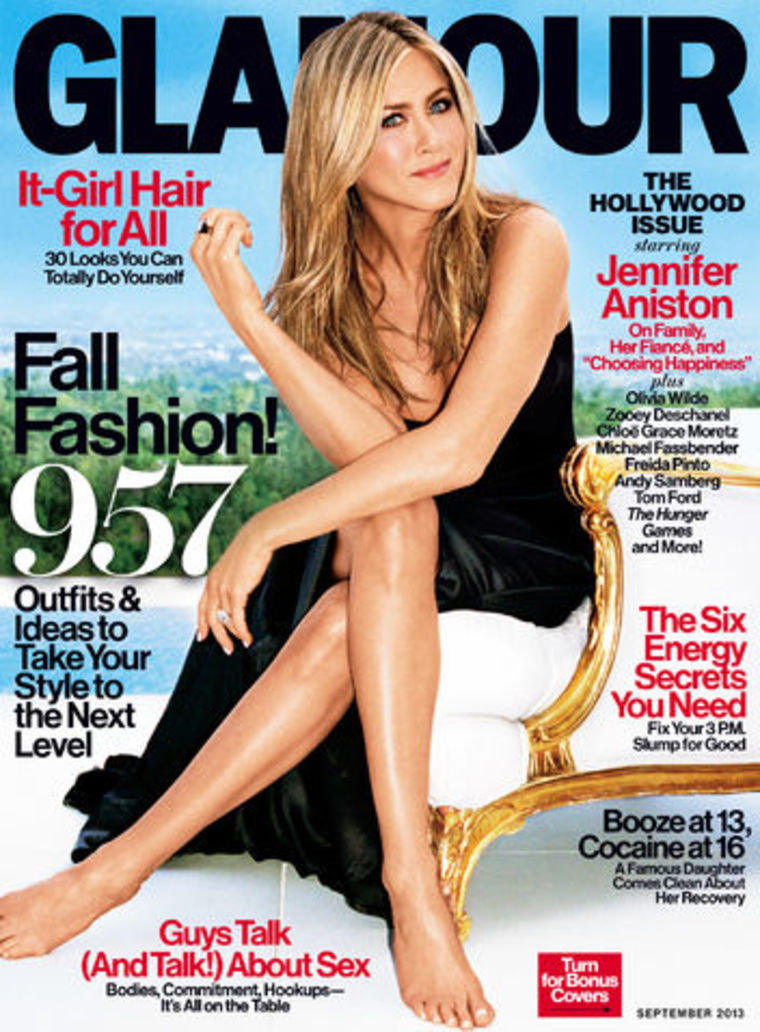 Huffington weighed almost nothing, was desperate for any trace of the drug she could find and completely paranoid — she said she suspected her dealer of wearing a wire — by the time she finally confessed her ongoing habit to her mother, a conservative-turned-liberal who once ran for governor of California. 
"She was most betrayed by how deeply I'd deceived her, how I'd convinced her I'd beaten this only to start using again. I felt awful," she said.
She has been sober since March 4, 2012, "a day I'll never forget. I stayed up all night doing cocaine, then smoked pot with a friend," she said.
She then found it hard to breathe and ran barefoot into the streets of New Haven, Conn., and ended up in the emergency room. She recalled asking the nurse just before she was sedated whether she would be okay.
"I don't know," the nurse told her. "But I hope, if you are, you'll stop destroying your life."
Huffington, who heads back to Yale this fall, now lives in New York City with her mother and her younger sister, Isabella, who told her "you owe it to us to get better" after putting them through so much.
"I know there are thousands of those girls out there, feeling like I did: alone, isolated, and guilty. I want to tell them that getting through it is possible. And once you do get through it, you have a life," she said.