Eerie scenes of hazy, smoky skies have popped up from the Northeast to the upper Midwest as nearly 100 million people across 18 states are affected by smoke drifting from raging wildfires in Canada.
People continue to face air quality alerts on June 7 after a thick haze enveloped New York City, Washington, D.C., Detroit and other areas a day earlier.
The New York City skyline appeared murky behind NBC News correspondent Emilie Ikeda on TODAY June 7 as she reported from across the Hudson River in Hoboken, New Jersey. She also reported a pungent scent "like standing too close to a barbecue."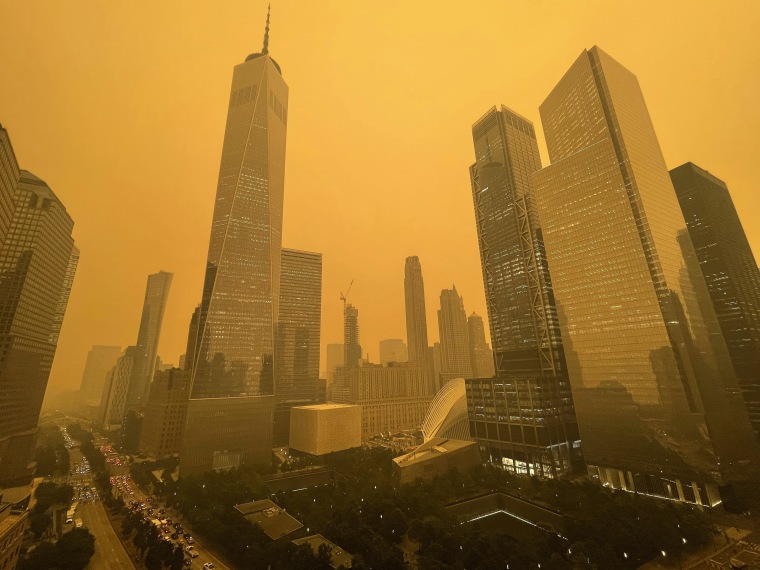 Smoke from wildfires in the Canadian provinces of Quebec and Nova Scotia has drifted hundreds of miles south, all the way down to mountain peaks in the Carolinas.
Detroit and New York City remain in the top five cities with the worst air quality on the planet as of 11 a.m. ET on June 7, according to IQAir, a Swiss air monitoring company.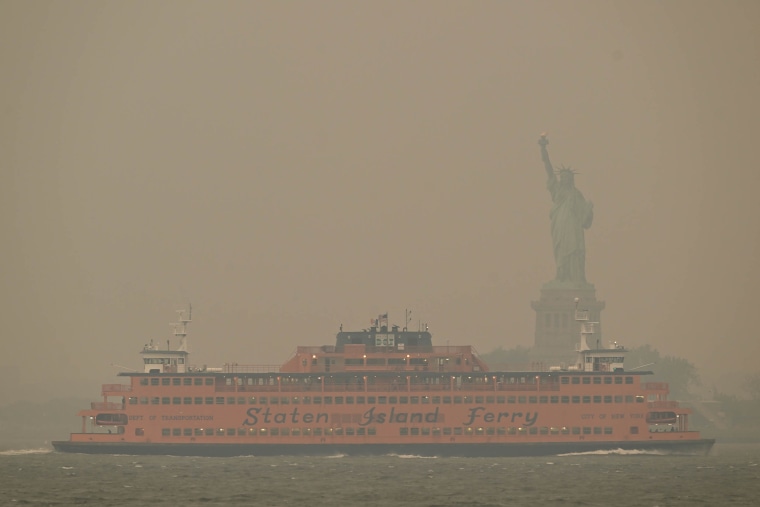 In recent years, the "Blade Runner 2049"-type scenes have appeared in West Coast cities like San Francisco due to the wildfires in California, and those similar scenes have now come to the Northeast.
The decrease in air quality has been a steady trend. Stanford researchers found that over the past decade, the number of people who have experienced at least one day of unhealthy air quality from wildfire smoke has increased by 27 times.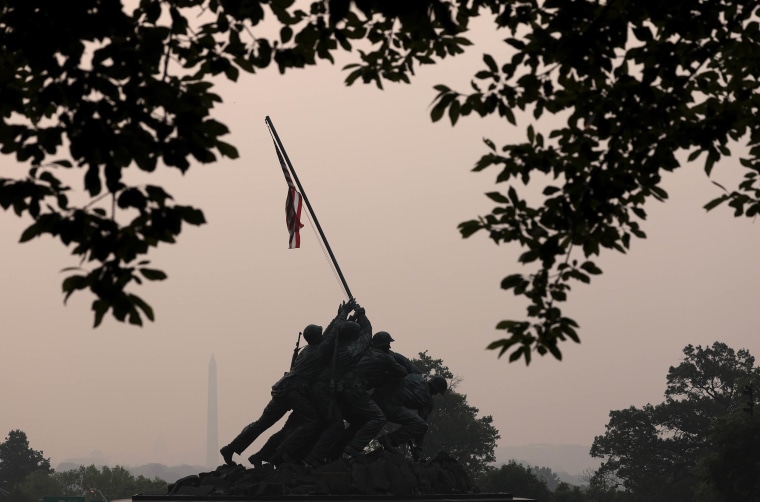 "This is not a filter," one TikTok user from New York said in front of an orange sky on June 6. "I feel like I'm on an episode of the 'Last of Us.'"
Minor league baseball teams in Scranton, Pennsylvania, and Syracuse, New York, cancelled their games on June 6 due to the conditions. Meanwhile, the Yankees played the Chicago White Sox at Yankee Stadium in the midst of a heavy haze.
Air quality remains poor in areas across the U.S., with readings in Philadelphia and Washington, D.C., considered "very unhealthy," and New York City rated as "unhealthy" as of 11 a.m. ET on June 7, according to AirNow.gov. You can check the current air quality in your area by going to AirNow.gov and inputting your city, state or zip code.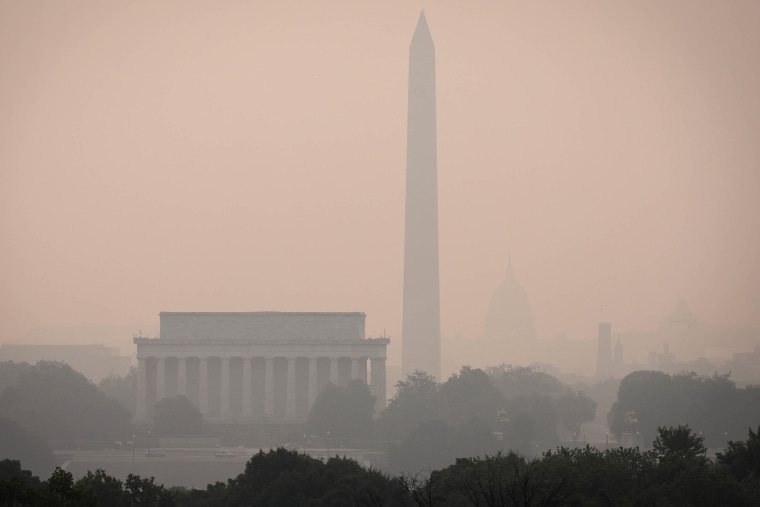 The National Weather Service says inhaling smoke particles can lead to headaches, irritated eyes, scratchy throat and difficulty breathing. The poor air quality particularly affects seniors, young children, pregnant women and those with respiratory conditions.
Dr. Peter DeCarlo, an associate professor at Johns Hopkins University's Department of Environmental Health and Engineering, gave tips on what to do if your area is under an air quality advisory.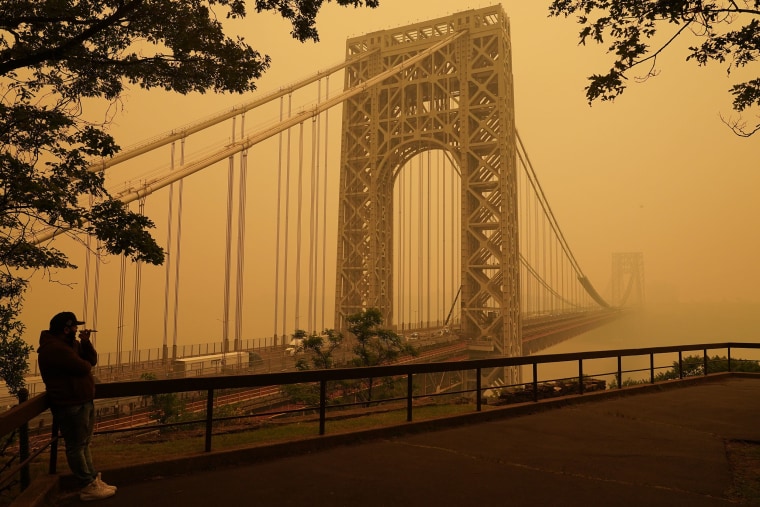 "Limit the time you spend outdoors," he told Ikeda on TODAY. "And limit the amount of physical activity, the strenuous physical activity that you're doing."
"That smoke travels, that smoke blows to other areas, and so really there's no part of the continental United States where you can say that you'll be completely safe," Lisa Patel, the executive director of the Medical Society Consortium on Climate and Health, said on TODAY.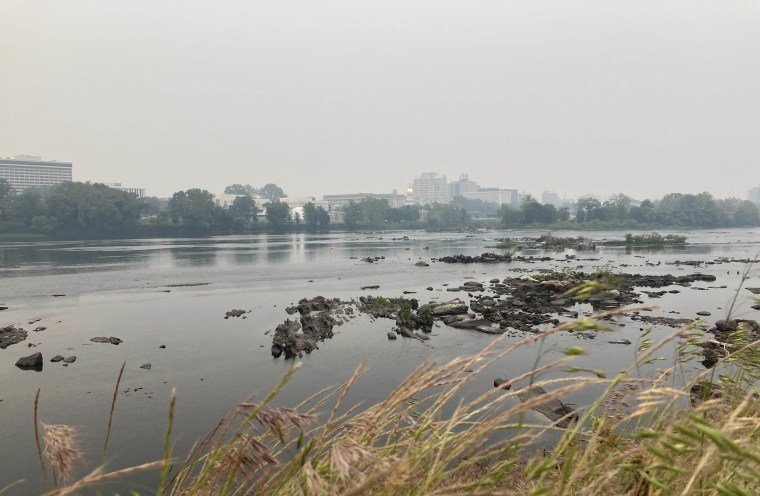 The U.S. also still faces plenty of wildfire threats from within its borders. About 65 miles from where Ikeda was reporting in Hoboken, a wildfire has broken out in Jackson, New Jersey, that has threatened homes and closed roads, according to the New Jersey Forest Fire Service.