An Ohio woman who was abducted as a teenager and held captive with two others for a decade has joined a Cleveland television station to report stories about missing people.
Amanda Berry, who escaped Ariel Castro's home in 2013, is the new host of a segment on WJW-TV that brings attention to missing person cases in northeast Ohio and tells viewers what they can do to help police rescue efforts.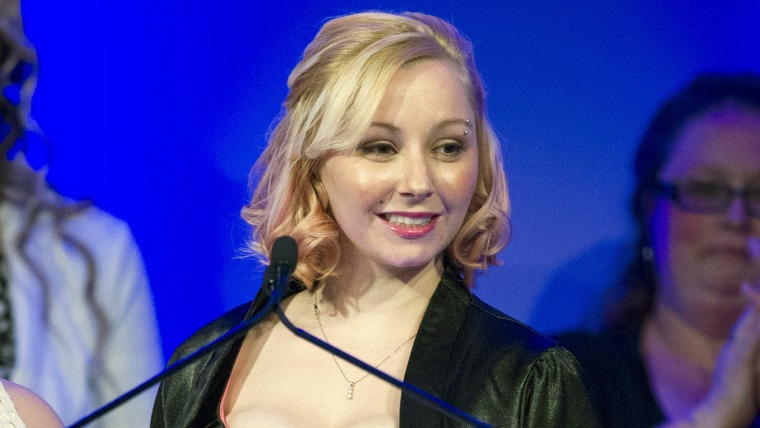 "I'm thrilled to be joining the Fox 8 News team for this important segment," she said in a statement released on the station's website.
"When I was missing, the people who were looking for me never gave up. My wish is that this segment will not only help find those who are missing but offer hope for the loved ones who are looking for them."
Berry was kidnapped in 2003 and held captive for 10 years by Castro, who also abducted two other women, Gina DeJesus and Michelle Knight.
All three women escaped on May 6, 2013, after passing neighbors helped Berry break out of the barricaded house and call police.
Castro was sentenced to life in prison plus 1,000 years but committed suicide a month after his sentencing.
RELATED: Amanda Berry, Gina DeJesus receive Cleveland high school diplomas
Berry has become an advocate for the missing since her escape but said her life today is full of routine activities that center around her family, particularly her 11-year-old daughter, who was born while she was held captive.
"I'm a regular person, kind of," she said in an interview with WJW-TV. "I do my own grocery shopping, (go to) my daughter's school, or appointments, and fun things with my family. It's been amazing."
The station's news director, Andy Fishman, told Cleveland.com that Berry was the natural choice to host its "Missing" segment, which airs on news broadcasts throughout the day.
Berry's first appearance was on Monday.
"We sat around for about an hour and instantly knew this was going to work," he said said. "We hit it off right away. She is so passionate and well-spoken, and this obviously is something that means a great deal to her."
RELATED: Michelle Knight forgives Ariel Castro, says life is 'awesome'
She told the station's morning news team on her first day that she occasionally sees DeJesus and Knight, but they don't dwell on the past.
"We laugh," she said. "Silly stuff."