Former "American Idol" contestant Clay Aiken, who narrowly won a Democratic primary election in North Carolina, agreed Tuesday that his celebrity status has been both a blessing and a curse to his congressional campaign.
"It's both. We have to get people to see me in a different light," he told TODAY's Savannah Guthrie. "It's a blessing in the fact that it gets me in a room, but I have to overcome the fact that people see me in one way and not the other."
Aiken was declared the Democratic winner last week in a three-way race, narrowly defeating his main rival, Keith Crisco. But the victory was marred after Crisco suffered a fall at his home and died.
Aiken is running in one of North Carolina's most conservative districts and now faces off against incumbent Republican Rep. Renee Ellmers, who mocked him earlier this year in a radio interview by saying he was only running because he was bored and his "performing career isn't going so well."

Aiken acknowledged that he continues to prove himself to voters. 
"I'm not naïve to that fact that this is a challenge that I have to overcome," he said. "It's a mountain to climb but we've had quite a bit of success thus far in the past three months in climbing it."
He's not worried about the political makeup of his district, he said, which includes the Army base, Fort Bragg. 
"People are tired of partisan politics," he said. "People at home, they don't talk about party, they talk about the things that are important to them."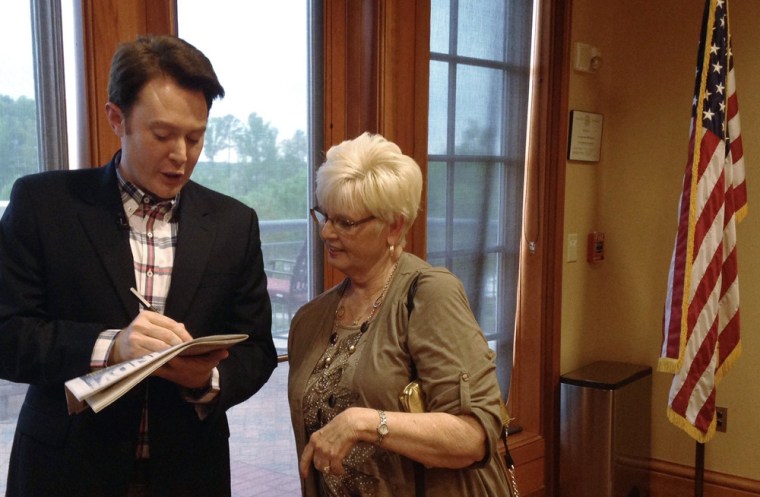 Aiken, who is openly gay and has spoken in support of gay marriage in the past, hasn't made the issue a focus in his campaign but said he's not "specifically downplaying anything."
"We're up-playing the things that are affecting people's lives," he said, referring to reducing the unemployment rate, the college debt load for students and veterans affairs. "We're talking about the things that are affecting people's life and that's not necessarily one of them."
Aiken held back from making an opinion on the controversy currently surrounding the Department of Veterans Affairs over reports it falsified data to hide substantial delays for veterans seeking health care. However, he said the department is a "very mismanaged organization" that needs better supervision.
Asked which is more difficult — politics or "Idol," — Aiken did not hesitate. 
"Politics," he said.
Follow TODAY.com writer Eun Kyung Kim on Google+ or on Twitter.