/ Source: The Orange County Register
If the Angels don't win, Mark Fitzpatrick takes it pretty darn hard.
And that's why his mother was just a tad worried about the homecoming prince contest at Tesoro High School. If Mark didn't win, how hard was he going to take it?
Turns out she had nothing to worry about. As one of his classmates posted on the Facebook page created to Vote Mark Fitzpatrick for homecoming prince: "If you don't (vote for Mark) ... you don't have a heart."
Mark is autistic and mentally disabled. He's also all about the social scene at school. High fives from classmates make his day.
Ask him who was pitching for the Angels the night before or who hit a home run, and he has the answer. Even if you don't ask him who was pitching or who had a home run, he might come up to you in the hallway and give you his standard line, and favorite word: "Bam!"
That's why Kylie Leggett got it into her head that Mark would make the perfect Homecoming Prince. The first thing Kylie did was text Mark's mom, asking for permission. "I thought it was very sweet," said Kaysie Fitzpatrick.
And she knew it would make her son's day; heck, it would make his whole year. In middle school, the kids were more concerned about who they were seen with. But since he's been at Tesoro, he has had no shortage of friends.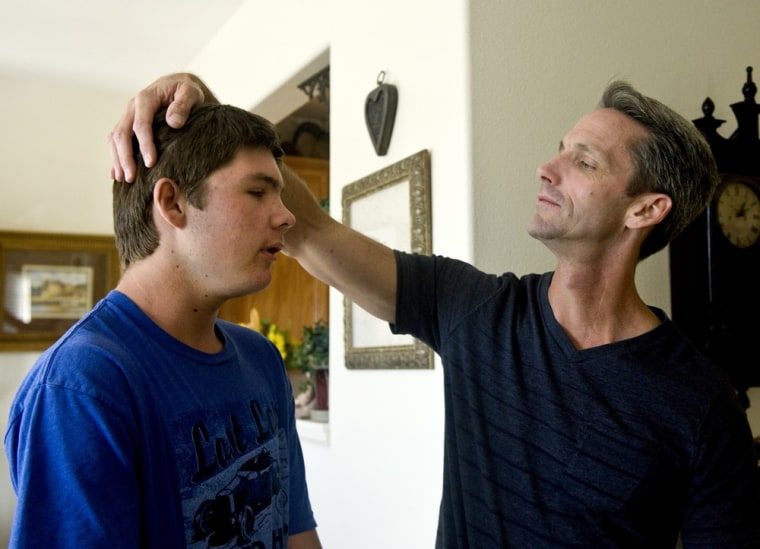 Mark's special education teacher urged Mark's parents start a Facebook page for their son last spring. Mark is a sophomore, but academically, he is a second-grader. The teacher thought the social interaction he would get on Facebook might be a good thing.
Mom and Dad resisted for a while, thinking he might be sitting there all day waiting for replies to his posts that would never come. But they finally caved. Their son has nearly 1,000 friends now.
"My husband and I have been on Facebook for years and we have, like, 200 friends," Kaysie says. "It's craziness." She says Mark announces his grand total number of friends every time it goes up. "Mom, I have 842!" he'll yell out.
She doesn't make too much of it though. "I say, 'Mark, I'm glad your friends make you feel good about yourself.'"
Particularly Kylie. A sophomore, she is in the Best Buddies program at Tesoro, befriending some special needs classmates, meeting them for parties and dances.
Both she and Mark live in Coto de Caza and have known each other since kindergarten. Freshmen don't get to have a Best Buddy, but this year she "called dibs on him."
It was a teacher who commented to her that Mark was so social he should be Homecoming Prince. "He always talks to everyone and everyone is so nice to him," she said the teacher told her.
After getting permission from Mark's parents, Kylie made some fliers to hand out around school and started a Facebook Page called "Vote Mark Fitzpatrick for Homecoming Prince." The picture on the page is of Mark wearing an Angels hat in the stands at a game.
Within the week, the page had 415 classmates on it. Mark's mom told her son he was in the running for Homecoming Prince and showed him the Facebook page. She was a little worried, though.
"Surprisingly enough, our son is competitive," she said. "If the Angels are losing, we have to manage his expectations because he wants the Angels to win every single game."
He's taken some of their losses pretty hard. Mark was pretty confident, though, that he was going to win.
"I hope they're going to announce my name on the speaker phone," he posted on his Facebook page, referring to Tesoro's PA system used for morning announcements.
Kylie was one of the first to post a message to Mark. "You deserve it Mark! You're a great guy." Mark posted back: "Yea, I sure am a great guy, Kylie."
Others wrote messages too. "Shred the bam!" came one. "This is soooo right on soooo many levels," wrote another student. And there was another post on the Facebook page, a foreshadowing of things to come. Wait," it read. "Who does Mark want to be princess?"
A prince and a princess
The students voted Monday in homeroom. On Wednesday, during third period, Mark got a slip to go to the ASB office. So did Kylie. There they were told that their classmates had voted Mark prince, and Kylie princess. "I had no idea," Kylie says. The Homecoming Court was announced in front of the choir room at lunch.
They called Kylie to the front and handed her a red rose. Then they called Mark's name. The place went nuts. "He was scared at first," Kylie says. Mark took a step back. "I said, 'Come on, Mark, let's go!'" He walked up and took his rose. It was on.
"Every time he sees me now, it's 'Hey, Princess Kylie, what's up?'" And when he writes a Facebook post he begins with a subtle: "This is Prince Mark." "He's running with this," his mom said, laughing.
On the day that Mark found out he won, his special ed teacher asked him if he wanted to call his mom and dad with the big news. No, he told her, he wanted to tell them in person. Kaysie recounted that afternoon: "He walks into the house and holds the rose up and he goes, 'Well, I won!'" Later, he told his mom he had been nervous. She is hoping his nerves hold out for the actual crowning. "I can't tell you how many times he's told me he wants to go to the movies, or a ride at Disneyland, Space Mountain, and then chickens out."
Mark and the rest of the Homecoming Court will be crowned at half time at this Friday night's football game at Tesoro. "He's like freaking out," Kylie says. "He's getting really excited. It's like so cute." She and Mark were going to go to the homecoming dance as dates. But a few days ago, to Kylie's chagrin, he asked another girl. Her name is Bailey. And she's a special needs girl.
Bailey said yes. Bam!
This article originally appeared in .