Laos may be among the most forgotten nations on Earth.
A little more than a decade after this Southeast Asian country first opened up to Western visitors, few people can place it on a map. As one tourist here told me: "My friends suggested a trip to Laos. I told them, 'Sure, but how do we get to Africa?'"
From the moment I landed, it felt like I had snuck into a dress rehearsal, as if this country was still getting ready for guests. Even the Lao people joke that Laos People's Democratic Republic (P.D.R.) stands for "Please Don't Rush." Vientiane is said to be one of the most laid-back capital cities in the world. Everything here moves slowly. The sun and humidity can do that to you. (As I type this, the temperature outside is 82 degrees and the humidity is hovering just below 70 percent, and that's a good day.) Still, in just two weeks here, I've found that this Buddhist country's tranquility, its slow pace — and the constant greetings of "Sabaidee" (Hello!) — make it both a unique and memorable destination.
To best experience what many here consider the "real Laos," my crew and I embarked on a two-day journey up the Mekong River. The 2,610-mile-long river is often called the "Sea of Laos." Because the country is landlocked and has a limited number of good roads, the river is its primary means of transportation and communication. Just a couple hours into the trip, our satellite phone was our only access to the outside world.
Our boat was long and wooden and for one Lao family, it's also home. The couple and their three young children share a small section in the back of the boat. They sleep, wash and eat in a small space right next to the boat's large and loud engine. Our destination was the boat captain's old village — nine hours upriver. We would be the first Westerns ever to visit Ban Ta Suang. Apparently, the villagers were expecting us.
We finally arrived shortly after sunset. Our team was as curious as it was sticky. (Bug spray, sunscreen and sweat can be an unpleasant combination.) First, we moved our gear and our bags into one family's wooden home, propped up on stilts. Our beds were four thinly-cushioned mats spread across the floor and draped by shiny blue mosquito nets. By that time, I was starving. Our host family wanted us to join them for a traditional home-cooked dinner -- sticky rice, boiled eggs, fried pork and cicadas.  Yes, cicadas!  (It's impolite to finish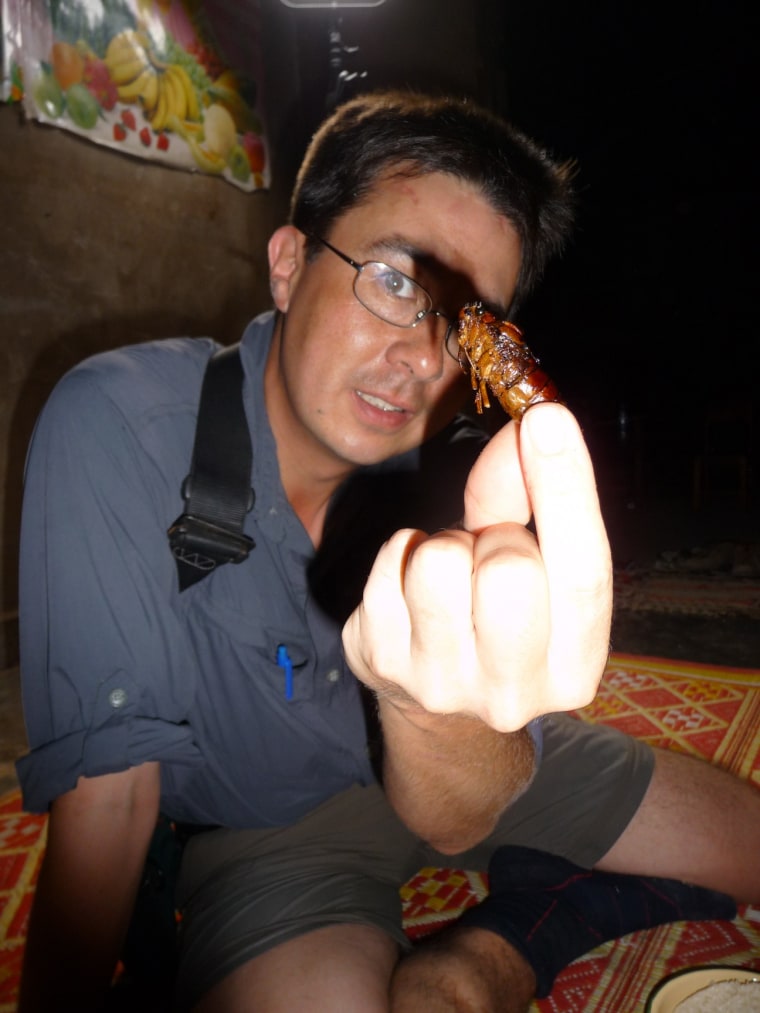 everything on your plate. That clearly wasn't going to be a problem for me.) Fortunately, I smuggled in a couple apples from home.  Mark Roberts, our soundman, was the only team member brave enough to try one of those fried cicadas (left). He considered seconds, but quickly scanned the bowl and told the group, "You know what, I'm full."
By then, it was after 10 o'clock. The village was mostly silent. We all slept... at least for a few hours, with one middle-of-the-night interruption. "Boom!" It sounded like an explosion. The whole home shook and our entire team was rattled. "Everyone okay?" I asked. (Somehow, none of the villagers seemed startled.) The next morning, our host told us it was just a coconut that had fallen onto the home's tin roof.