Twenty years after she was born and abandoned on Christmas Eve, Mariah Smith is working to warm the hearts and spirits of those in need this holiday season, earning the nickname "Blanket Girl."
Smith, the founder of Blankets for the Homeless, started her mission at the age of 17, after an encounter in a parking lot left a lasting impression. She saw a homeless man coughing and shivering, and, wanting to do something to ease his discomfort, gave him a blanket from her car and offered her the food she had just bought.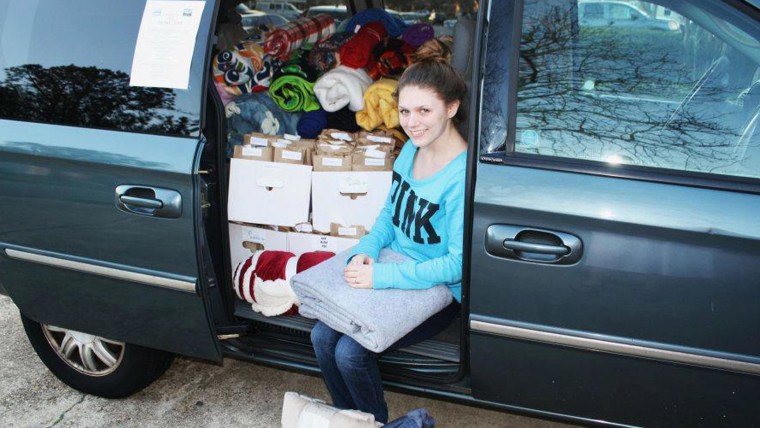 "The look in his eye when I wrapped that blanket around him haunts me to this day," she told NBC News. "It was a look of desperation and appreciation all at once. Tears were running down his face."
Smith, who spent the first two years of her life in foster care, was immediately inspired to do more, and launched a non-profit organization with the help of her adoptive mother, Moira. They supply necessities such as blankets, clothes and sack lunches to the homeless community in and around Hampton, Virginia, which dubbed her "Blanket Girl."
"That's what they call me when we're driving around," she said. "It caught on very, very quickly."
Once she began, word spread about her initiative, and churches, local businesses, schools and individuals contributed to her cause. Three years later, she's now handed out more than 80,000 blankets and lunches.
"We couldn't do all that we do without the support of the community," she said.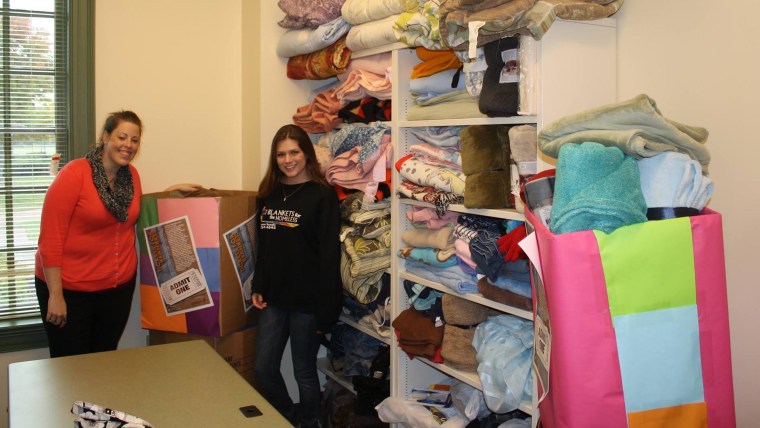 A psychology major at Regents University, Smith wakes up around 5 a.m. during the week, begins packing sack lunches, attends her courses and then returns in the afternoon to finish making fresh sandwiches before heading out to distribute them. Members of the homeless community in the area often direct Smith and her mother to others who may be in need of a helping hand, and she rarely returns before 9:30 p.m.
"They're outside honestly living a nightmare," says Smith. "And if I can do something to make it a little better, that motivation will never go away."
She also speaks publicly to raise awareness about homelessness, visiting elementary schools, universities, community centers and Girl Scout troops to talk about her mission: She wants people to realize that everyone has the ability to truly make a difference.

This holiday season, she's already surpassed her goal of putting together 500 Christmas stockings for the homeless, stuffed with items such as toothbrushes, gloves, hats and cookies, as well as personalized messages. She's now assembled 850 bags from donations, and her mother says they're still getting calls and collecting stockings.
In addition to trying to brighten the lives of the homeless people in her area, Smith is looking to start a movement across the country. She encourages those who want to help to keep a "blessings box" in their cars, consistently stocked with five non-perishable lunches, blankets, hats, gloves and other desperately needed items so they can offer immediate help if they see someone in need.
"Once you help someone who's homeless it changes your life forever," she said. "You think about them when it rains; you think about them when it's way too hot outside, when you can't stand to be out there; you think about them."
Her Christmas wish this year is to encourage and inspire others to join her cause.
"I just want everyone to start to think about the homeless more and maybe themselves a little bit less especially in this time of year," she said. "I hope people will start opening their minds more and think about the reality that people are really going through."