According to TIME magazine, he's "The Boss."
The day the mag's new cover was released, New Jersey Governor Chris Christie came on TODAY and significantly tempered his recent criticism of Republicans, calling for President Obama to step up efforts to avoid a congressional showdown over government cuts.
"We've now done what the president wanted to do. He wanted to raise taxes on the highest earning Americans and Republicans have now acquiesced to that, now it's time for the president to stand up and say, 'Here's what I'm going to do on spending,'" Christie told TODAY's Matt Lauer Wednesday. "He hasn't done it. He needs to do it. And if he's going to be a credible partner and compromiser, then he's going to have to step up and do those things."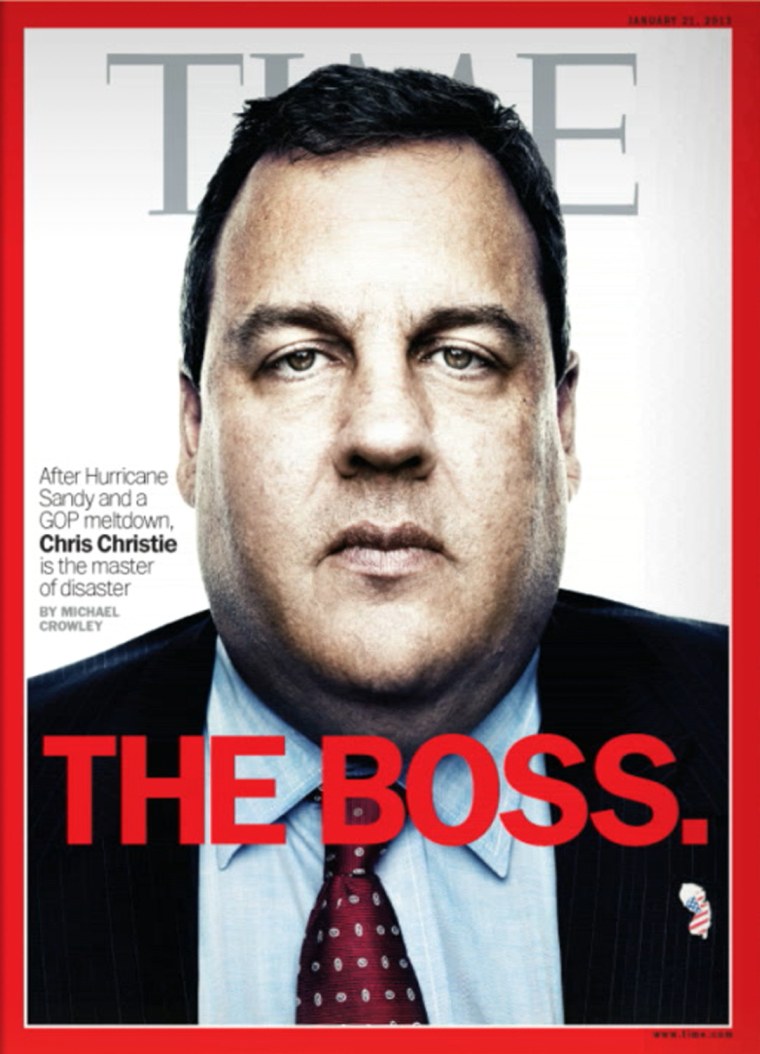 Christie's interview comes less than a week after making blistering comments about fellow Republicans on the Hill for postponing a $60 billion relief package for Hurricane Sandy victims. In his State of the State speech Tuesday, he criticized nation's leaders as "dysfunctional, dispirited, and distrustful" for their congressional feud over tax cuts last week.
The governor came under heavy criticism for his praise of Obama following the president's visit to storm-ravaged parts of New Jersey last fall. But Christie told Lauer that his relationship with the president has been limited to Sandy discussions.
"Sandy is and was above politics. … There are people suffering in New Jersey, there are people suffering in New York and they need to be taken care of," he said, adding that storm victims in the region have waited seven times longer for federal aid than the victims of Hurricane Katrina.
Story: Gov. Christie's wife: NJ is 'inspired' by her husband
But Christie acknowledged he believes Republicans are a fractured party in need of repair.
"You're in politics to win, to get your ideas forward. And we've lost two national elections in a row," he said. "We need to be thinking about doing something different."
Christie also discussed gun control in the wake of last month's mass shooting in a Newtown, Conn., elementary school. He said gun control, including banning assault weapons, should be part of a larger conversation that includes things like violence in video games and other factors.
"If we don't deal with the substance abuse issues and the mental issues and that lead to violence, we're shortchanging this conversation," he said. "I'm willing to have the conversation, but you've got to deal with these other issues; otherwise, you're being political."
Christie, whose name has been tossed as a potential presidential candidate in 2016, didn't mention his political aspirations beyond the current year.
"The only reason why you get this attention is if you're doing your job well and you're being an advocate for the people that elected you and that's all this is about," he said. "It's not about me trying to take control of anything other than take care of the people who elected me."
Christie is expected to win re-election later this year. Despite his state's struggling economy, a sizable foreclosure crisis and heavy property tax burdens, the governor continues to rate incredibly high in the polls.
"I can't figure it out," Patrick Murray, the director of the Monmouth University Polling Institute, told the (New Jersey) Star-Ledger . "I've tried. I've polled all the things that should be his Achilles' heel."
Instead, his polls show that New Jersey residents love the way Christie got Democrats to work with him in the legislature.
"Even if you disagree with him on policy issues, you give him credit for putting New Jersey first," he said.
That was especially true when Hurricane Sandy hit. Christie's numbers skyrocketed during the crisis.
"Sandy was made for a personality like his to shine," Murray said. "He makes you feel like he's taking on the pain of all New Jersey."
Family photos of the New Jersey governor reveal a childhood spent in the state he loves.
More:McChrystal on resignation: 'I wanted to stay in the job'
Congresswomen Photoshopped into group photo
Christie blasts Atlantic City mayor for 'mixed messages'
Atlantic City mayor on Christie's rebuke: 'Ill-advised and misinformed'