Although most political observers presume New Jersey Governor Chris Christie will enter the Republican race for the White House, the lawmaker insisted in an exclusive interview with TODAY's Matt Lauer that he hasn't made up his mind yet.
"You don't rush that decision," Christie explained. "You do that in the time that it takes."
While some have considered a run for the White House a foregone conclusion, Christie said he needs more time with his wife and family to reflect on the decision.
"It is absolutely the truth that Mary Pat and I have not made this decision yet."
But the outspoken Christie had definite opinions about the three U.S. senators who already have tossed their hats into the Republican ring: Ted Cruz, Rand Paul and Marco Rubio.
"I think a governor is going to be the nominee, a governor or a former governor, because I believe that our party and our country need someone who's actually run something," Christie said in his interview, conducted in New Hampshire, where he is testing the nation's political waters. "And while I have great respect for a number of those folks, I don't believe that we've done well with the experiment of a one-term U.S. senator being president of the United States."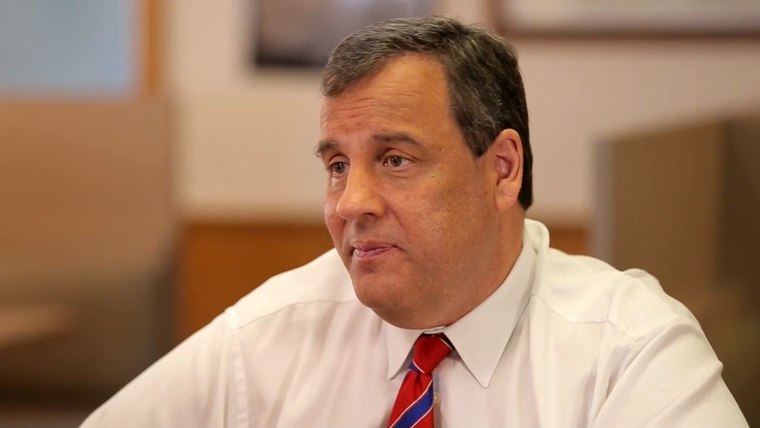 Before Christie decides to formally enters the race or not, he must first handle the latest fallout expected in the upcoming weeks over the "Bridgegate" traffic scandal involving lane closures on the George Washington Bridge. A federal investigation into the role Christie's top aides played in the scandal is expected to lead to indictments. Christie's poll ratings plummeted after the scandal broke but he said he's not worried about bouncing back in the public.
"Poll numbers go up and they go down based upon your performance. And I am far, far from finished with my career. So you know, you have the chance to go back up again," he said.
Christie also told Lauer that Hillary Clinton will have to "earn" the Democratic nomination, and her unsuccessful 2008 campaign shows nothing is a "foregone conclusion."
"This is the nomination for president of the United States, you have got to earn it. You got to earn it and you got to perform. People are tough on us," Christie explained.
He also addressed:
The impact of his weight-loss surgery in February 2013. "It's the best thing that I've ever done for my health. And I look back on it now and wish I'd done it years ago."

Getting a clean bill of health from his doctor last weekend. "Let me put it to you this way: My cardiologist has donated to my federal PAC, so that probably should tell you everything you need to know."

The impact a White House run would have on his family, particularly his wife, Mary Pat, managing director at the investment advisory, Angelo, Gordon & Co: "It would be a big sacrifice to ask for from her, and it wouldn't be a requirement from my perspective. It's got to be about our lives. She talked about balance. And, you know, her career's really important to her. She shouldn't be asked to sacrifice that unless it's something that she wants to do."
Follow TODAY.com writer Eun Kyung Kim on Twitter.