A Chinese city believes it has a solution for the ladies when it comes to that pesky "knowing how to operate a car" thing: extra-wide parking spaces designated women-only.
And in case the spots located in highway service areas in the city of Hangzhou aren't obnoxious enough, they are outlined in pink and emblazoned with bathroom-style "women" symbols.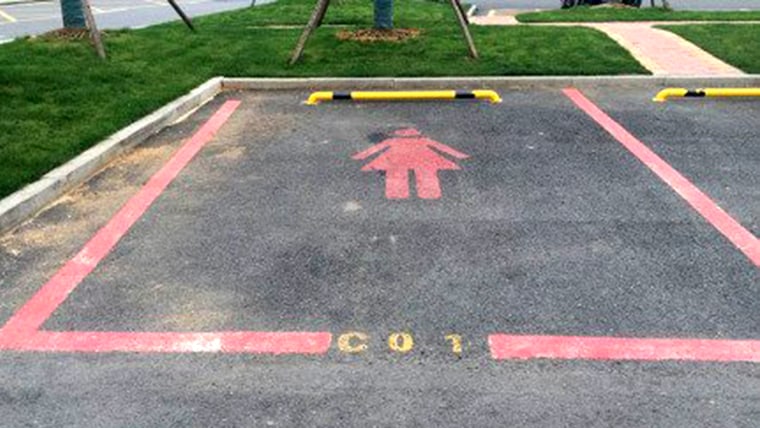 The spots are 50 percent larger than normal spaces, providing a pink oasis women can seek out in order to avoid the terror of having to park in a normal-sized spot.
The spaces, which have been in existence since March, have been blasted on Chinese social media for sexism and promoting the stereotype that women can't drive.
RELATED: New York company to offer women-only taxi service
Pan Tietong, the service area's manager, told Chinese newspaper Qianjiang Evening News, "It's a humane measure."
"The bigger parking spaces are for women drivers whose driving skills are not superb," Tietong said.
Out of the 370 total parking spaces in the service areas, only eight are specially designated for women. They get used about 15 times a day, Qianjiang Evening News reported.
RELATED: Move over kids, this camp is only for grown women
Hangzhou is just the latest city to draw eye rolls for designating parking spots for women.
In 2014, South Korea created 5,000 parking spots in Seoul that were also wider and outlined in pink. An official explained they were meant to "make things more comfortable" for women.
In 2012, the mayor of a small town in Germany went in the other direction, creating spaces just for men that were harder to get into than the wider spaces designated for women.
"Men are, as a rule, a little better at such challenges," Triberg Mayor Gallus Strobel told a German newspaper.
He later admitted it was mainly a marketing stunt to draw tourism to the town.
Follow TODAY.com writer Scott Stump on Twitter.