/ Source: TODAY contributor
For Charla Nash, victim of a savage mauling by a chimpanzee, life goes on despite odds no one would ever want to confront. After her friend's 200-pound chimp Travis savagely attacked her on Feb. 16, ripping off her eyes, lips, nose and all of her fingers save for a solitary thumb, doctors didn't expect her to survive.
But the 56-year-old Nash not only survived, she's moving ahead in a healing process that has medical staff marveling at her resiliency. She's expected to leave the Cleveland Clinic within a matter of weeks, more than a year earlier than doctors estimated. And despite her debilitating injuries, she looks forward to a fulfilling life with her teenage daughter and her two brothers.
In an extensive, revealing interview with Meredith Vieira for TODAY that aired Monday, Nash said she doesn't spend much time looking back. "There's no time for anything in the past," she said. "It'll only make me unhealthier. It's — you know, you just can't heal."
No home for TravisStill, Nash does allow herself to wonder what might have been if Travis' owners had followed through with plans to get rid of the chimp when his behavior became increasingly erratic.
Travis, owned by Sandra and Jerome Herold, was something of a local celebrity in their hometown of Stamford, Conn. He had appeared in commercials for Old Navy and Coca-Cola, been a guest on Maury Povich's talk show, and was a familiar sight around town, riding in a car with his owners.
But in 2003, Travis created a stir when he escaped from the Herolds' car and held up traffic around town for hours, even chasing officers who tried to contain him.
After the incident, Jerome Herold called Nash and asked her to help him resolve the situation. "[Jerome] called me up and said, 'Could you find a home for him?' " Nash told Vieira. "So I found a home. I went on the Internet, found a whole list of places that would take in pets you couldn't handle anymore. But no place was good enough for Travis, [Sandra Herold] said. Nobody would take care of him like her. So she just didn't want to get rid of him."
Nash had been friends with the Herolds for some 30 years, and after Jerome passed away from cancer in 2004, she moved from New Jersey to Connecticut to be with Sandra and help out with the family's auto-towing business. But while reports suggested Travis was a friendly, familiar face to Nash, she told Vieira she had little love for the chimp.
"I always told [Sandra] I was afraid of him," Nash said. "He was big. He wasn't like a chimpanzee; he was like a gorilla. He was huge, very, very huge.
"He was always in his cage. He used to ask me to go in and play with him. And I said, 'Oh no, no thank you!' "
No memory of attack
What happened Feb. 16 remains a blank to Nash. She told Vieira her memory largely ends around Christmas of the previous year. But, according to reports, Herold called Nash, asking her to come over and help contain Travis, who had left the house with Herold's car keys.
Nash drove up to Herold's home and, upon exiting her car, was savagely attacked by the chimp. Herold tried to stop the attack by hitting Travis with a shovel and stabbing him with a butcher knife, but the animal would not relent.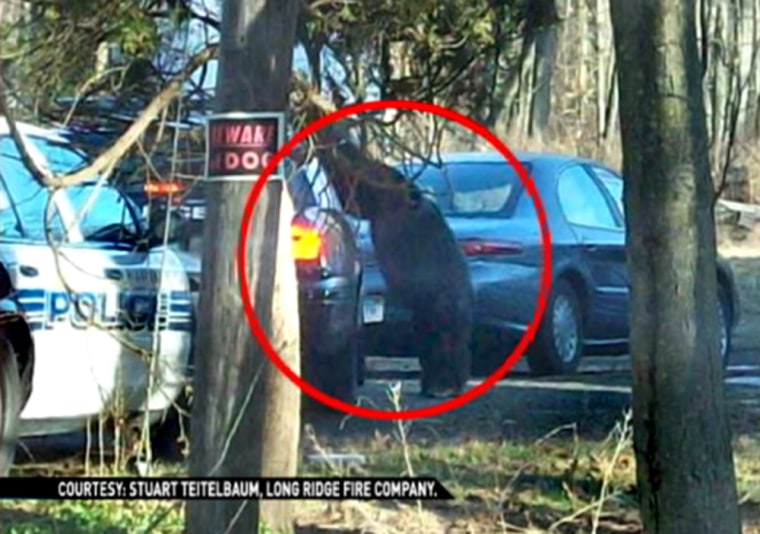 Police were called to the scene, and Travis was shot several times by an officer whom Travis had started to attack. While he limped back to the house and died in his cage, Nash was left with grievous injuries.
Nash remained in a coma for weeks, and doctors didn't believe she would survive. When she eventually regained consciousness and her life was no longer in danger, one physician commented, "You know what? It's a miracle."
Nash told Vieira that her brothers, Mike and Steve, told her the same thing. "They told me they were happy I was still here."
But Nash admitted there were dark days when she didn't necessarily feel the same. "At first, I just [didn't know if I] really wanted to be here," she told Vieira. "I knew there were things wrong with me, I didn't quite know what. I was weak. And I just didn't feel that well."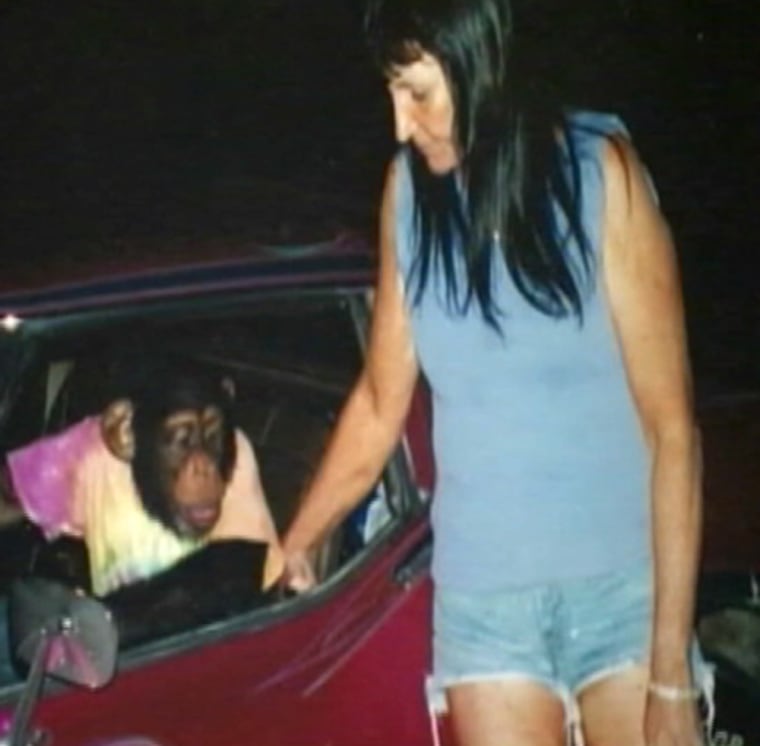 She credits her brothers and daughter Briana, along with clinic staff, for seeing her through. "Everybody here, and my daughter, thinking about her, and my brothers talking to me. Everybody helped me."
Even though doctors told her she would never see again, it was only two weeks ago that Nash came to the full realization that she no longer has eyes. Still, she told Vieira, she works hard at her physical therapy, determined to return as much function to her life as she can.
"They work with a soccer ball at a table," she said. "[A nurse] rolls it to me, and I catch it with both arms. And then I'll push it off with both arms. They're very sensitive, and I have to desensitize them now, because I haven't used them in so long."
Silver lining
In the meantime, Nash has found a silver lining in a devastating situation. Once fiercely independent, she told Vieira, she now basks in the love and help offered by both hospital staff and her family.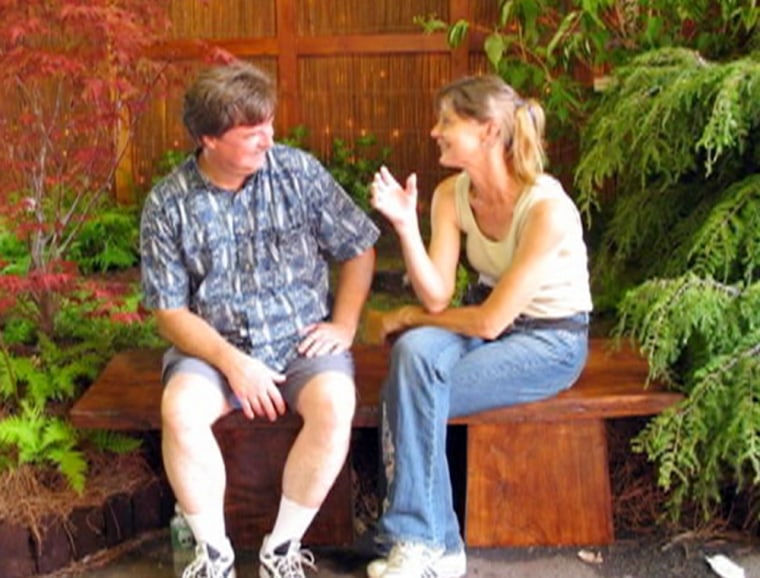 "I've gotten happier," Nash said. "I want to get so that I don't want to be alone anymore. I want to be around my family. I want it so that if I need help, they're there for me."
Charla's twin brother, Mike, and other brother, Steve, have taken turns staying in Cleveland to be with her, and her 17-year-old daughter Briana, who is staying with family friends in Stamford, makes the trip to Cleveland as often as she can.
Briana accompanied her mother to the TODAY interview. A bright, bubbly young woman headed to college in the fall, Briana told Vieira her mother is still the same person she's always known and loved.
The pair laughed when Vieira suggested they are "thick as thieves." Briana said they had always shared a close bond. "It was just the two of us in a two-room apartment," Briana said. "We did just about everything together."
Her mother added: "We'd go shopping together, laughing at the clothes and stuff."
Briana said in the weeks following the attack on her mother, "I tried not to let it affect me too much. I thought about it, but not too long; just let life go on normally and acted like it didn't happen very much."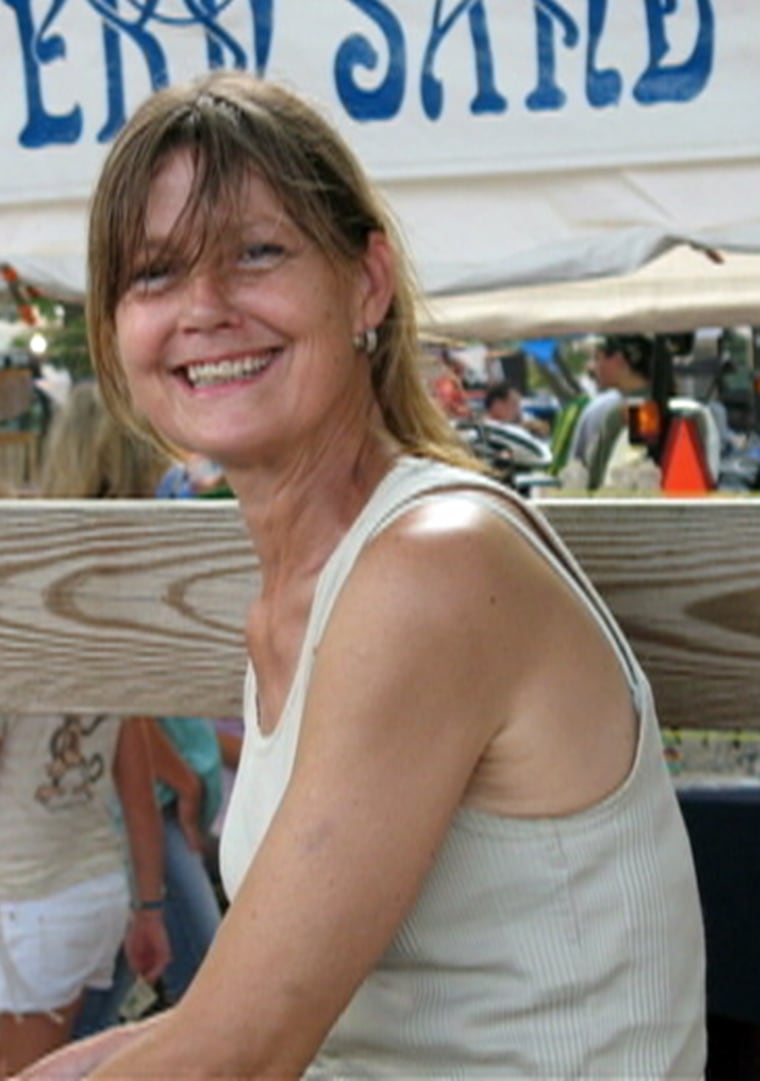 That her mother still retains her warm personality and sense of humor has Briana in awe. "I don't think I'd ever be able to get through it — I feel like I'd sit there and feel sorry for myself," she told Vieira. "She doesn't do that: It's just one foot in front of the other, and keep getting better.
"I don't see anything but her like as she always was — same person, still worrying!" Briana told Vieira.
Nash said she used to worry whenever Briana would even spend the night at a friend's house, but during her nine months of recovery, she's learned to let go a little. "It's OK, she's being taken care of and she's happy and she's going to school, so I feel good," Nash said.
Still, Briana acknowledges that her mother will never be the same. Even after Nash is released from the Cleveland Clinic, she will require 24-hour-a-day care. The family is now huddling to determine whether she will stay in Ohio or go back home to Connecticut.
"I just want her to be able to be as independent as she could be, and I want to be able to be around her, of course, as much as I can, and be supportive," Briana told Vieira.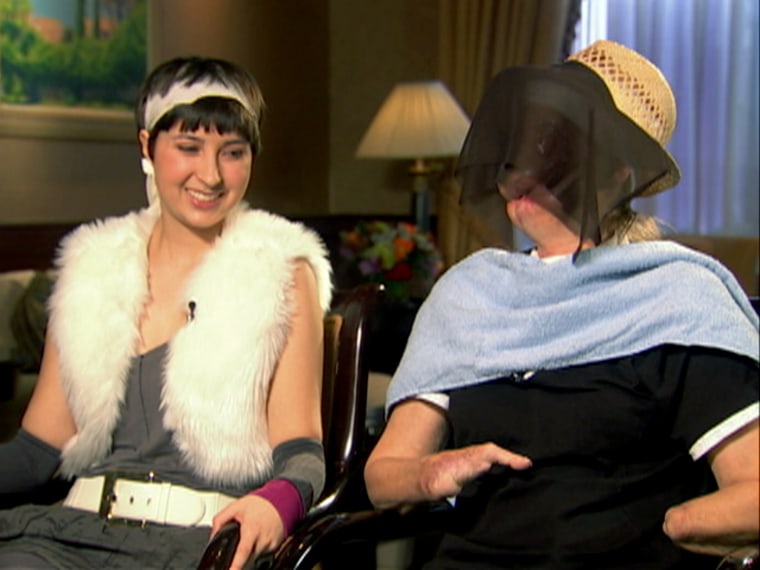 Nash added she doesn't want her daughter reliving the horrific moments of Feb. 16 any more than Nash herself does. And at the same time, she wants her Briana to live her own life on her own terms, without feeling beholden to her mother.
"I don't want her to sit and think about it, and think she has to be doing something for me," Nash told Vieira. "She's got her life, too. It's OK to worry, and we could talk. And we do — what life brings her, you know, her boyfriend, and dates and dances and college."
Who's responsible?
But while Nash retains her optimism, there's still the matter of paying the astronomical medical bills she will rack up for the rest of her life. In a separate interview with Vieira, brother Mike Nash confirmed the family has filed a $50 million lawsuit against Herold, as well as a notice of intent to sue the state of Connecticut for $150 million.
Following Travis' 2003 misadventure in downtown Stamford, the state passed a law prohibiting residents from keeping primates weighing more than 50 pounds — but Travis was grandfathered in and was exempt from the law. Mike Nash told Vieira that Herold and the state both bear responsibility for his sister's injuries.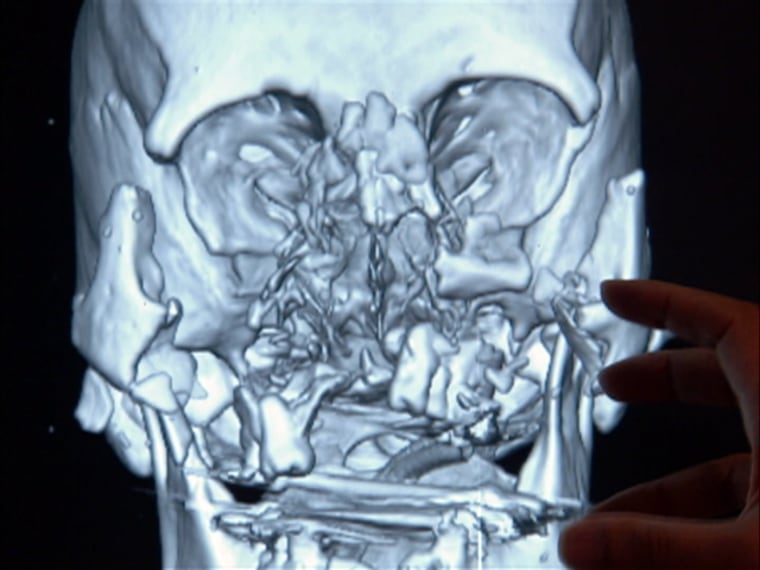 "Sandra should be responsible," he said. "I don't believe it was like she wanted it to happen, but I think she could have prevented it, and it shouldn't have happened. The same with the state: They knew about Travis, they did create a law, and a lot of it centered around Travis himself. Then you leave the animal still in the environment where he could harm the public.
"Charlie's life is going to be much more expensive; if it's 24-7 [medical care], you're talking a lot of money," he added. "It will never replace her life, it will never be the same; it will just help make this easier."
'I feel like me'
In the meantime, Nash finds plenty to keep her busy. She listens to music and audio books at the Cleveland Clinic: "Harry Potter and the Goblet of Fire" has been a recent favorite.
Revealingly, Nash told Vieira that she has dreamt of monkeys. "One day, I dreamed a whole bunch of monkeys were flying around the trees," she said. "I don't know where that came from."Vieira suggested it may have been a way of making peace with her attack, and that "they're not going to scare you anymore." Nash pondered the notion, and replied thoughtfully, "Maybe."
In her waking hours, Nash enjoys strolling around the Cleveland Clinic, where's she greeted by hospital staff and passersby. Nash famously revealed her face during a recent interview on "Oprah," but most of the time she keeps her face covered. Even so, walking makes her feel like she's on the road to a better life.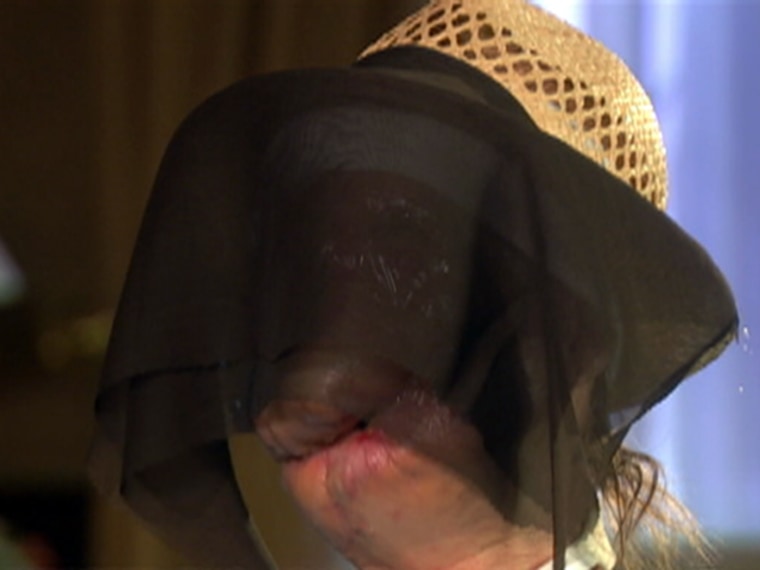 "Going down a hallway ... I remember what we're walking past and where we're headed," she told Vieira. "Sometimes, like in the skyways, they'll tell me there are windows, and [whether] it's cloudy out or sunny out. I kind of picture in my head [what] they are telling me is around."
While she keeps her face shrouded to avoid alarming others, Nash told Vieira she hopes she can receive a face transplant in the future. The Cleveland Clinic gained fame in May for performing what is believed to be the first near-total face transplant, on gunshot victim Connie Culp.
But no matter what comes with the future, Nash told Vieira she is ready to deal with it. "I know I always had an attitude that whatever came my way, you know, I'd overcome it," she said. "I wouldn't let it hold me back.
"[My family] all talk to me like I'm [still] me," she added. "So yeah, I feel like me."
For more information about Charla Nash, visit .