/ Source: The Associated Press
Forget tea with Michelle Obama. Carla Bruni-Sarkozy, on her first trip to Washington as France's first lady instead of as supermodel, visited a school in a poor neighborhood and had lunch at Ben's Chili Bowl.
She was meeting Mrs. Obama later for dinner with their husbands — behind firmly closed doors, leaving the curious guessing about how the glamorous four would get along.
The White House put such a clamp on the dinner details that not even the menu was expected to be released.
Kids at Washington's Kipp DC charter school were over the moon at their visitor and her entourage of bodyguards. They greeted her carrying French flags and sang to her, "Ain't No Mountain High Enough." She read them a Madeline book from the series about a girl living in France — read it in English, which the Italian-born French first lady speaks fluently.
Bruni-Sarkozy took up a singing career after quitting the catwalk, and she had surprised students at Juilliard Music School with a visit the day before in New York.
On Tuesday, after the motorcade bell rang and her school visit ended, she joined her husband and his 12-year-old son, Louis, for lunch at Ben's Chili Bowl, a diner that has been a longtime fixture in the black community here and now is a frequent stop for politicians and celebrities. Barack Obama ate his first meal at the local landmark several days before his inauguration last year.
Barack Obama, standing alongside the French president at a White House appearance later, noted that the French are famous for their cuisine and remarked with a smile that the lunch choice — apparently a "half smoke" sausage — "shows his discriminating palate."
Family in the spotlight
The Sarkozys' trip took on an air of a family vacation. Louis came along to meetings on Capitol Hill with Sen. John Kerry and House Speaker Nancy Pelosi, and French President Nicolas Sarkozy's gift to the Obama family was some Asterix comic books for the Obama daughters, Sasha and Malia.
The subtext of the family man image that Sarkozy was projecting was clear: Forget about those blog rumors of troubles in his closely watched marriage with Carla, who famously dismissed monogamy as untenable in her younger years.
Their visit to New York at times seemed a love-a-thon, as they were photographed kissing in front of their hotel and in the Boathouse restaurant in Central Park, and clasping hands before and after the French president gave his speech at Columbia University.
The French first lady, though, remains an enigma for her many admirers, as well as her detractors.
She charmed Queen Elizabeth II but has spurned fellow first ladies during other international visits. She travels irregularly with her husband, and is reported to live in her spacious Paris apartment part of the time instead of in the presidential palace.
Comparing first ladies' fashion tastes
Still, she and Michelle Obama appear to have established a rapport in their few meetings — meetings often judged more as fashion faceoffs by two fit, well-dressed and confident modern women than anything else.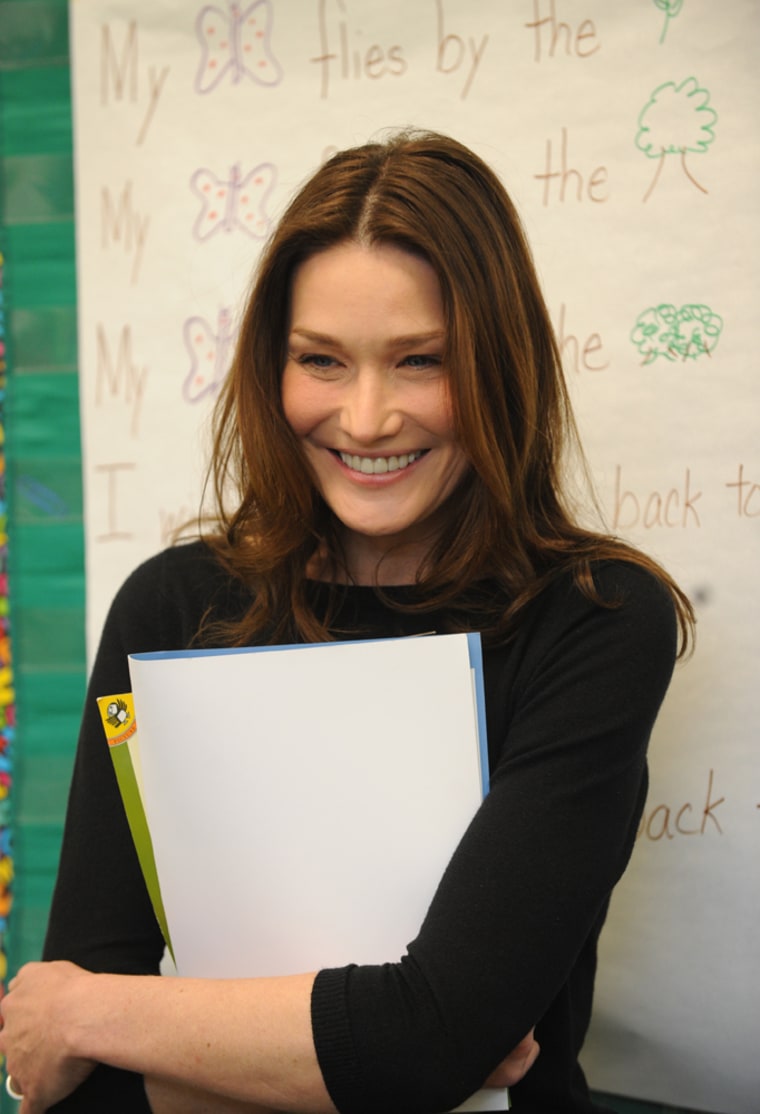 Tuesday night shaped up as no exception — if anyone managed to catch a glimpse of what they were wearing at the private dinner.
If not, the two women might be relieved that they won't wake up the next day to endless stories comparing their tastes.
Asked earlier this year about the public's high interest in her sartorial choices, Michelle Obama said, "It's surprising. It's something that's still sort of hard to adjust to, because it is not sort of a traditional way that people view the presidency, so it wasn't something that I was prepared for."
Bruni-Sarkozy in her three days in the United States has been photographed wearing at least five different outfits, from a wraparound black top and gray skirt at Columbia University, to wide-leg pants at the school Tuesday. Her hairstyles kept up, with a swept-up chignon at Columbia giving way to loose tresses at Juilliard.