Where are you going to find a photo of President Barack Obama wielding a light saber in front of the White House and cupcakes emblazoned with his face? Same place you'll find Obama 2012 yoga pants that are "great for running or sun salutations." All can be found on Obama's Pinterest page, the social networking website that allows users to create virtual pinboards. (For the uninitiated, it is like scrapbooking without all that pesky glue.)
The president announced his new Pinterest page on Twitter Tuesday, saying, "Organizers, infographics, murals, and cake — now pinning all of the above for #Obama2012 on Pinterest." Though some pinned items include campaign-platform subjects like health reform and job growth, there are also plenty of images of campaigning volunteers and Obama's scenes of White House life, with the first family having their own special board.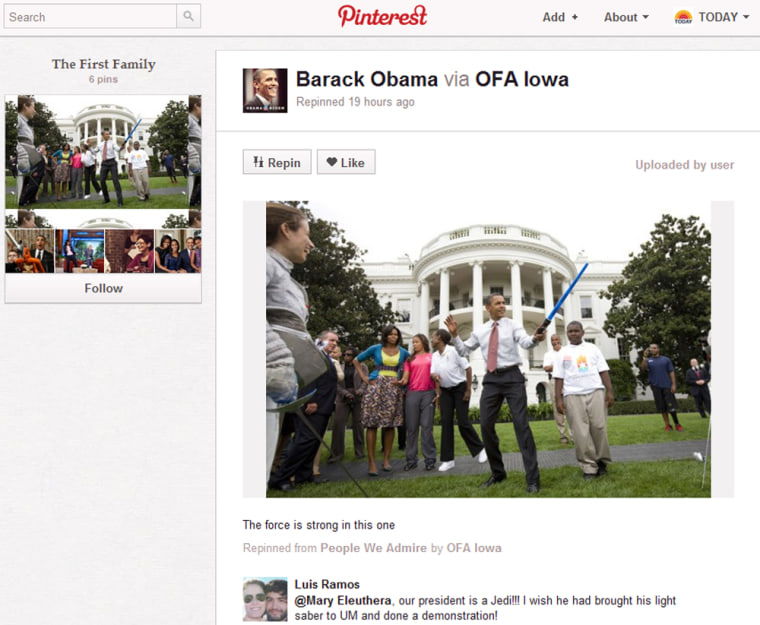 The popularity of Pinterest has been rising and the site boasts a large number of women users. Images of puppies and recipe posts trend well. Obama has given the Pinterest crowd both, with an entire board devoted to pet lovers ("I bark for Obama" button, anyone?) and a recipe for the Obama family chili (Obama promises it's delicious), although it lacks the requisite photo that defines the social media site.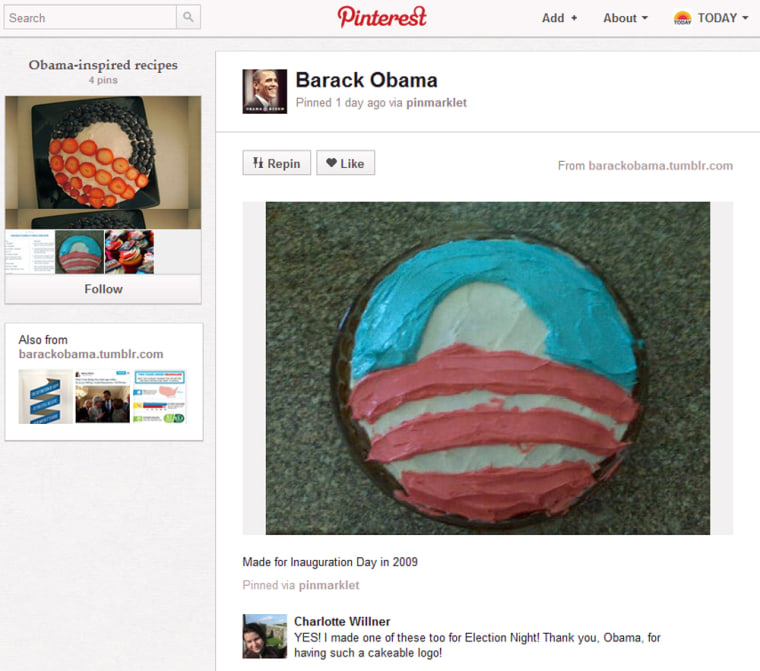 Obama, no stranger to social networking, has accounts with Facebook, Twitter, YouTube, Tumblr, Google+, Myspace and Instagram. While Pinterest may just be another horse in his stable, it does have the specific importance being popular among women, which could help Obama access more female voters as he ramps up his 2012 presidential campaign.
Though none of the Republican candidates have a Pinterest page, Ann Romney does. Just a couple weeks ago TODAY.com reported on Ann Romney's Pinterest page, which include Mitt's favorite meat loaf recipe and Ann's passion for patriotic food, like "Independence Punch," which is a mixture of red and blue juice topped by thick cubes of white ice.
TODAY.com contributor Jillian Eugenios is curious to try Obama's chili recipe (maybe washed down by some "Independence Punch" to keep her stomach from leaning to the left or the right.)
More:
Boehner: Despite deep differences, Obama and I 'get along just fine'Don't touch the red button! Kid plays with Oval Office phoneBachmann wants GOP to unite, but won't say around whom