The warmth felt by watching this excited young Chicago Blackhawks fan being surprised by his favorite hockey player is enough to melt any ice rink.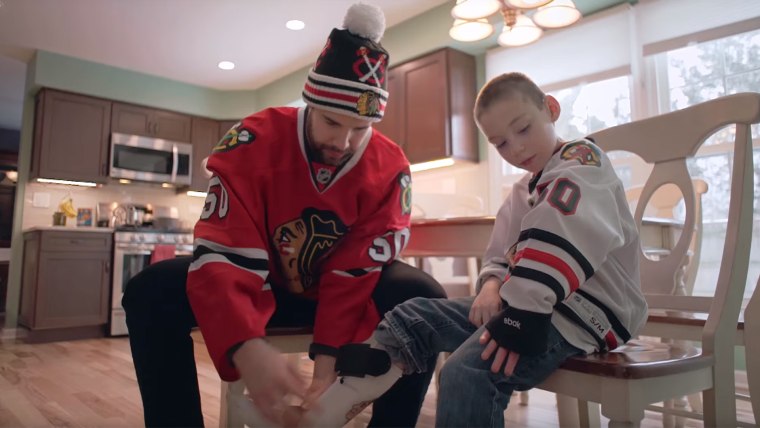 Ben Munsie was paid a home visit by Corey Crawford as part of the team's "What's Your Goal?" campaign, which recently fulfilled the wish of Ben's babysitter, Emilie Kopija.
"Corey? Is that you?" a completely stunned Ben asks in a video posted by the team Wednesday. As the boy examines Crawford's outfit, he asks, "Where's your pads?"
Ben wears leg braces because of several conditions including cerebral palsy and hemiplegia, which makes it difficult to use one side of his body. But his physical limitations have never held him back from enjoying hockey or boning up on his favorite team, the Blackhawks.
"Ben is by FAR the biggest Hawks fan I have ever met. He knows more stats than people 20 years his senior. He can never miss a game or a chance to wear a Blackhawks shirt," Kopija wrote in her appeal to the team last year.
And true to her words, Ben was wearing a team shirt when Crawford surprised him during his recent visit to his home.
RELATED: Calgary Hitmen hockey team's 'Teddy Bear Toss' for charity creates 'avalanche of fur'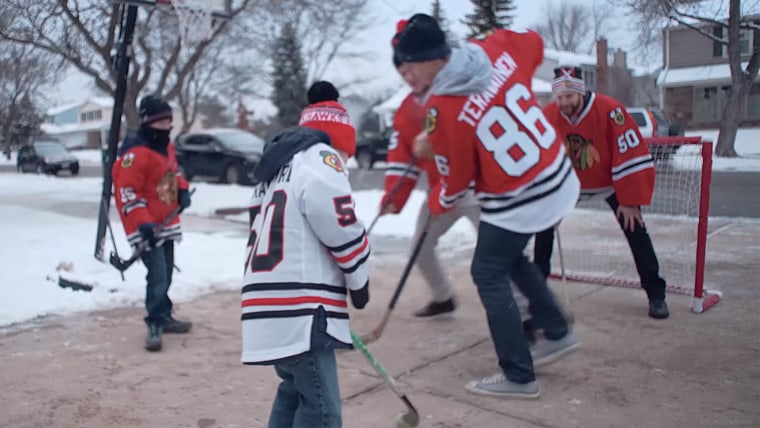 Crawford gave Ben a team jersey before taking the boys outside to play hockey on the driveway, where they got another surprise. Two more members of the Blackhawks, Andrew Shaw and Teuvo Teravainen, wanting to join in the action.
It's hard not to be moved when Crawford, after serving everyone a macaroni and cheese lunch, sits with Ben inside a bedroom filled with Blackhawk posters and memorabilia. The two read a book on Ben's bed, made with a team blanket and pillowcase.
"He's a great kid," Crawford said about the experience in a separate video released by the team.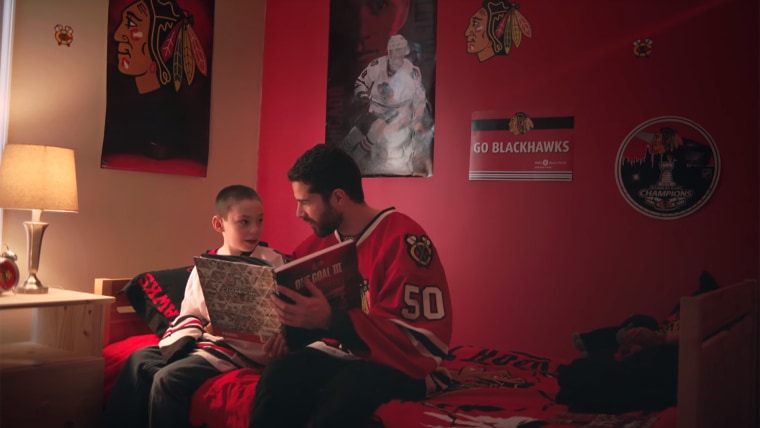 Crawford said he and teammates often get to interact with fans but rarely on such a personal level.
"Obviously we see it at the rink during games and stuff, but to actually go to someone's house and experience it on a different level, it was pretty cool," he said. "It was special to see all the Hawks stuff that they had at the house and how much they enjoyed it. They knew all the players. It was just something different."
He also joked about having his save percentage take a hit after Ben repeatedly scored on him during their driveway game.
"His clappers were a little too hard for me out there," he said. "In the cold, too. It was minus 20 and he was still powering through it."
Follow TODAY.com writer Eun Kyung Kim on Twitter.