Next up on Chelsea Clinton's agenda: Becoming a mom.

Clinton, 33, who has been married for three years to husband Marc Mezvinsky, told Glamour magazine in a recent interview that they are intent on starting a family next year. The death of Clinton's grandmother, Dorothy Howell Rodham, in 2011, resulted in the couple prioritizing what they want in life.
"We sat down and said, 'Here's what we want to do,''' Clinton told Glamour. "The first thing on the list was simple: We want, God willing, to start a family. So we decided we were going to make 2014 the Year of the Baby. And please, call my mother and tell her that. She asks us about it every single day."
The daughter of former president Bill Clinton and former Secretary of State Hillary Clinton was hit hard by the death of her grandmother, who she frequently went to for advice.
"It was such a fundamentally unmooring event for me," she said. "I've never been so lost as I was when she passed."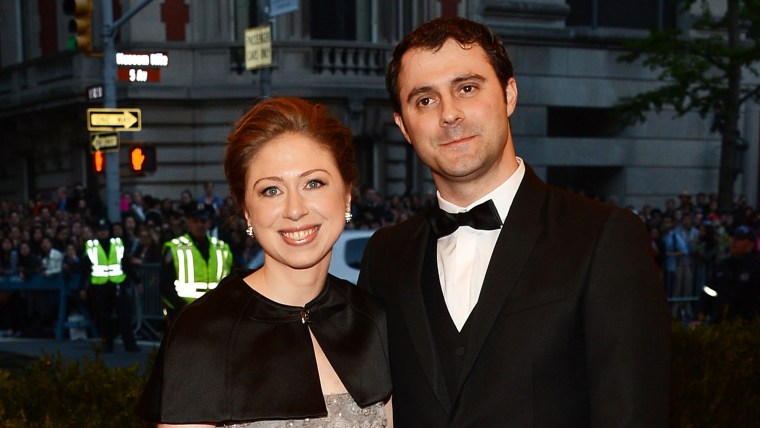 Clinton, who worked at McKinsey & Company and Avenue Capital Group after earning degrees from Stanford and Oxford, has recently taken a larger role as the vice chair of the Clinton Foundation, which works with initiatives involving climate change, economic development, global health, and empowering women. She and her father recently visited multiple African countries to help educate the local populations about life-saving technologies like a powder mix that creates drinkable water.
She says she dedicated herself to working for the family's foundation after consulting her grandmother for advice.
"She had strong ideas about what I should do with the opportunities I had been given,'' Clinton said. "I realized that as much as I tried not to care about the things my parents cared about, I did care about them. Which was frustrating, in some ways. My grandmother, in her wizened way, just said, 'Yes, I've been waiting for you to come to this realization.'"
In addition to becoming more involved in the foundation, Clinton also took a job as a special correspondent for NBC and even looked at potentially working for other non-profits, but said she didn't find one where she could be more effective than in the Clinton Foundation. Now she is focused on starting a family and pursuing the work her parents started.
"Work really, really hard, and in a way that makes an impact," she said about her focus. "I was ready to answer that calling and be the person may grandmother had always known I was."