/ Source: Consumer Reports
A less-expensive car can cost you more in the long run than a more-expensive alternative, our new ownership-costs comparisons have found.
At about $17,500, a Mitsubishi Lancer could cost $5,000 less than a Mini Cooper to drive home. But when you estimate the total costs of ownership for each car, the Lancer could cost you $3,000 more over five years. A Toyota Highlander can cost you $3,000 more to purchase than a Ford Explorer V6, but owning the Ford after five years can cost $6,500 more.
In addition to shopping for a good deal, car buyers should also consider how much a model will cost them to own. That includes depreciation, fuel costs, interest, insurance, sales tax and maintenance and repair costs.
To help, Consumer Reports is introducing its new owner-costs estimates, which can help you compare models and could save you thousands of dollars. The "owner costs" ratings cover one, three, five, and eight years of ownership and are based on a comparison of all models within the Consumer Reports database over eight years. Because depreciation is factored in our estimates, we assume that the vehicle will be traded in at the end of the term.
Costs vary among similar models Where does the money go? Here is how ownership costs break down over five years, based on our study of more than 300 vehicles. In analyzing ownership costs based on 2007 data, we made some notable discoveries
While Hyundai and Kia models have low prices and long warranties, the savings are often offset by poor resale values. Hyundai's Accent and Elantra don't prove any less expensive after five years than Honda's more expensive Fit and Civic.
Most Lexus models have relatively high maintenance and repair costs (primarily due to maintenance), despite excellent reliability. The Lexus ES350 racks up an average of $2,300 in maintenance and repair in the first five years, about twice what you'd pay on a Lincoln MKZ.
A little sports car can cost less to own than a family sedan. The Mazda Miata and Mazda6 V6 sell for about the same price. But at the end of five years, we estimate the Miata owner will be about $6,000 ahead.
The Toyota Prius is one of the few hybrids that can save you money. It costs about $7,500 more than a similarly sized Chevrolet Cobalt to buy but costs almost $2,000 less over five years.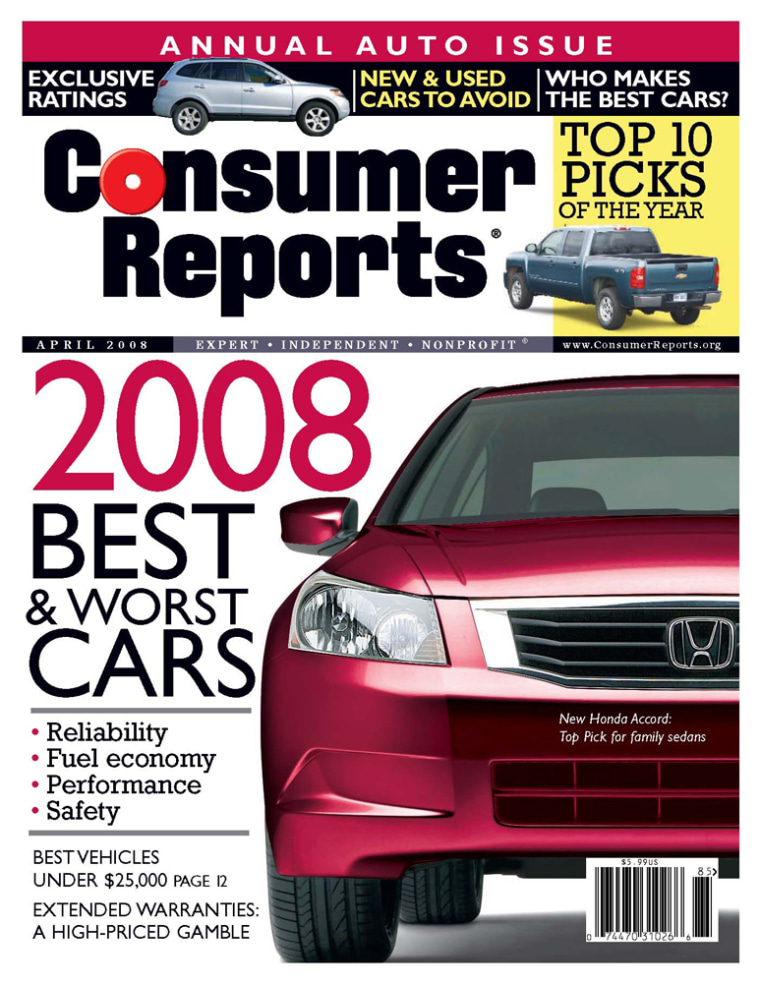 Our cost of ownership ratings comprise six main factors:
Depreciation is the largest cost factor by far. On average, it accounts for about 48 percent of total ownership costs over five years. Depreciation is a vehicle's loss in value over a defined period. To calculate it, we start with the price of a typically equipped model and factor in the discounts offered off of the manufacturer's suggested retail price on some models. The average model depreciates about 65 percent over five years. Some vehicles depreciate faster than others because of oversupply, limited appeal, or rebates on similar new models. When we don't have depreciation data for a new model, we use estimates based on comparable vehicles.
Fuel costs can really add up, especially for SUVs. For example, you could pay more than $10,000 to fill up a Dodge Nitro over five years, while a similar-sized but more-efficient RAV4 V6 could save you $2,000 during that time. To calculate fuel costs, we assume the vehicles are driven 12,000 miles a year, the average reported by respondents to our annual survey. To that we apply the national average price of $3 a gallon for regular gas as of December 2007. For models that require premium or diesel fuel, we use these costs: $3.20 a gallon for premium, and $3.40 for diesel. On average, fuel is the second-largest cost of vehicle ownership, at 21 percent over five years.
Interest is tied directly to vehicle price, and accounts for about 12 percent of five-year ownership costs. We calculate it based on a five-year loan, with a 15 percent down payment, because that is how many people buy cars. We use the average interest rate of 6.86 percent as reported by Bankrate.com in December 2007.
Insurance costs vary depending on many factors, including your age, location, and driving record. And they can dramatically boost the ownership costs of models that otherwise would seem affordable. For example, if you're looking for a fast car on a budget, steer clear of the Mitsubishi Lancer Evolution. Insurance can run $2,500 a year or more based on our 2007 figures. Conversely, the similarly priced Acura TL can cost as little as $900 to insure over a year. Overall, insurance makes up about 11 percent of total ownership costs over five years. Costs are derived from data from the Insurance Institute for Highway Safety.
Maintenance and repair costs make up 4 percent of ownership costs over five years on average, according to data from 675,000 Consumer Reports subscribers who responded to the online version of our 2007 Annual Car Reliability Survey.
They gave us their estimated costs for the last year — excluding tires — and their responses provided data for more than 300 models on vehicles up to eight years old. We used estimates based on similar models when data was unavailable. The majority of the costs are covered by the factory warranty during the first few years. But for some vehicles it can still add up. On average, we found that the Range Rover is the most expensive vehicle to own for maintenance and repairs, costing about $2,000 in the fifth year alone. But the Toyota Land Cruiser is also luxurious and very capable off-road and costs only $600 in that year.
Sales tax costs owners about as much as maintenance and repair does. We use the national average of 4.83 percent in 2007.
Carrying costs vs. operating costs Costs can be divided into carrying costs, tied to the vehicle purchase and operating costs associated with ongoing driving expenses. Operating costs include fuel, insurance, and maintenance and repair costs. Depreciation, interest and tax are carrying costs.
Carrying costs diminish significantly over time, while operating costs rise slightly, primarily due to increasing maintenance and repair costs. Still, on average, operating costs are less than carrying costs until a vehicle is about five years old.
Still, we found that some cars are expensive to drive, even though they're affordable to park in your garage. Some small cars, for example, have low prices, but their high insurance costs make them relatively expensive to operate. The Toyota Yaris is the least-expensive car to own in our estimation, and most of its costs go into insurance, gas and maintenance.
But small cars are the exception. On average, carrying costs outweighed operating costs by 60 percent over the first five years for the average model we examined. For example, carrying costs for the Lexus LS add up to more than $12,000 a year. But it is relatively inexpensive to drive at just $3,500 a year.
Even so, operating costs for some vehicles can be surprisingly high. The Ford F-250 turbodiesel, for example, costs about $5,750 a year for fuel, insurance, and maintenance and repair. The Dodge Viper is even more expensive, costing more than $7,000 a year to run. Insurance alone on the Viper costs almost $4,000 a year.
Average carrying vs. operating costs Carrying costs of depreciation, interest, and tax diminish over time. Operating costs, including fuel, insurance and maintenance and repair increase over time.
In addition, owner costs drop over time. Our ownership costs compare the expense of keeping a new car for one, three, five and eight years.
Most people keep their new vehicles for three or five years. But the high depreciation costs in the first year help explain why new cars are so expensive to own, so we break that out as well. Depreciation is the biggest reason cars cost so much to own during the first few years. It makes up almost 60 percent of the cost in the first year, and depreciation is still the largest annual ownership cost for vehicles up to six years old. Sales tax also adds to the cost of the car the first year.
Cars cost less to own every year after that. For example, the average model in our study costs twice as much to own the first year as it does the second year. The sixth, seventh and eighth years combined about equal the cost of the first year.
While maintenance and repair costs increase, even over eight years they still don't average one-sixth the cost of depreciation.
Still, we found that some cars can be inexpensive to own initially compared with others, then become relatively expensive as they age.
For example, maintenance and repair costs are very low for BMWs over the first five years of ownership, primarily because BMW offers free maintenance during the four-year warranty. In fact, our readers report that the BMW Z4 roadster is the least-expensive car to maintain over the first five years. But BMWs are some of the most expensive cars to maintain over the long term. Once the free maintenance period expires, the BMW X3 SUV, 3 Series sedan, X5, and 5 Series went from having near the lowest maintenance and repair costs in their categories to among the highest.
In the end, though, it is almost always less expensive to hang on to your current car than to buy a new one. Even the most-expensive repair bills for an old car can't outweigh the cost of depreciation on a new one.
For more great tips like these, visit .