What's Channing Tatum most terrified about when it comes to his impending fatherhood? 
"I think everything and above," the hunky actor, who's expecting his first child with wife Jenna Dewan-Tatum, told E! News while promoting his new film "Side Effects" with costar Rooney Mara.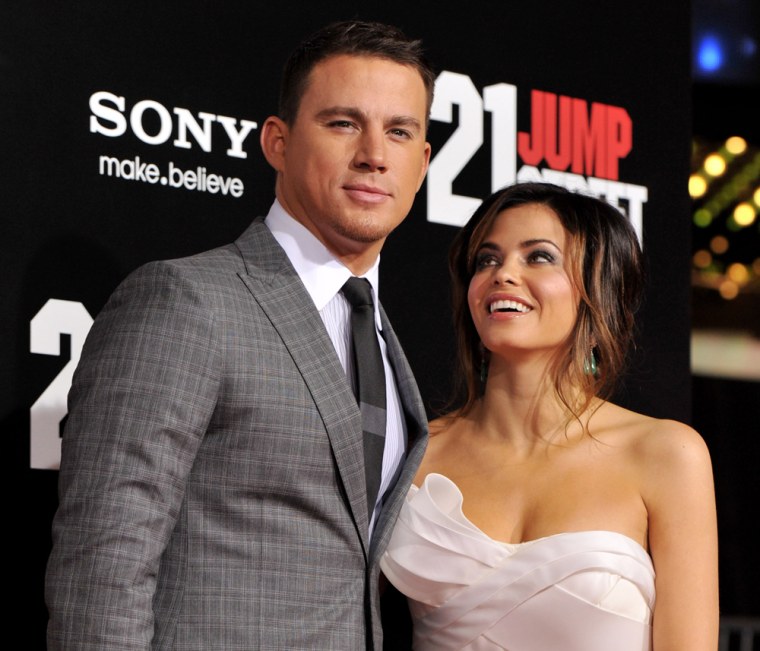 "I mean, I don't think there's one thing that doesn't terrify you, but in the most unbelievably beautiful way," the 32-year-old "Magic Mike" star gushed. "Someone said it's really like watching your heart jump out of your body and run around, and I think that can possibly be the coolest thing that I've heard of."
Channing Tatum is shirtless in man-candy art piece
As for how his pregnant wife is adjusting to her growing baby bump, Tatum said, "I mean, women just sort of turn into like animals in this sort of stage that they're in."
"Are you calling her an animal?" Mara asked.
"She's a complete animal right now!" he joked. "You can ask her, but in the most beautiful like humanistic animal-y way. You know she works out all of the time, eats right, impeccably right. She's just a machine."
See Jenna's growing baby bump!
Meanwhile, Tatum's "Side Effects" costar and father of four Jude Law has some parenting advice for the Sexiest Man Alive.
"I just warned him," Law cracked, adding, "I just said, 'Make the most of it while you can, brother.' They will break you. Sleep while you can."
While many up-and-coming actresses have ordinary names like Anne and Amy, it's young actors with unusual monikers — like Cam Gigandet — who are already influencing baby names. Here are the most noteworthy hot guys with cool names, soon to be heard at a nursery school near you.
Related content: