Last week, photographer Lelanie Foster got the call of a lifetime when the White House contacted her to shoot the first official portrait of Judge Ketanji Brown Jackson after making history on Capitol Hill.
On Friday, Jackson was confirmed as a Supreme Court associate justice, making her the first Black woman to ever hold that position.
"When my agent called me and told me, 'Oh, you got this call,' I was floored and stunned," Foster, 35, told TODAY by phone. "I was surprised. It was that moment of shock."
Foster, who's best known for photographing the cast of "Insecure" and the stars of Lena Waithe's 2019 flick "Queen & Slim," knew that her portrait of Jackson was going to mean so much to women of color everywhere. So she quickly accepted the job and thought about ways to honor the Harvard University alum.
"I wanted an image that would be timeless, essentially, and live on forever," she said.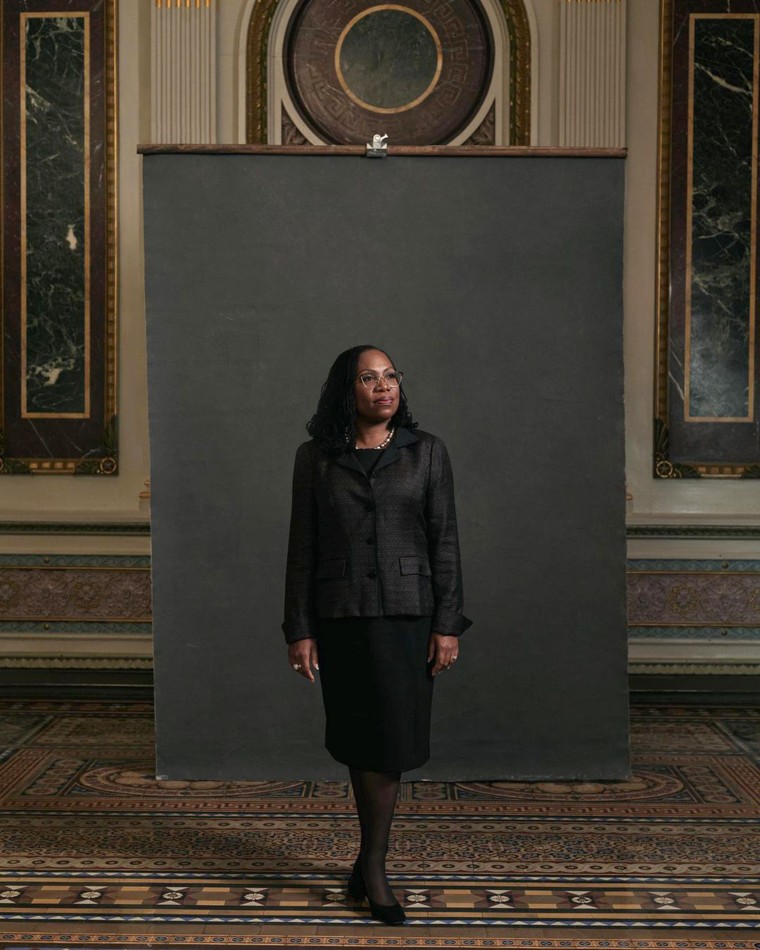 Foster didn't take any part of her job lightly. She only had one day to put everything together and create a photo that would showcase Jackson's accomplishments.
She said she felt a responsibility to show up for the Black community and represent the judge in the right way, so she started off by visiting some of the proposed spaces that the White House offered. It was there that Foster found the perfect location for her shoot. She chose a background that embodied Jackson's success.
It's an affirmation of existence.
Lelanie Foster
"I wanted to create a regal-like, dignified portrait of her," Foster explained. "But I also wanted to kind of maybe have a set and make it a little bit more modern. So that was the idea of having a backdrop in there as well."
She added: "She's just so composed. It's like it just draws your attention even more to her."
When Jackson arrived on the set, she was instantly taken with Foster. The two struck up a conversation about a photo project that Foster worked on for The New York Times.
Foster had taken 22 photos of women of the Harvard Black Law Students Association, of which Jackson was once a member, on April 7. With the help of a reporter, Foster's portraits eloquently tell a story about how Jackson's accomplishments have inspired many Black law school students.
"She immediately got into a conversation about that and how much she enjoyed reading that piece, so it was just like, oh, this woman is amazing," Foster said with a laugh.
"I felt like she would be a very warm person, and she was that and so much more," she added.
On Friday, Foster shared her portrait of Jackson on Instagram. The photo was so popular that Oprah Winfrey reshared it and captioned the snap with a verse from a Mari Evans' poem — one of her favorites — "I Am a Black Woman":
I am a Black woman / Tall as a cypress / Strong / Defying place / and time / And circumstance / Assailed / Impervious / Indestructible / Look on me and be renewed
"I'm feeling great renewal today for the grit and grace of our new Supreme Court Justice, Ketanji Brown Jackson," Winfrey added.
Seeing the repost made Foster feel even prouder of what she created.
"It's so wild to see and it's so special to see how celebrated the image is becoming," she said.
Foster couldn't deny that she also felt very inspired by Jackson. As a woman who identifies as Black, Caribbean, multiethnic and Latina, Foster said it was an "incredible honor" to be in Jackson's presence and to see all that she represents.
"For the Black community, for Black women, it's just the visual. It's an affirmation of existence," she said. "And that we're here and we can do this and it's proof. The proof is in the pudding."
"Seeing her in that position, it means so much for all those that are to follow, whether it's in that field or whatever it is," Foster continued. "It really is a powerful testament to existence and recognition, really."