Welcome back to another end-of-the-week recap of the biggest stories in entertainment. As we mentioned last Friday, our goal here is to get you ready for the weekend and any conversations you might have that veer into our territory.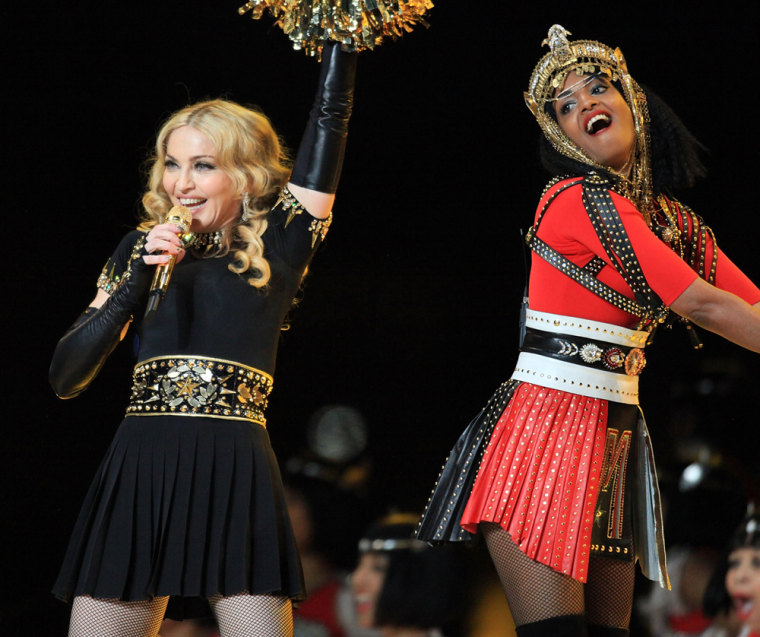 So, here are 10 items you may want to know a little bit about:
1. The Super Bowl last Sunday generated several stories that had nothing to with the final score. Gisele, the supermodel wife of Patriots QB Tom Brady, said something. Roland Martin, a CNN commentator with some hangup regarding David Beckham is his underwear, tweeted something. But our biggest focus was the rapper M.I.A., who performed as part of Madonna's halftime act and used her middle finger for ... something.
2. Talk show host Ellen DeGeneres was "proud and happy" this week after J.C. Penney, the retailer for which she is a national spokeswoman, stood behind her in the wake of an attack by an anti-gay group.
3. German fashion designer Karl Lagerfeld was rolling in the deep this week when he referred to British singer Adele as "a little too fat." He later backtracked with the ever-popular "taken out of context" excuse and said he was Adele's "biggest admirer." Look for Adele in all her beautiful glory at this Sunday's Grammy Awards.
4. Speaking of singers in the news ... 16-year-old Symone Black made a name for herself this week when she took the stage -- and then fell off of it -- during the Hollywood round of "American Idol." The show treated the teen's mishap as a cliffhanger, and even rolled credits over her body crumpled on the floor in front of the judges. Classy.
5. You were clicking this week on the saga surrounding Nick Carter and the recent passing of his 25-year-old sister, Leslie. The former Backstreet Boy skipped Leslie's funeral and played a concert as part of his current tour, blaming a "complicated dynamic" in his family.
6. "Safe House" stars Ryan Reynolds and Denzel Washington stopped by the TODAY show this week to discuss the new action thriller which opens this weekend. Check out Reynolds in the clip below, discussing how he gave his co-star a black eye and lived to tell the tale.
7. The Duggar family of "19 Kids and Counting" fame found itself at the heart of a scandal this week involving a woman who was allegedly trying to extort one family member with photos of so-called "intimate situations."
8. Beyonce and Jay-Z made news a couple times this week. The rapper performed at New York's Carnegie Hall on Monday night and that occasion led to Beyonce's first post-baby photographs making the rounds. By Thursday, the focus was still post-baby as it was revealed that the singers were working to trademark the name of new daughter, Blue Ivy.
9. You might start running into more dinner guests who want to talk about the popular PBS series "Downton Abbey." Impress your guests by knowing that, out from under the dowdy makeup and stiff costumes, some of the show's cast members are real lookers. Biggest surprise? O'Brien!
10. Finally, one more click will get you to dozens of clicks. Look back at the week in Celebrity Sightings as Reese Witherspoon, Channing Tatum, George Clooney, Lindsay Lohan, Sarah Michelle Gellar and more stars were spotted out and about.
What was the big entertainment story of the week in your mind? Chat about it on Facebook.