Maybe the cat was a wannabe DJ, scratching the spinning Bob Marley record to add additional sounds. Maybe he was no fan of the late reggae legend's "Is This Love?" and was eager to switch the music to "Could You Be Loved?" or "Three Little Birds" instead.
But more likely, he was a cat fascinated with a spinning disc who got a little more than he bargained for.
The cat comes upon what appears to be "Legend," a collection of Marley's greatest hit singles, and starts to paw the spinning record, making the needle jump songs.
His fascination continues, and after a suspicious editing cut, he's suddenly completely sitting on the record, spinning right round, baby, right round. (We're wondering if his owner picked him up and set him on the album, as he didn't seem coordinated enough to make that leap alone.)
YouTube viewers had a great time in the video's comments. "Go home cat, you are drunk," wrote one. Some were appalled that the owner would let their pet ruin a vinyl record. One felt that the owner was abusing the cat by letting him (or her) get dizzy by spinning around on the album.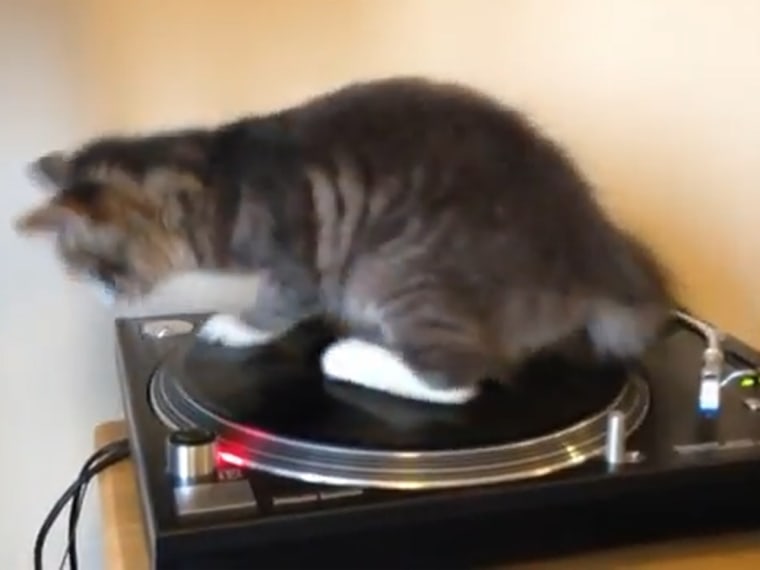 And others thought the cat had a career in music ahead. "Someone get that cat a hoodie and a glowstick," wrote one fan. "And maybe some Dramamine."
Even the Marley family got a kick out of this little bit of cat scratch fever. 1Love.org, a movement started by the Marleys to raise charitable donations, tweeted out a link to the Huffington Post's take on the video with the caption, "The feline remix!"
Related content: