Pattie Daly Caruso endured the death of her first husband at a young age and has persevered in a battle with breast cancer, approaching each bout of adversity with a positive attitude.

Her strength has inspired her son, TODAY's Carson Daly, who now has two children of his own. On Thursday he spoke about his mother's impact on him as part of the show's week-long #InspiredBy series, in which the anchors and fans on social media have reflected on people who have inspired them.
"I think having a strong parent has just been such an inspiration because it's a constant reminder for me to find my own pillar of strength and to be that for my own growing family,'' Carson said.
Pattie grew up as an Army brat, even living in Japan for two years, before moving to California to become an actress. During her time at the Pasadena Playhouse, she met future husband Jim Daly and started a family. When Pattie was 33 years old, her mother died. When she was 35, her husband — Carson's father — died from bladder cancer that was discovered in a routine hospital test.
"It was devastating,'' Pattie told TODAY.
"I remember the day my dad died,'' Carson said. "I went upstairs and the the room was pitch black, and my mom was in bed. Her way of trying to explain about the death of my dad was, 'Daddy's not coming home.' I think I said something like, 'Mommy, I wondered if I could please have Daddy's money?' She knew I couldn't quite comprehend what was going on."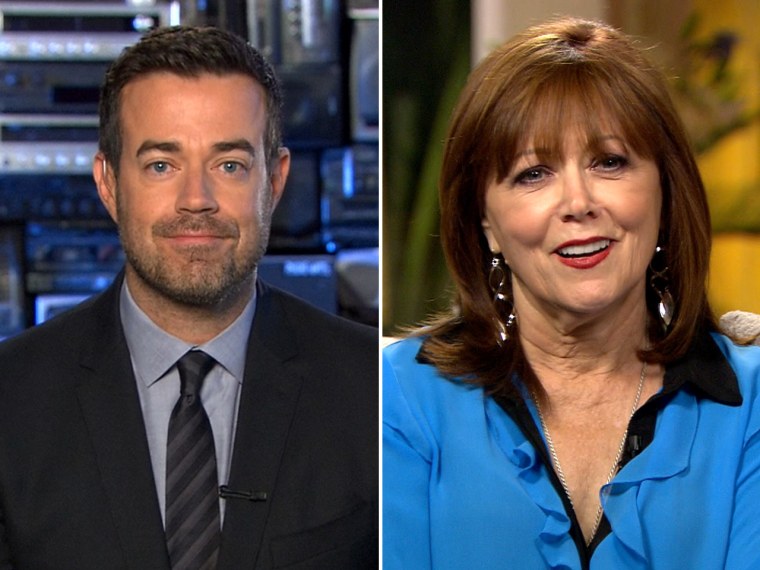 Pattie stayed strong for her children, eventually getting remarried to Richard Caruso, who became a loving stepfather to Carson and his sister, Quinn.
"I always say that God blessed me with two incredible dads,'' Carson said.
In the late 1990s, Pattie was diagnosed with breast cancer. Carson was in New York City at the time, hosting "Total Request Live'' on MTV, when she called him with the news.
"I remember the sinking feeling, and I said, 'I'm on my way,''' Carson said. "She said, 'Don't you dare. You have a live show to do.' She's selfless. It's not about my mom. It's never been really about her."
Pattie underwent a mastectomy, deciding to pursue aggressive treatment with her family in mind.
"The thing that just destroyed me was my kids and when they would have kids, so I knew I had to be here,'' she said. "I think you have to put one foot in front of the other and go forward. I think it's that simple."
"Some people will say, it's not the cross — it's how you bear,'' Carson said. "Her life is a constant example for me of how to bear that cross."
Pattie is also involved in television with her own show in Palm Springs, as well as doing philanthropy work for the cancer cause. However, her family is her proudest achievement.
"I don't look back and wish I'd had a bigger career or whatever,'' she said. "I've just loved, loved being a mom. To think that I might be doing something right is the most wonderful, thrilling thing that I could hear, period."
"If you can make an impact every time you're with a fellow human being, wouldn't that be wonderful?" Carson said. "And a positive one at that. My mom every day makes hundreds of positive impacts on people's lives, and that is at the end of the day one of the greatest things about her."