It took Mary Shertenlieb more than 13 hours to finish the Boston Marathon after cold, pounding rain led her through some unexpected detours.
But even after her lips turned purple and her body shook with chills, and medical tent nurses urged her to quit, Shertenlieb knew she could finish.
"I kept thinking, I've done harder things than this. I've had cancer three times. I can surely, mentally, do this," the 42-year-old leukemia survivor told TODAY.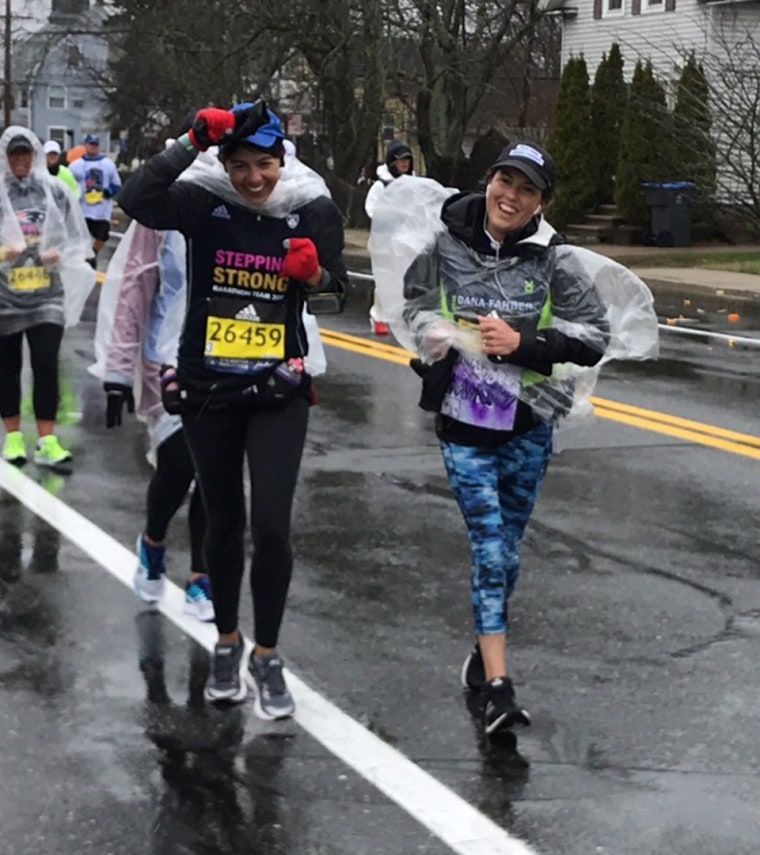 In the end, she took an unconventional route to reach her goal.
Shertenlieb ran Monday's marathon, her first, to raise money for the Dana-Farber Cancer Institute in Boston, the renowned treatment and research center where she was a patient.
The Boston mother of two started her training last September, although she was sidetracked by a broken toe, shingles and a few other health problems. Still, she felt ready by April 16, aside from the deluge that greeted her and other runners shortly after 11 a.m.
Shertenlieb had prepared tricks, like duct taping her shoes to keep them waterproof, but nothing worked. Rain poured down her back despite the rain jacket and poncho she wore. A change of clothes along the way didn't help because they got drenched within minutes.
Around mile 13, Shertenlieb and a friend ducked into a medical tent where she knew one of the nurses.
"I was shaking a little bit and she's like, 'Mary your lips are purple. You need to stay in and warm up. I don't think you should go back out,'" she said. "She said there was a bus coming to pick up all the people in the med tent."
Shertenlieb headed back onto the course instead. At mile 15, she ran into another medical tent, where she again was advised to take a shuttle back to the base.
"It infuriated me because I trained so hard for this. And I've gone through so many tougher things," she said. "They were like, 'It looks like you have the beginning signs of hypothermia and if you stay out there, you could get really sick.'"
After learning the next medical tent was another two miles away, Shertenlieb and her friend decided to head back out. They soon ran into her friend's father, who quickly led the women into a Dunkin' Donuts to warm up. It was there Shertenlieb admitted to herself that she was risking her health to continue.
On the verge of tears, she called her husband, who was waiting for her a few miles ahead, to come pick her up.
But her husband, Rich Shertenlieb, who hosts a local radio sports show, had an idea.
"He said, 'How about we bring you home, back to Boston … You can take a warm shower and get some real clothes on,'" she said.
He suggested they would then take a cab back to that same spot around 8 p.m., when the rain and wind were forecast to stop.
"He said, 'We'll do 15.5 and go all the way to the finish line. We'll do it together and you'll be safe,'" she recalled.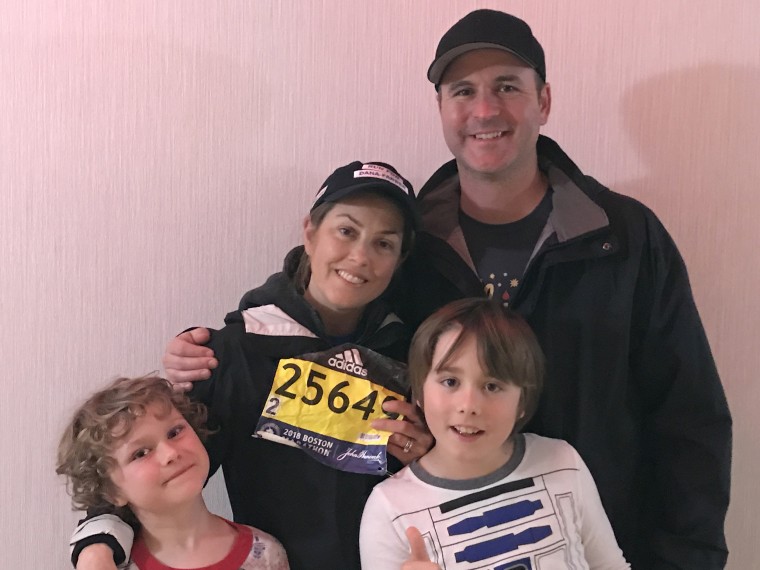 She took her husband up on the offer and the couple went home. After a quick dinner with their children, they returned to the Dunkin' Donuts store they left hours earlier and made their way to the finish line in the dark.
"We joked that it was the best and most insane date that we've ever been on," Shertenlieb said.
Her husband had posted social media updates about their evening plans, alerting friends who ended up surprising her along the route with encouragement and bottled water.
Shertenlieb eventually reached crossed the finish line at 12:18 a.m. Tuesday. Several friends and race volunteers where there to greet her, despite the fact that the marathon had officially ended hours ago.
"It was just overwhelming. I'm not a big crier, but I just burst into tears," she said. "I never thought I would feel this happy being in last place!"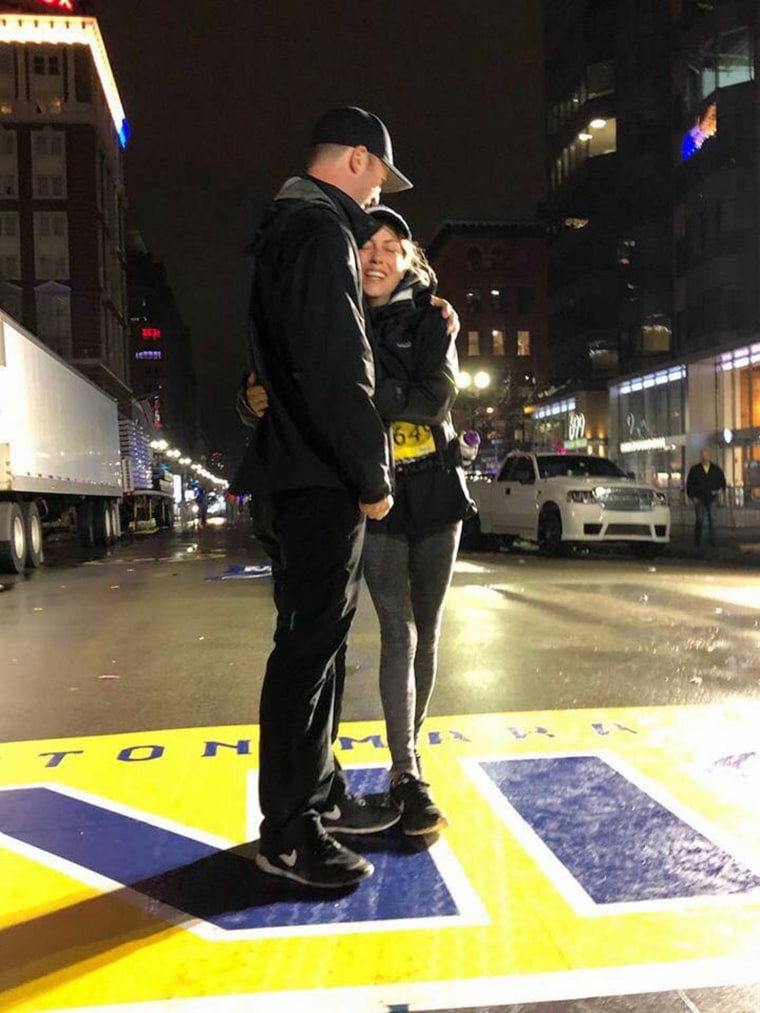 Shertenlieb already met a $15,000 fundraising goal for Dana-Farber, but once news spread about her unusual marathon path, donations poured in. She has since raised more than $41,000.
Shertenlieb was diagnosed with acute myeloid leukemia in February 2013. She relapsed twice after her initial treatment and also underwent a stem cell transplant after transferring her care to Dana-Farber. She has been cancer-free since August 2014.
"The third time that I had leukemia, they used this drug that was really experimental because nothing else was really working on me," she said. "Dana-Farber saved my life. They gave me so many extra years that I wouldn't possibly have."
Although the reality of finishing her first marathon turned out far different than what she envisioned, Shertenlieb said she wouldn't have changed a thing.
"Just because it's different than how you planned it doesn't mean it's not going to be absolutely incredible and way better than you originally picture," she said.
"I imagined myself crossing that finish line and I crossed it differently and I crossed it last, but I feel so much more fulfilled having it this way."