Talia Castellano, the inspiring cancer patient who became a YouTube beauty guru and honorary CoverGirl, died at 13 years old on Tuesday.

Castellano, who found out she was named a CoverGirl on "The Ellen Degeneres Show" in October of 2012, "earned her wings" at 11:22 a.m. on Tuesday, according to a post on Angels for Talia, her official Facebook page.
"Please lift her beautiful soul, her beautiful light to heaven and please send your love and prayers to her family during this most difficult time,'' the post reads. "God speed little one, may you be free from pain and suffering, may your soul feel the light and love that you brought to so many of us on this Earth during the short time you were here with us. We will miss you more than you will ever know baby girl."
The CoverGirl portrait of Castellano revealed by Ellen went viral after her appearance last year. Her journey of living with cancer and becoming a CoverGirl deeply touched TODAY.com readers, who made her story the most "liked" post of the year on TODAY's Facebook page with 897,746 likes. Her appearance also impacted Degeneres, who reacted to the news on Tuesday.

CoverGirl also posted a short tribute to Castellano on its official Twitter account.

Diagnosed with cancer when she was seven years old, Castellano gained more than 750,000 followers on her YouTube channel for her makeup tutorials.

"I feel proud that I have accomplished so much on YouTube, have so many people watching and now taking seriously how childhood cancer don't have enough funding," Castellano told TODAY.com in August.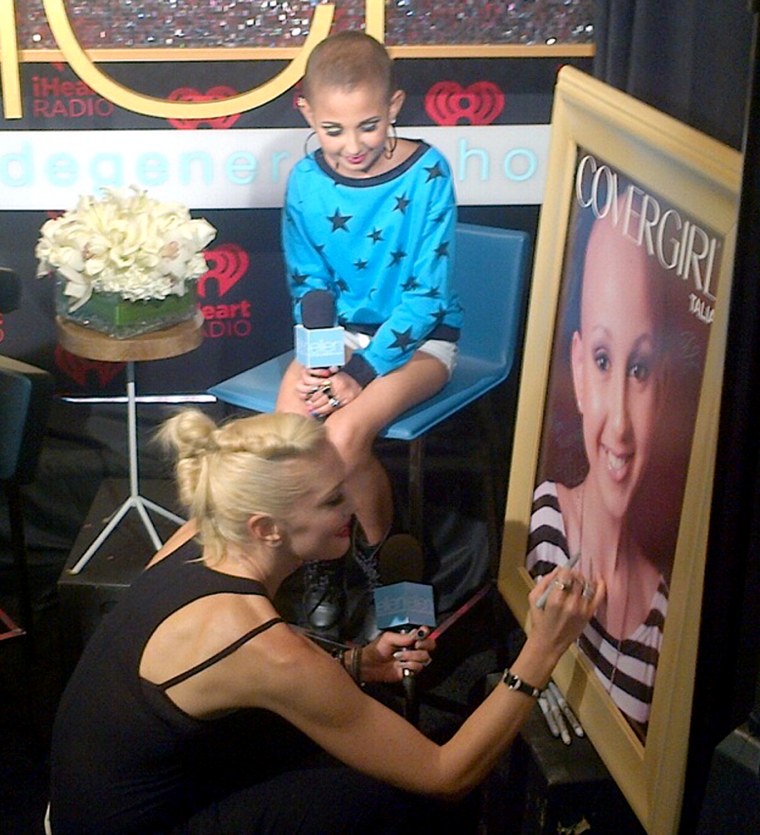 The Orlando teen found out in August of 2012 that her cancer had spread to her bone marrow, but she continued producing her beauty videos, previewing "dramatic smoky eyes" and reviewing "the best of Urban Decay." On July 9, Castellano posted a bucket list on Facebook that included items like "dance in the rain," "give flowers to a stranger," and "have a huge pool party."

In October of last year, her dream of appearing on "The Ellen Degeneres Show'' was realized, and Ellen surprised her with the CoverGirl announcement. She also sent Castellano to the iHeartRadio Music Festival in Las Vegas, where the teen was able to interview the likes of Gwen Stefani, Demi Lovato, Usher and Ryan Seacrest.
"I met so many celebrities and had so much fun and I wouldn't take it back for the world," she said in a vlog posted on her YouTube channel on Oct. 11.
Castellano had spent the last six months in the hospital with only a brief trip home, according to her Facebook page. Her story touched celebrities like Bruno Mars, who sent her a personalized message reading, "Your courage – inspiring. Your spirit – infectious. You – amazing! Just the way you are!!"
Her fans and followers posted touching tributes to her on Facebook after learning of her death.
"Crazy how someone you've never met can hold a special place in your heart,'' Heather Mares Sledge wrote. "Many tears reading this. Fly high Talia."
"Tears were in my eyes when I found out the news,'' Samantha Murphy wrote. "I really wish I could have met you. You were a true inspiration in my eyes and to everyone else. You were so full of life and so very beautiful."
Castellano stood strong in the face of cancer, even after receiving the news last August that her disease had spread.
"The journey of having cancer has been amazing, but every journey has to have an end," she said in a video posted on Aug. 7, 2012.