Despite battling cancer and cruel treatment aboard an airplane earlier this week, one family is still urging others to "be kind."
Christina Alvarado and her husband, who's fighting stage 4 esophageal cancer, were heading home to Arizona after visiting family in Washington on Monday, when their 7-year-old son had an allergic reaction to a service dog aboard the aircraft, operated by Allegiant Air. The flight was delayed while the crew corresponded with a doctor, and then decided to remove the family from the flight. But that's not what made Alvarado upset — she was hurt when other passengers applauded as the family left.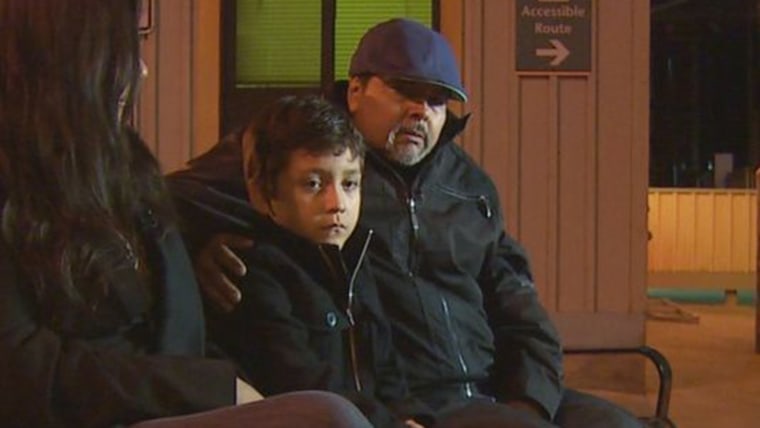 "We understood, we weren't being obnoxious," Alvarado told TODAY.com, explaining that she accepted that the family had to deplane. "But then people toward the back of the plane started to clap. And it wasn't just one or two people."
RELATED: Pregnant mom says she was kicked off flight over her son's 'really loud' crying
Passengers likely had no idea what the family was going through, and that the trip had been part of a bucket list; they had been visiting relatives in Washington. But young Giovanni, already devastated by dad Jorge Alvarado's terminal cancer, was even more disheartened by the rude gesture.
"People that do not have sadness, they don't understand what it feels like to have sadness," he told told King-5 News, an NBC-affiliated station in Seattle.
"It's an issue of humanity and kindness — what happened to compassion?" Alvarado added when talking to TODAY.com.
The flight was scheduled to leave Bellingham on Monday afternoon, and took off about an hour and a half late, according to the airline, which put the Alvarado family on the next available flight back home to Phoenix, Arizona, which wasn't until Wednesday.
RELATED: Teen with terminal cancer plans dream bucket list: 'It's Emma's happy ending'
Allegiant Air sent the following statement to TODAY.com:
"Allegiant stands by the decision to remove this passenger from our aircraft to ensure his safety," the company said. "We followed the advice of our on-call medical doctor by not allowing the child to continue on the flight following an allergic reaction to a service animal on board. The safety of our passengers is our most important priority regardless of the circumstances. We are sorry for the circumstances under which this family was traveling, and we regret that this family had a negative experience and that they were inconvenienced. We worked diligently with the family to get them on the next available flight and get them safely to their destination as soon as possible."
The family isn't angry with the airline — they just wish people on board had been more considerate.
"You don't know how much time people have, or why they're hurting," a tearful Jorge Alvarado told King-5 News. "Just be nice. Be kind."
RELATED: Violinists booted from US Airways flight
Christina Alvarado told TODAY.com she's gotten dozens of messages from people apologizing for what they went through, including at least a couple of passengers from the same flight. In one of the messages, they learned that a fellow passenger stood up to scold others on the flight for clapping.
"One person stood up and told the crowd, 'That's not right,'" she said. "I don't know who they are, I don't know where they are, but we are so grateful and I just want to say thank you. I appreciate the courage that it took for them to stand up and do what's right."
Alvarado added that while the majority of the Allegiant Air staff was helpful, there was one flight attendant who "smirked" at their situation. A spokesperson for Allegiant Air told TODAY.com that the company is looking into that allegation.
There is a silver lining to the Alvarado family's troubles, however: another airline took note of the drama and jumped at the opportunity to gift the family a trip to Disneyland.
"When we heard about the story, we knew we wanted to help," Dan Landson, a spokesperson for Southwest Airlines, told TODAY.com in an email. "We worked with Southwest Vacations and we were able to pull together this incredible trip for the family. We are excited to see them on the trip and creating memories that'll last a lifetime."
Details of the vacation are still being worked out, and Alvarado says the family is especially excited because Disney Land is another trip that was on their bucket list.
"We didn't expect anything from this, and we're not asking for anything," she said. "But we're sincerely appreciative."