/ Source: The Associated Press
Designers at New York Fashion Week, faced with a grim national mood, looked for a solution far, far away.
Vacation destinations — both exotic and less so — were the inspiration for countless collections for spring 2010, which was in its seventh day of previews on Wednesday. If most people are left with "staycations" these days, at least they can take a visual journey.
Oscar de la Renta's look was well-traveled, seeming to draw inspiration from style traditions in Africa, South America and Southeast Asia. Diane von Furstenberg imagined sunset on the Nile, while Carolina Herrera had a Latin American vibe with exotic rope and raffia details. Marchesa looked to Japan.
"People want to feel cultured, traveled and exotic, even if they're not going anywhere. You can get there through fashion," said stylist Robert Verdi.
Yet the destinations were more down-to-earth than usual suspects like the French Riviera. Derek Lam took inspiration from American boardwalk towns; Lela Rose had her Venice Beach surfers. The overall feel was a more relaxed version if luxury — even if the clothes are just as expensive.
Oscar de la Renta
Oscar de la Renta's collection had some of the elaborate beadwork and embroidery that are the designer's hallmark, but he also was aware of the times and the world around him, avoiding anything that would be considered too haughty.
A teal-blue coat with citrine-green embroidery topped a white lace dress, a strapless gown was covered in sunburned bronze-and-red sequins, while another gown had a bejeweled turquoise and coral waistband.
Safari jackets were paired with skinny silk-faille pants, and a pair of linen gaucho pants was worn with a white cotton blouse and a bronze tweed jacket. The models in the more traditional de la Renta eveningwear — taffeta and organza gowns in bright fuchsia and red as well as a black lace-and-organza ruffled and embellished one — wore lace mantillas on their heads.
The most elaborate outfit was the finale piece: a strapless gown made of layers upon layers of gray and blue tulle with a bodice covered in crystals.
Michael Kors
Michael Kors had a clear vision for his new collection: use strategically placed pieces of a colorless acrylic material to add lightness and sex appeal to a season of "urbane renewal."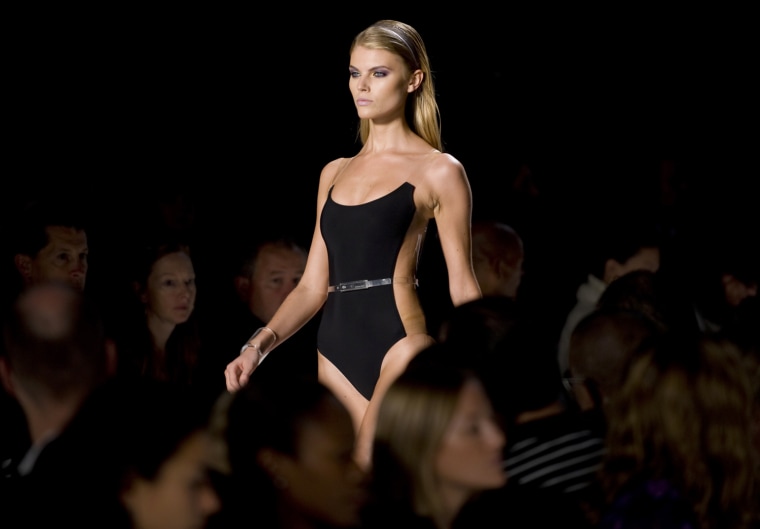 The Perspex pieces, which went down the sides of a black swimsuit and across the waist of a sky-blue shift for a full view of the models' skin, gave Kors' overall look for spring a bit of a '60s vibe.
A white leather shift dress with a zigzag of zippers down the front (worn by Kors muse Carmen Kass) kicked off the show. A bleach-splatter fitted dress, silver crinkle lame sheath and black "cage" dress with a slashed bodice and checkerboard of black patent leather as its back all looped back to Kors' interest in graphics and architecture.
But the collection also had a softer side, best illustrated by the painterly watercolor prints in lilac and seafoam used for silhouettes including walking shorts and an origami-folded skirt.
Narciso Rodriguez
Finding that right middle point between body-hugging and billowy is a feat that designer Narciso Rodriguez should be proud of. His spring collection was a study of restraint on one side, and freedom on the other.
They came together Tuesday night for a knockout finale dress, a fairly simple, silver silk tank-style gown with a shorter hemline in front and a flowing back that caught the wind of the runway and had a parachute-like effect.
Rodriguez, best known for his tight, architectural look, hit on one of the popular silhouettes of the day, spotted also at Vera Wang and Badgley Mischka: skirts and dresses that seem to hit one length, but actually have a sheer section at the bottom that makes them much longer.
A white jacket with a double peplum (the bottom one also of a sheer fabric) over a white silk-mesh tank and skinny pant was one of the best daytime looks. Falling in line with another trend, Rodriguez padded the hips of some silhouettes with extra fabric, calling attention to an area where many women don't want it.
Nanette Lepore
Nanette Lepore wanted to evoke a feeling of optimism with her spring collection, and she did it with sunshiney colors and playful patterns, turning the runway into a lush flower garden.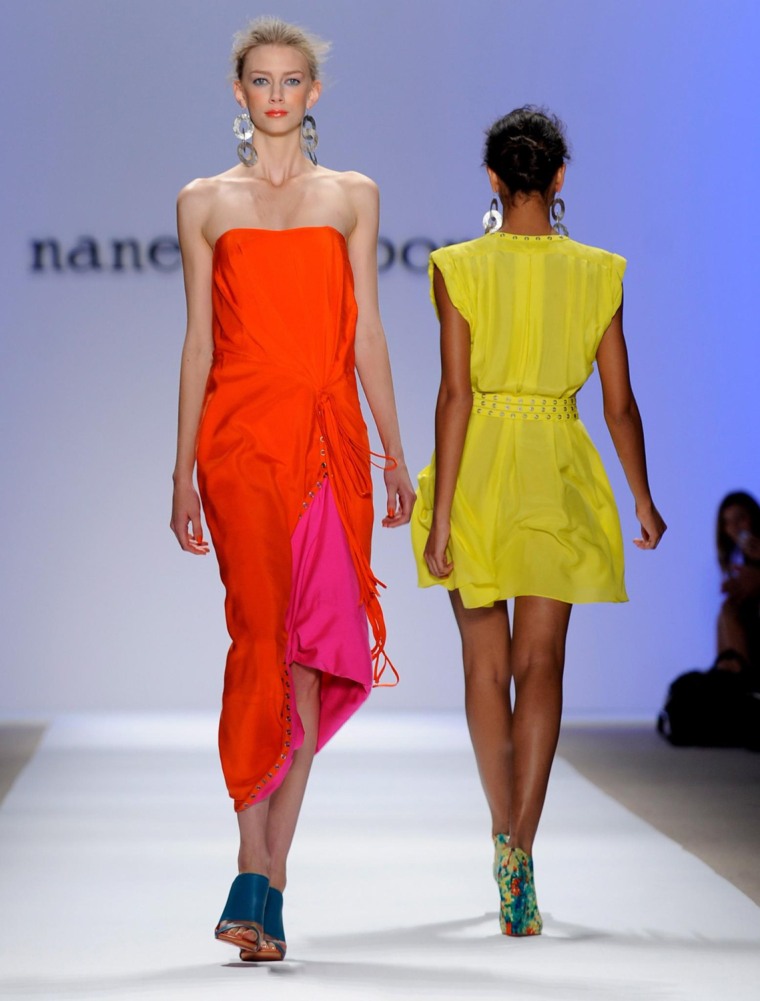 Her show was full of yellows, blues and fuchsias, mixed in with nature colors like browns and brownish-greens; styles ranged from wrap dresses to loose cardigans, and the prints were reminiscent of raindrops or flowers.
A one-shoulder minidress with horizontal stripes in brown, light purple, darker purple, orange and yellow-green had bright detail that looked like a bunch of wildflowers in an array of colors on the one strap. But it was items like the yellow short wrap dress with the V and the belt detailed with metal eyelets that really brought the feeling of escapism that Lepore said she was seeking.
Tory Burch
Never have their been so many photographers on the floor as there were at Tory Burch's presentation Wednesday morning. Burch's roots are in accessories, so the first question to be answered was: What are the shoes like?
Leather-strap sandals woven and wrapped up the leg, moccasins with heels and a driving shoe-bootie, all of which will probably cause a shopping stir.
Her clothes were things that people — and not just high-fashion types — could wear: A cheerful garden print was used for a loose, pleated dress and a pair of skinny pants and coordinated button-down shirt, a tie-dye tank dress and short trench with gold buttons.
Baby PhatSummer finally came to Fashion Week on the Baby Phat catwalk.
The spring/summer collections for 2010 have been more covered up than usual. Leather, suede, long sleeves and black have been all over the runways.
But not at Kimora Lee Simmons' Baby Phat, which kicked off with a coral-colored ruffled bikini. Then there was a gold bikini, an animal-print bikini, and a blue one-piece that was cut down to there. Simmons also shows some menswear as part of her line, and every male model was shirtless.
Some of her dresses captured a vacation vibe, especially the aqua-colored cocktail dress and the maxi with an exploding tropical-floral print. Her version of a suit was a white denim jacket with matching micro shorts — no office apparel here.