/ Source: TODAY contributor
Since its introduction to the toy world in 1959, the 11.5-inch plastic sensation originally known as Barbie Millicent Roberts has reflected the rise of the modern woman in society. But 50 years later, Mattel faces a challenge to sell the iconic dolls amid worldwide economic woes.
And Barbie faces an even bigger challenge — beating her modern rivals in the marketplace. In a world where "hip" dolls are those with higher hemlines, sexy heels and heavy makeup, can the more traditional Barbie survive another half-century?
Doll vs. doll
According to Mattel, 90 percent of girls between 3-10 own at least one Barbie doll. But like those of many other toys, Barbie sales have lately taken a beating from lackluster holiday shopping, falling 21 percent in the fourth quarter last year when compared to 2007 fourth-quarter earnings.
No doubt the dramatic decrease in sales is due in part to the global economic crisis, but a younger target base for Barbie is also to blame. "For this new generation, Barbie is considered something for the 3- to 6-year-old group," said toy expert and TODAY contributor Stephanie Oppenheim. "Their market share got smaller as a result of this age compression — Bratz captured that older audience with their 'teen' look."
Barbie's main competitor, the doll line known as Bratz, features an edgier, more multicultural look and in-your-face attitude. Bratz dolls came on the scene seven years ago with pouty, painted lips and miniskirts reminiscent of today's pop starlets, and they've grown in popularity among youngsters and tweens. Now a major player in the doll market, Bratz offers a full line of clothing, accessories and more, and was even promoted in a live-action movie in 2007.
Hannah Montana dolls, made by as Jakks Pacific Inc., are another major competitor to Barbie. They are popular thanks to the success of the popular Disney Channel series of the same name starring Miley Cyrus.
It's not that Barbie is less appealing than before, said Oppenheim, but that Barbies now appeal to younger children. But Mattel disagrees with this theory. "There's a way to experience and play with the Barbie brand no matter what your age," said spokesperson Lauren Dougherty.
The nostalgia factor
Luckily for Barbie, history is on her side. One advantage she has over her competition is her 50-year legacy of dolls for nostalgic adults to collect.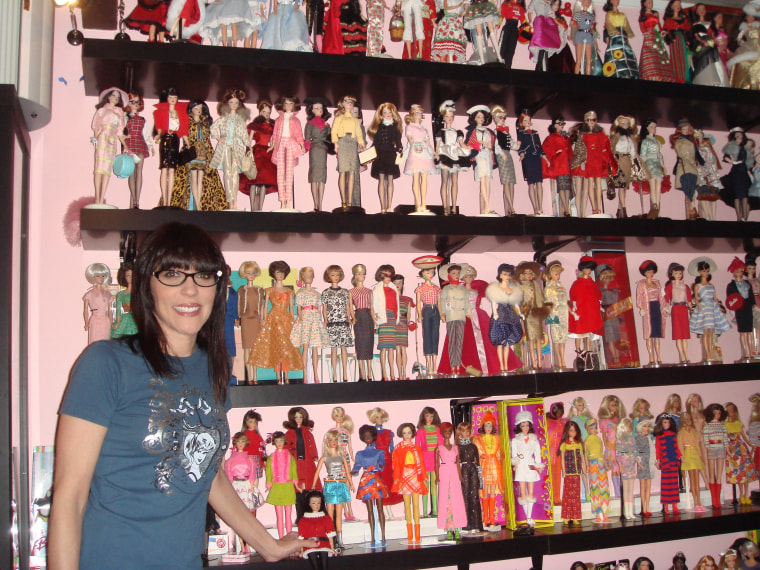 And Barbie collecting has taken up speed since the launch of eBay and the creation of designer Barbies. Some collectors look to buy specific kinds of Barbies that they played with as children. Others look for the dolls that are a tribute to popular culture, like the Scarlett O'Hara doll, or the Sandy doll from the classic movie "Grease."
Prices for the dolls vary, with some prices reaching the thousands for rarer or one-of-a-kind dolls. But for some, the pleasure is not just in the collecting.
"What most collectors love about Barbie now is the friendships that have grown out of collecting," said Lisa Franco, 44, who boasts a 2,100-strong Barbie collection. Franco admits that her nieces and all their friends enjoy playing with Barbies, but was uncertain when asked if she thinks Barbie will continue to sell in the long run. "I can't predict the future, but I would hope so," she said.
International appeal
Another saving grace for Barbie is the international appeal of the iconic dolls.
Take a typical day at the Toy's 'R' Us in New York's Times Square. There, international tourists gather in the Barbie section, taking pictures inside the large pink Barbie house where hundreds of dolls are on display.
"We played with Barbies when we were younger," said one Chinese teenager who was peering curiously at a display of Barbie collectibles. The group said that they all had played with blond-haired, blue-eyed models, citing the "clothes, movies and cartoons" as their favorite aspects of the Barbie brand.
While domestic Barbie sales have been falling,international gross sales of Mattel toys have fared a little better: down 1 percent last year, compared to their 2 percent decrease in domestic gross sales. Mattel is attempting to capitalize on this small success: In January, the company opened its first flagship store in Shanghai. Called the House of Barbie, it is a place where girls can "shop, dine, enjoy a day at the spa, become a fashion designer or runway supermodel," according to a Mattel press release.
A bid to stay relevant
Mattel's strategy to keep Barbie current also includes an all-encompassing approach to the tech-savvy child. "Barbie is in all the places girls are ... from Wii games to virtual worlds to online," said Mattel's Dougherty. For example, Barbiegirls.com is a virtual world where users can play games and chat online with their friends. And Barbie passes the true test of being hip to the game: There are more than 500 Facebook groups created to honor her, as well as about 1,000 YouTube channels.
But it's not surprising that Barbie has joined ranks with the Internet masses: Like Madonna, she's a master of reinvention. From her original blond ponytail and heart-shaped red lips to big hair and neon clothes in the '80s, Barbie has made at least as many changes to her image as any celebrity.
And through her many careers, she has also reflected the changing role of women. Unlike most of her baby-doll predecessors, Barbie has worn many hats: model, Olympic medal winner, even four-time presidential candidate.
To reinvigorate the brand for its 50th anniversary, which includes several events worldwide, Mattel called in 50 fashion designers to create new clothes for Barbie. A Barbie runway show was planned to occur during the 2009 Mercedes-Benz Fashion Week in New York. On Valentine's Day, 50 designers — including Nicole Miller, Diane von Furstenberg, and French shoe designer Christian Louboutin — graced the famous Bryant Park tents with their creations for the doll's latest style makeover.
At 50, Barbie has led a full life — 108 careers, 50 pets and a 43-year relationship with her long-time love Ken (though the pair have reportedly been just friends since 2004). Given all that, she has held up remarkably well. Even so, one big question looms for Mattel executives: Will the doll remain a staple on little girls' wish lists for the next 50 years?
There's no way to know for sure, but one thing is certain: Barbie has left behind an enviable legacy that will allow her to retire with satisfaction — if she ever does.