When former president George W. Bush unveiled his paintings of world leaders during an interview with daughter Jenna Bush Hager on TODAY Friday, it brought back memories of an encounter with Vladimir Putin that revealed a lot about the character of the Russian president.

"As you know, our dear dog Barney, who had a special place in my heart — Putin dissed him and said, 'You call it a dog?''' Bush told Hager.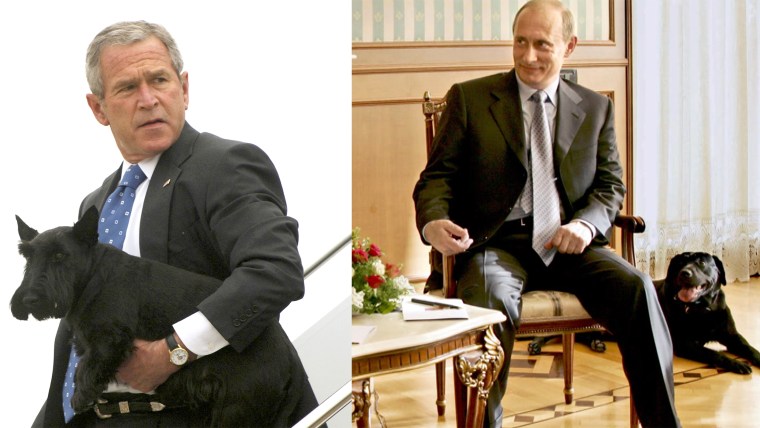 He continued: "A year later, your mom and I go to visit and Vladimir says, 'Would you like to meet my dog?' Out bounds this huge hound, obviously much bigger than a Scottish terrier, and Putin looks at me and says, 'Bigger, stronger and faster than Barney.'
"I just took it in. I didn't react. I just said, 'Wow. Anybody who thinks 'my dog is bigger than your dog' is an interesting character.' And that painting kind of reflects that."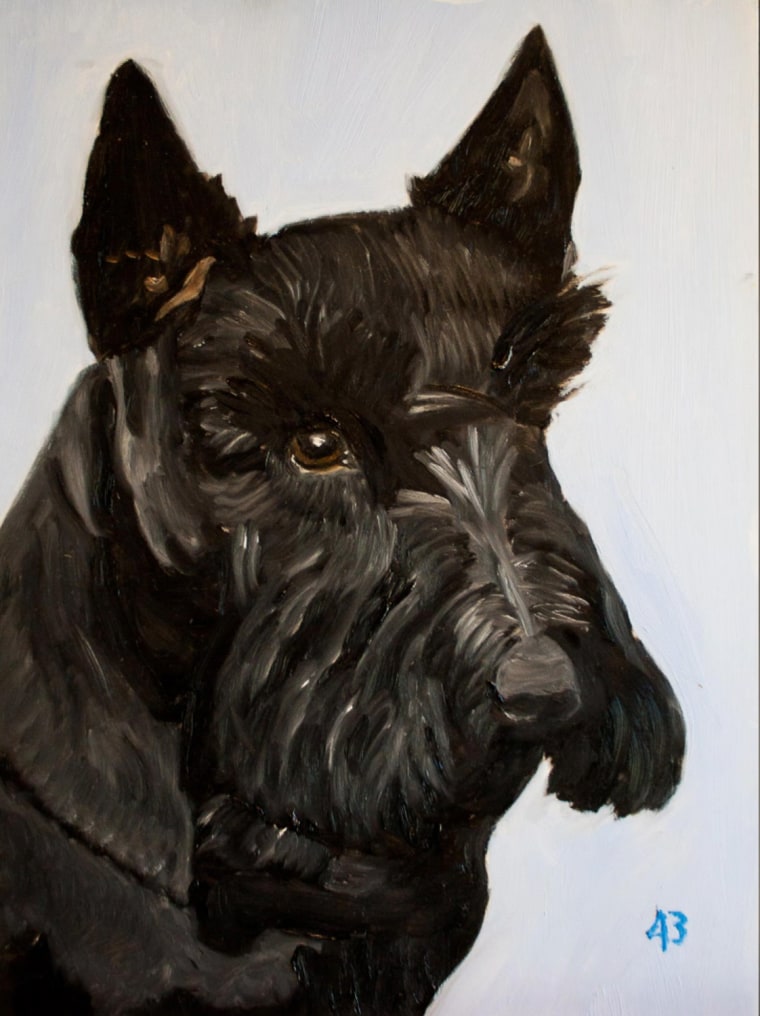 Bush noted that he met with Putin numerous times during his presidency, but their relationship grew strained toward the end.
"I got to know him very well,'' Bush said. "I had a good relationship throughout. It became more tense as time went on. Vladimir is a person who, in many ways, views the U.S. as an enemy. Although he wouldn't say that, I felt he viewed the world as either U.S. benefits and Russia loses, or vice versa. I tried to, of course, dispel him of that notion."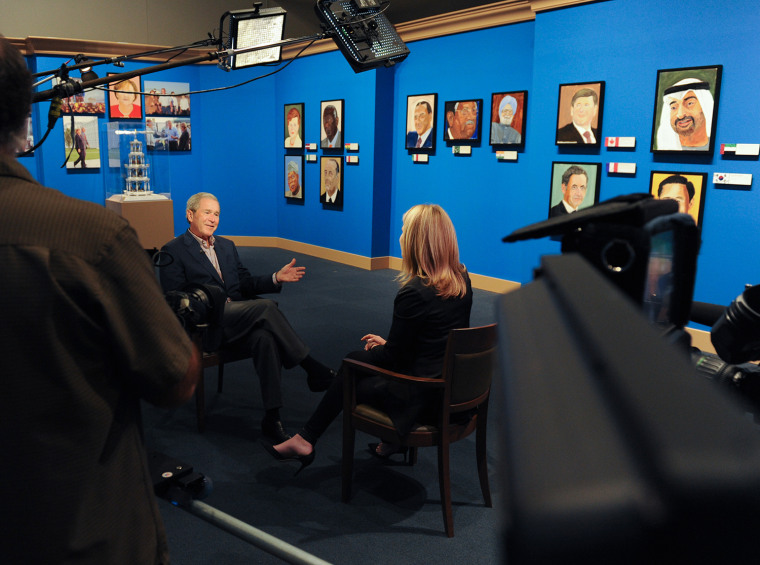 Bush's paintings of leaders like Putin, former British prime minister Tony Blair and the Dalai Lama are on display this month as part of an exhibit called "The Art of Leadership: A President's Personal Diplomacy" at the George W. Bush Presidential Library and Museum on the campus of Southern Methodist University in Dallas. Bush, 67, started painting after leaving the White House in 2009, first piquing his own interest with the iPad app Penultimate and then hiring an instructor to improve his technique. 
"Who woulda thought it?'' he said. "I was little reluctant to put them out [publicly], because I'm not a great artist. I don't want people to think I'm a great artist. On the other hand, I did want to refresh the Bush Center. I want people to come and visit us. We view ourselves as a place where people can learn."  
His favorite portrait is the one he painted of his father, former president George H.W. Bush, which made him emotional. 
"A little bit [of tears], you know,'' Bush said. "Just thinking about him. He's a kind man. He's a great listener as you know. When it came to foreign policy, he was a master at befriending people to find common ground and the way he did so was through personal diplomacy. 
"I watched him very carefully through his presidency. I always admired him as a man. It was a joyful experience to paint him. I painted a gentle soul." 
With the portraits, Bush, who signs his paintings "43'' because he was the 43rd president, hoped to capture the unique personalities of the leaders with whom he interacted. Those figures, like Blair, had not seen any of the paintings until they were revealed on TODAY Friday. 
"I don't think he has [seen it],'' Bush said about Blair. "No telling how these people are going to react when they see their portrait. I think I told Tony I was painting him, but he kind of brushed it off, so to speak.
"He said, 'You painted my portrait?' I hope he likes it. I like it because it conveys a compassionate person and a strong person and a reliable friend." 
The first portrait Bush painted was one of himself. His daughter asked him if he captured his soul in the work. 
"You're going to have to ask other people who know me better, such as yourself,'' Bush joked. "This is an improvement since the first time I did [one] of myself." 

A self-portrait Bush painted in the bathtub while staring into the mirror was leaked last year after a hacker got into private emails from the Bush family. "That one makes me look like Alfred E. Neuman,'' Bush joked, referring to the Mad magazine mascot.
It was one of the world's great leaders from the past who initially helped inspire Bush to try painting. 
Barbara Bush on letting her son paint her: 'Absolutely not!'
"I was inspired partially by Winston Churchill, who wrote a great essay called 'Painting as a Pastime,''' Bush said. "I wanted to make sure the last chapters of my life are full, and painting, it turns out, would help occupy not only space, but kind of open my mind."
He told Hager: "If you would have said to me that one, you would be working for NBC, and two, that I'd be having a gallery full of paintings, I would have said neither is going to happen." 
Bush has converted his "man cave" into an art studio and has worked diligently to improve. 
"I paint a lot, because, as you know, I'm a driven person,'' he said. "I want to get better. A whole new world has opened up."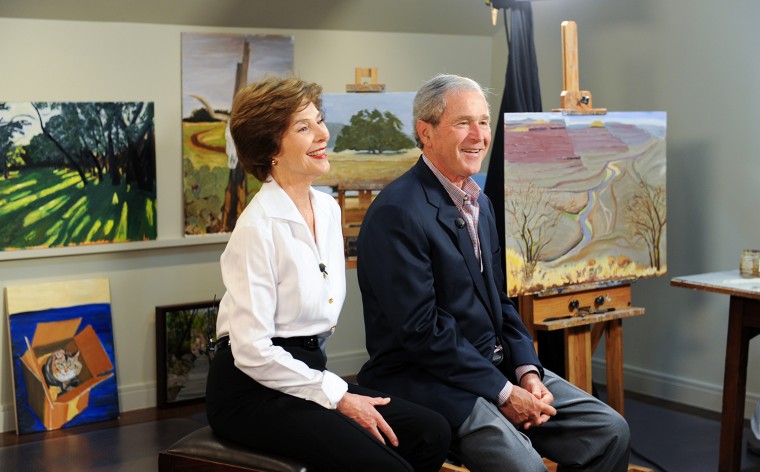 His newfound passion for art has been supported by his wife, former first lady Laura Bush. 
"I did encourage him after he got Penultimate on his iPad and started drawing very interesting stick figure characters to communicate with you and Barbara and with me when I was on the road,'' she told her daughter on TODAY. 
Bush also has worked regularly with an instructor. 
"She said, 'What's your goal?' and I said, 'Well, there's a Rembrandt trapped in this body,''' Bush said. "Your job is to unleash him."