On Sept. 15, 1986, Katheryn Deprill was a baby abandoned in the bathroom of a Burger King in Lehigh Valley, Pennsylvania. Twenty-seven years later, Deprill took her search for her biological mother to Facebook, where it went viral — leading to a remarkable and emotional reunion.
These days, Deprill is enjoying her new relationship with birth mom Cathy Pochek and is never too far from adoptive mom Brenda Hollis, as their houses are both within a 15-minute drive from hers. And this newly reunited family is about to get bigger: Deprill and her husband, Michael, who are parents to sons Mason, 9; Gavin, 4; and Jackson, 16 months, are excited to announce they'll be welcoming a fourth son in the spring! 
We caught up with Deprill and Pochek for TODAY.com's "2014 Voices" series, listening in as they chatted about their joy over Deprill's pregnancy, their common mannerisms and how they've navigated their lives in the months that followed their reunion.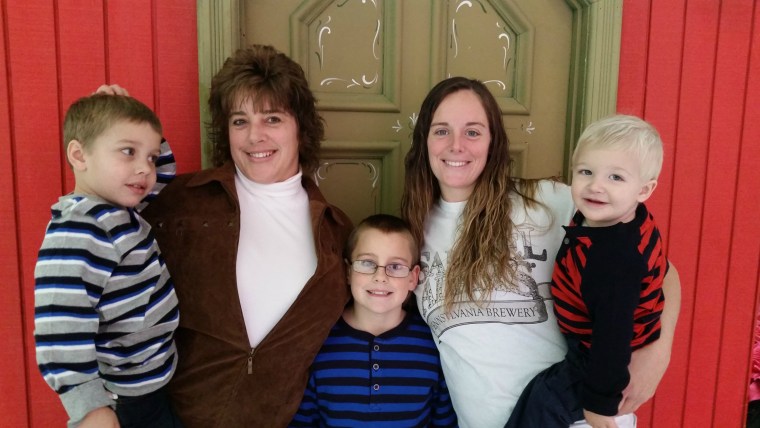 Katheryn Deprill: I just finished my first trimester.
Cathy Pochek: Woo-hoo! Since reuniting with Katheryn, the big news is that my family got bigger. [Laughs] One of the nicest things we've done is, Katheryn brought all of the video tapes of her, when she was growing up, and we'd watch them and see her grow up through the years through dance and Christmases and birthdays. It was really, really nice. It was beautiful to watch.
KD: One thing, majorly, that has changed since our reunion, like she said: There's more family, and more love for my boys. I'm one of those weird moms who obsesses over her children, so, it's just nice to have an extra set of grandparents who are head-over-heels in love, as my kids' other grandparents are, as well. It's nice to have another set who can spoil and love. It's awesome.
Watch: 'Burger King Baby' reunites with birth mom
CP: When Katheryn came back into my life, I was actually expecting the worst reaction from the public. I, in my heart of hearts, felt as though the entire world was going to be against me. The reaction from everybody has been so supportive. I was so overwhelmed that it caught me off guard, so, it was a little bit of a struggle at first, but in a good way.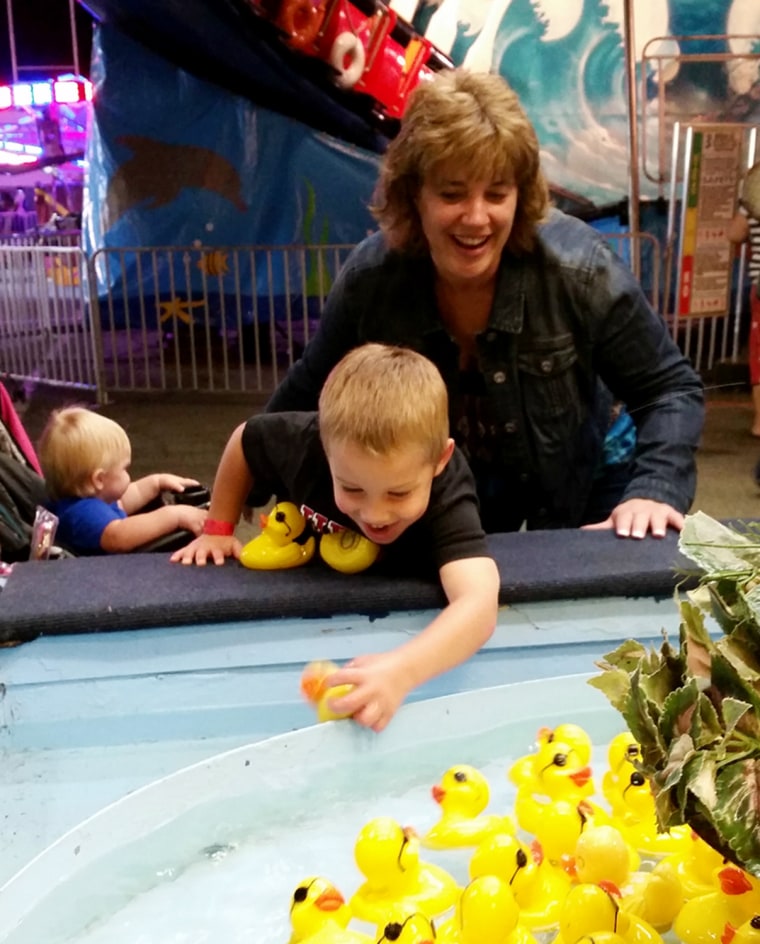 KD: We spend a lot of time together. We kind of refer to it as a honeymoon period. We're still in that honeymoon period. You know, things are still new, and we're finding out our limits. [Laughs]
CP: We're starting to venture into quote-unquote real life. … My favorite thing we've done together is go to the zoo. We went to the Philadelphia Zoo, and we also went to the Lehigh Valley Zoo, and it was just so fun to watch not just the boys, but Katheryn's face.
KD: Aww. [Laughs]
CP: She loves animals as much as I do. I find that there are times when I kind of stand back, and I watch everything going on, because I'm just in awe of all of it. Every day, I wake up feeling so grateful that we're in each other's lives, and having the boys in my life. And her husband is fantastic. I'm just really, really grateful.
KD: From my standpoint, I enjoy taking a step back and watching her face with her grandchildren. That is a neat experience from my point of view.
CP: There are so many similarities, it's insane. From the foods we like to how we talk and what we say.
KD: Our voices sound a lot alike, as well. She'll come into the dance studio, and people will turn around, because they think it's me, and it's not. [Laughs] It's funny. Sometimes [Cathy's husband] Bert's like, "I don't know who's talking!"
[Deprill's adoptive mother] Brenda's doing wonderful. I don't want to say the wrong thing, but it's very uncharted water, and there's a lot of emotions and a lot of feelings that, you really have to be careful, because if you're not — a lot of people have trouble with confrontation, and just saying, "Hey, is that really what you meant?" It's three new relationships here, and it's just mind-blowing, in a good way, but she's doing wonderful, and we've gotten over some humps. I think things are great.
CP: I think, going forward, we're all going to have bumps in the road to get over. I find [Brenda] to be an extremely fascinating woman. She is just so kind. On Halloween, she made me this beautiful candle, and she decorated it, and it was just beautiful, and it was so thoughtful. That's just the type of woman she is. She's fantastic.
KD: I also want to say how well she documented my life. We all have baby books — like, four or five — filled with pictures. We all have video as well. My dad, Carl, he was amazing with that video camera. He had it out for every single event. My whole life has been documented, so, it's awesome for me to be able to sit back now, as a mom, and see what I was doing at that age — what my children are now doing. But Cathy gets to watch everything, like my jumping on a trampoline on some sunny day. Everything was documented.
For the winter holidays, this is going to be a very busy holiday fitting all these loved people in. But we're pretty much planning to spend all morning at Cathy and Bert's for lunch, and then head over to my husband's family's house for dinner. So, it's going to be a long day of eating. [Laughs]
KD: We're really excited for this baby. This is a whole different dynamic, because now Cathy kind of gets to live — I want to watch my wording; I don't want to upset anyone — but she gets to live it through me, because her whole pregnancy was hidden. Pictures weekly, doctor's appointments, ultrasounds, the delivery, and then getting to the newborn baby. … We are excited to get to grow together and experience a pregnancy from the start together.
CP: Oh, absolutely. We are both so excited. When we saw the first ultrasound and the baby's heartbeat, there wasn't a dry eye. Everybody was crying. It was beautiful. I'm very excited for it. I am most excited just to live day by day. Every day is a new day, and there's a new excitement about that day — whether it be Katheryn calls, because she has something exciting to say; or one of the boys wants to call, because they have something exciting to say; or you open the door when I come to visit, and you see these three little boys, and their faces just light up. It's an amazing feeling, and I'm thoroughly enjoying every second of it. So, I think I am really looking forward to living, every day.
KD: This is going a lot better than I would have ever thought. This has been many, many years of playing different scenarios out in my head. I get asked this by random people, everywhere we go; they're like, "Oh, my gosh! You're that Burger King baby!" And everyone wants to know, "How is it going?" And I don't know if they're shocked when I tell them, with a huge smile on my face, how well everything is going. We're all happy, and I guess people were just kind of expecting things not to go so well. I'm not sure. But things are awesome.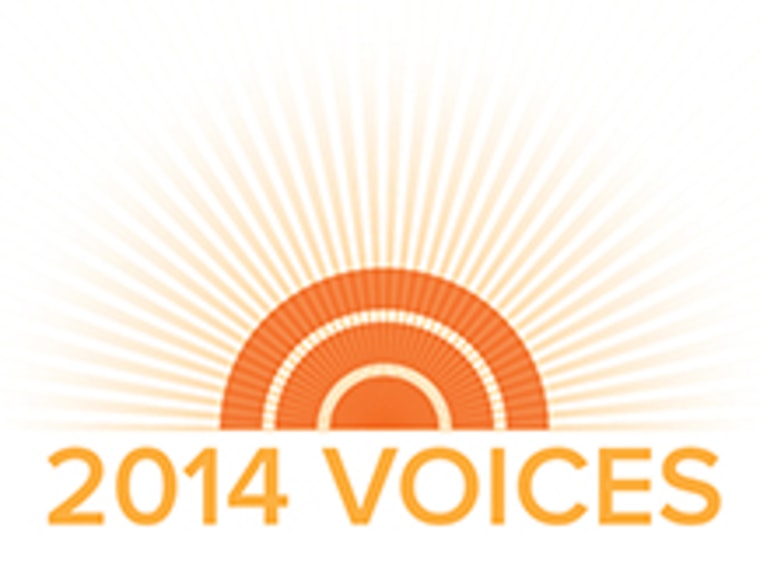 Follow TODAY.com writer Chris Serico on Twitter.
Find more essays and as-told-to pieces from the newsmakers behind some of the year's biggest stories on TODAY.com in our "2014 Voices" series.
* Once obese but starving Texas girl sees a healthy future months after surgery
* Woman whose weight-loss bikini pic went viral: 'I can help others not feel alone'
* Behind the music: 'XMas Jammies' family on their wild year, new holiday video