The U.S. Coast Guard might have thwarted his most recent attempt to run across the Atlantic Ocean in a giant bubble raft, but adventurer Reza Baluchi says he refuses to give up.
In fact, he'll attempt the life-threatening journey again in May, he told TODAY.
"I can do it next month — I need good weather," said Baluchi, 44, who is from originally from Iran but has been living in Pompano Beach, Florida, as he prepared for the expedition.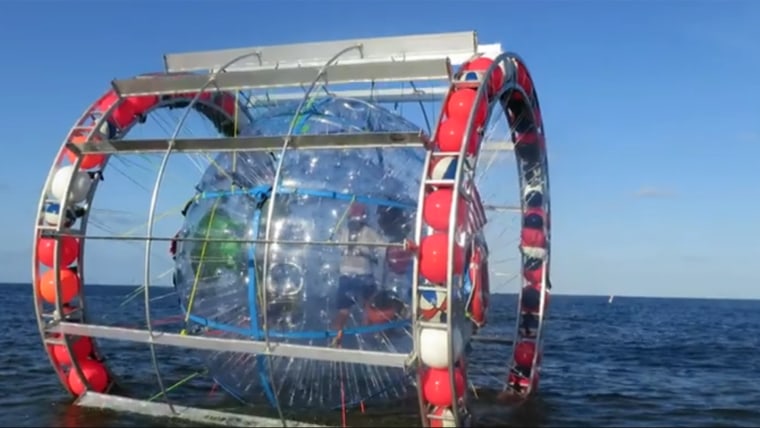 Baluchi's planned five-month charity trip from Florida to the Bermuda Triangle in his self-made "hydro pod" was cut short this past weekend when the Coast Guard found him rolling along about 7 miles off the coast of Jupiter, Florida.
"I'd gone maybe 85 miles," Baluchi said. "And the Coast Guard saw me and they picked me up."
RELATED: This man is going to try to travel across the Atlantic in a bubble
The Coast Guard said Baluchi had violated a previous order not to take the trip, which it dubbed "an inherently unsafe voyage attempt," according to a news release.
Baluchi said he received the letter but considered it a recommendation and not an order, and went on the trip anyway, even taking his publicist by surprise.
"When he called me, he was already gone!" Candace Rojas told TODAY. "I said, 'Reza, that's not the plan!'"
Still, Baluchi agreed to forfeit the trip when he was caught, embarking the Coast Guard cutter Gannet with his hydro pod.
RELATED: Amputee runner plans to make history at Boston Marathon
It's not the first time Baluchi has attempted the journey — the Coast Guard also stopped him in 2014, a rescue it says cost taxpayers $140,000.
"People laugh and say, 'Oh you're crazy,'" Baluchi said. "But it doesn't make me mad. Everything is positive."
The ultramarathoner and peace activist said his goal is to help abused children through fundraising efforts tied to his feats. He collects donations through his charity, Plant Unity.
"In my heart, I want to help people," Baluchi said. "With running, you get more attention. You can help spread the message. You can reach people."
RELATED: Marathon runner blazes a path for his son and others with dwarfism
It helps that Baluchi himself feels like a kid.
"I'm so happy to do this thing," he said. "My age is 44, but my heart I think is 14. I have so much energy. You can imagine... you're in the ocean, in the bubble for months. That's how you survive."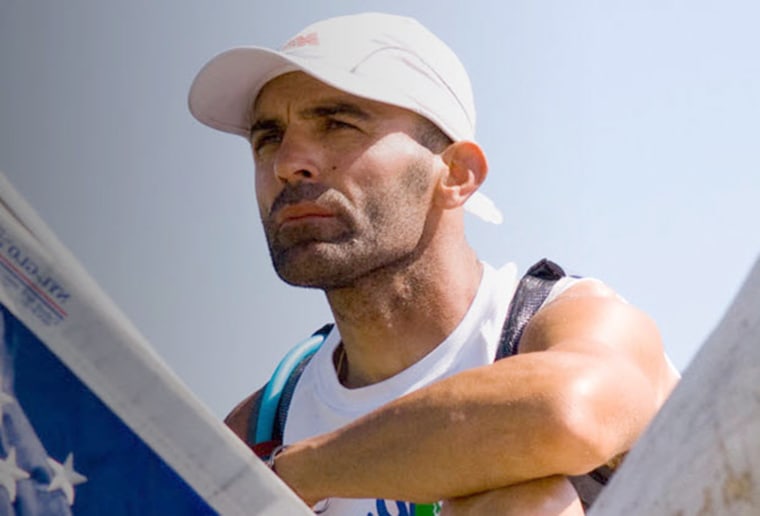 Of course, he also had more substantial survival plans: Baluchi planned to catch fish during his journey, and also had Gatorade and protein bars packed in his pod.
He carried chewing gum for seasickness, and a filter attached to a life jacket purified ocean water for drinking. Baluchi travels with a GPS device, a video camera and a satellite phone.
RELATED: Cats ahoy! Kitten sails around the world having the time of her life
He had planned to stop in Haiti, Bermuda and Puerto Rico, running a circle on land in each country, before returning to Florida, a total journey of about 3,500 miles.
It's all part of a larger mission to run on every country in the world.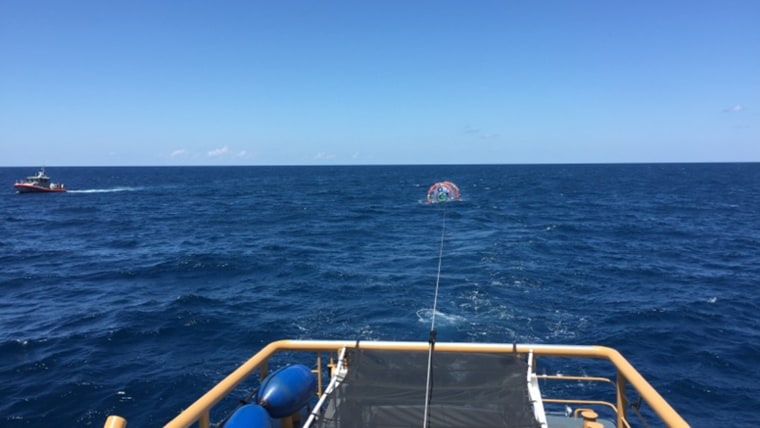 The Coast Guard has said Baluchi could clear the trip if he found a support vessel to travel with.
But the adventurer argues that he doesn't want to put anyone else's life at risk.
He's currently looking into ways to meet the Coast Guard's requirements, including getting help from major sponsors.
Either way, he'll probably be back in the bubble soon.
"I never give up," Baluchi said. "Running is my vision."