When a day of Colorado skiing last week turned perilous due to an avalanche, Edwin LaMair had his younger brother to thank for pulling him out of a potentially life-threatening situation.

Edwin, 22, and Davis LeMair, 19, were skiing with friend Jack Edgar on a backcountry trail in Vail on Dec. 22 when an avalanche engulfed Edwin, burying him up to his head. After a few minutes of reduced visibility following the slide, Davis was able to spot his brother and quickly skied over to help him.
He found Edwin almost completely submerged under the snow and struggling to breathe, which was all captured on a GoPro camera mounted on Davis's helmet.
"I was really worried I was going to be buried completely,'' Edwin said during the taped segment on TODAY Monday. "I'm extremely thankful that everything turned out the way it did and that I didn't sustain any worse injuries or die."
Edwin escaped with only a knee injury, and will have surgery later this week to repair a torn ACL and MCL that will keep him out of action on the slopes until the next ski season. He also was lucky because the avalanche occurred close to 4 p.m., so there was enough daylight left for Davis to be able to spot him.
"We were lucky that they were able to find me and my head was above before it got dark, because if they had to search for me in the dark, it could've been a bad situation,'' Edwin told guest TODAY anchor Bryant Gumbel.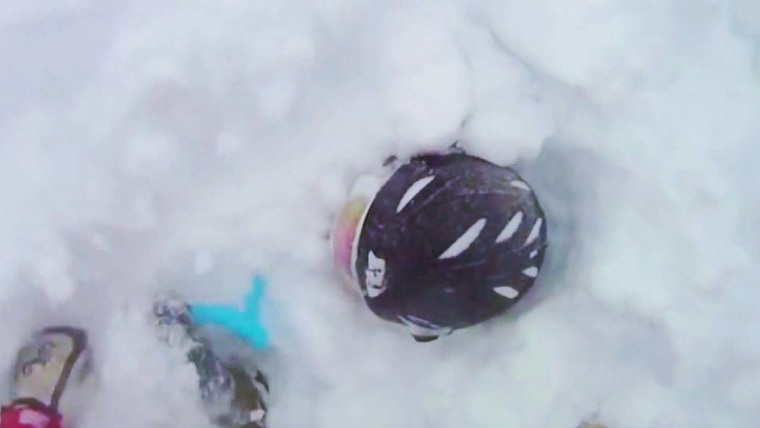 The brothers and friend Jack Edgar are certified in avalanche safety and were carrying avalanche probes, beacons, shovels and other gear. They also had AvaLungs, which allow users to breathe for 30 minutes while trapped under snow, but the force of the avalanche ripped it out of Edwin's mouth before he could apply it.
"I saw the snow cracking up and starting to slide downhill below me as I was making a right turn, and then I kind of fell head first downhill, and that's when I really realized I was in an avalanche,'' Edwin said. "I was worried when I couldn't get the mouthpiece for the breathing device back in my mouth, and I inhaled some snow, so I felt like I was choking or wasn't able to breathe. It kind of shot me to the surface, and I was swimming frantically through the snow."
"I was maybe 100 yards on top of a cliff band, and I could see him sliding down to my right,'' Davis said on TODAY. "At first I just heard like a wind gust, and it put me on alert. Then I looked over and I couldn't see anything because it was just white on white. Then I started to see debris flow down, and then Edwin slid down at the end of the avalanche."
The brothers had checked with the avalanche center before they went up on the mountain and said the forecast for a potential avalanche was a 2 on a scale of 5. They also tested their avalanche beacons before making the run.
"We never really thought that run would slide,'' Davis said. "We had skied it earlier in the day, so I guess it just teaches us that you never know and be a lot more cautious now."
"I'll have his back any time we're doing any backcountry activity or anything in the mountains, and I'll always be looking out for him just like he did for me,'' Edwin said.