/ Source: TODAY contributor
The moving love story of the late Ryan Smith and his wife Bethany has touched people around the world, with 400,000 people reading the original story on TODAY.com and thousands more sharing it online. On Wednesday, Bethany Smith sat down with TODAY's Ann Curry in an intimate interview in which she shared how she has been affected by the many people her story inspired, and to reveal how she's doing just months after her husband died of cancer.
It has been three months since Ryan, 24, lost his short but brutal battle with a rare cancer. His body was already shutting down when the couple, who had been together since college, tied the knot in a hasty but gorgeous wedding.
Six weeks after they were married, Ryan was gone.
Many memories
On Wednesday, Smith, who turned 25 last Wednesday, was still wearing her wedding ring as she told Ann Curry she's been "up and down. It's hard, but I have an amazing support system and a lot of good memories."
Those good memories were well documented by the couple, and their home and wedding videos and photos of their trips together have been shared online. Hundreds of thousands of people have viewed the photos and spoken out in support, sharing words of love and hope.
"It's a bit overwhelming but in a positive way," Smith said of the outpouring of emotion. "It's good to know it brings out the best in people … I hoped it would be a positive influence."
Ryan had proposed to Bethany during a car trip to visit their parents, Smith recounted. It came as a surprise: He was still going through treatment at the time, and Bethany said her focus wasn't on the engagement, but supporting him through his treatment.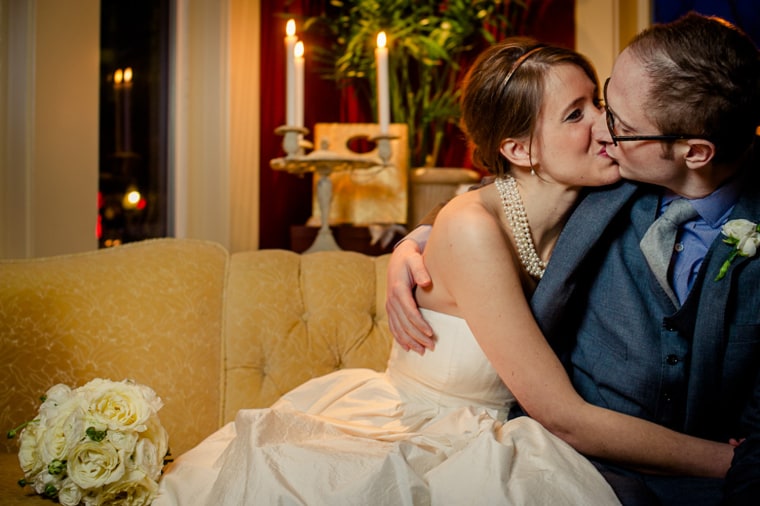 "He decided to propose while he was still in treatment because he knew it was the only way he would surprise me," Smith told Curry.
But due to Ryan's failing health, the wedding date had to keep being pushed back, she explained: "When he proposed, he was still dealing with all the health stuff and we pushed it back, we were thinking 2013, wait until he was healthy, recovered, and we could then start planning from there."
Group effort
Before Ryan's disease affected their lives, Bethany had told him that she wanted to be engaged for two years because she wanted that much time to plan it. In the end, they planned the wedding in just three days.
It was a group effort, Smith told Curry Wednesday: "It came down to us deciding what was important for us for that day and letting go of the things that didn't necessarily have to be there." In attendance were 32 guests, including both Bethany and Ryan's parents, who also joined her in Studio 1A on Wednesday, looking on as she shared her story on the air.
Bethany and Ryan Smith planned their wedding in just three days' time after Ryan's doctors discontinued his cancer treatments. "There was more love in that room than I have ever experienced in my life," Bethany said.
Though Smith has been overwhelmed by the reaction to her story, she says it's inspiring that so many people have been moved.
"Obviously we were dealt a very hard situation," she told Curry. "But seeing other people being inspired by it I guess can make it a little easier in a way."
Their story has touched the hearts of many, including TODAY.com's Facebook community. Some 33,000 people have recommended the story to their friends. Hundreds have left comments praising the couple for their bravery and courage.
To read the original story click here. Join the conversation on Facebook. To see more photos from Bethany and Ryan's wedding, view this , visit , or visit .
To watch a moving video montage of Ryan Smith's life that was shown at his memorial service, .