As a young girl, Shanna Wagnor would stare at her grandmother's wedding photo and fantasize about wearing the same gorgeous gown on her own big day.
When it came time to plan her June wedding to Sean Lewis, she realized she wanted her own dress, but thought about ways to incorporate her grandmother's gown.
"I thought about possibly wearing her dress to my bridal shower, but then decided to take my engagement photos in it instead. That way, I'll be able to have something to cherish forever," Wagnor, 28, told TODAY.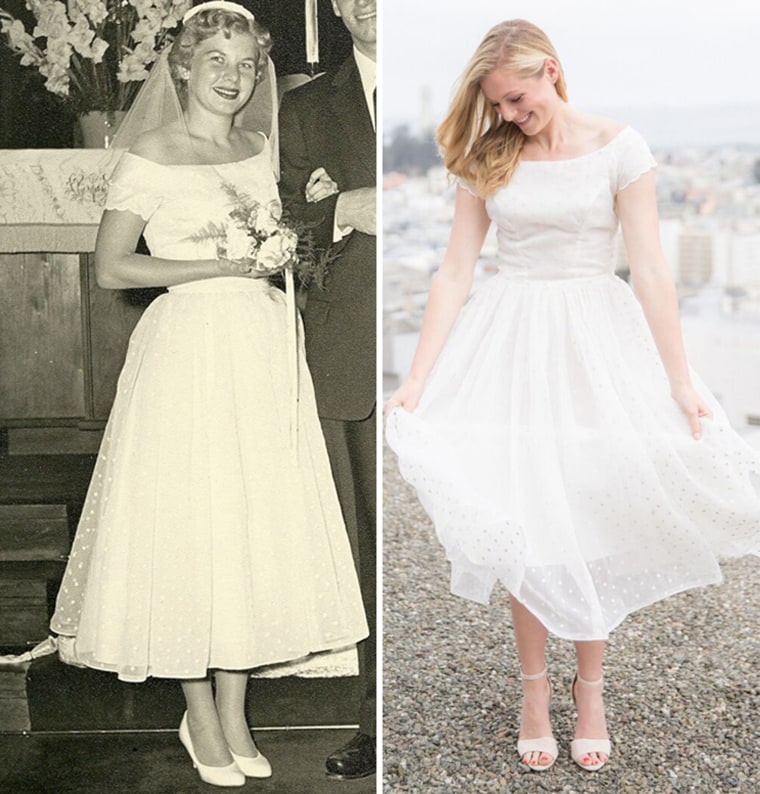 RELATED: Radiant bride will be 11th in her family to wear 120-year-old heirloom wedding dress
Over this past holiday season, Wagnor approached her grandmother and asked if she could dig out the old dress and have it altered.
Since the dress has been hanging in the closet of her grandma's San Francisco home since her 1955 wedding, she was thrilled to hear someone was going to get use out of it. (Though Wagnor kept the photo shoot a surprise.)
On Oct. 15, their wedding photographer, Lori Paladino, accompanied the couple onto the roof of their apartment building, which has breathtaking views of San Francisco.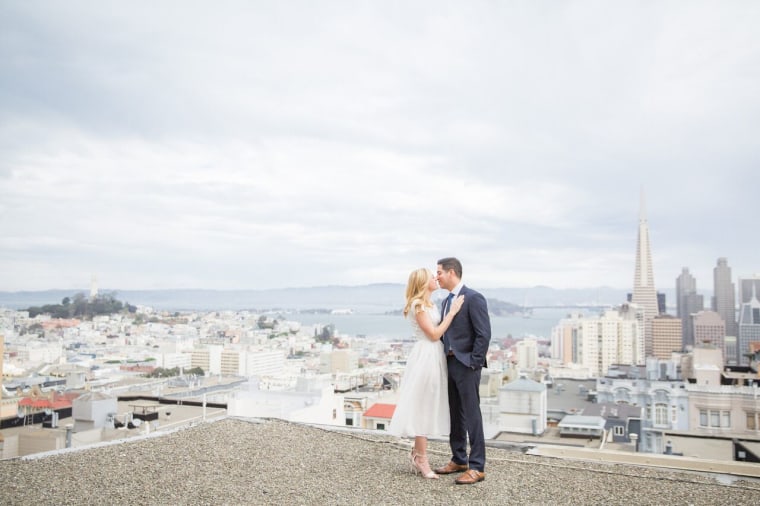 "It was such a fun and special day," Wagnor said. "I felt like I was playing dress up and it was a perfect dress for twirling."
"It looked like one of those dresses little girls picture a princess wearing," Paladino told TODAY.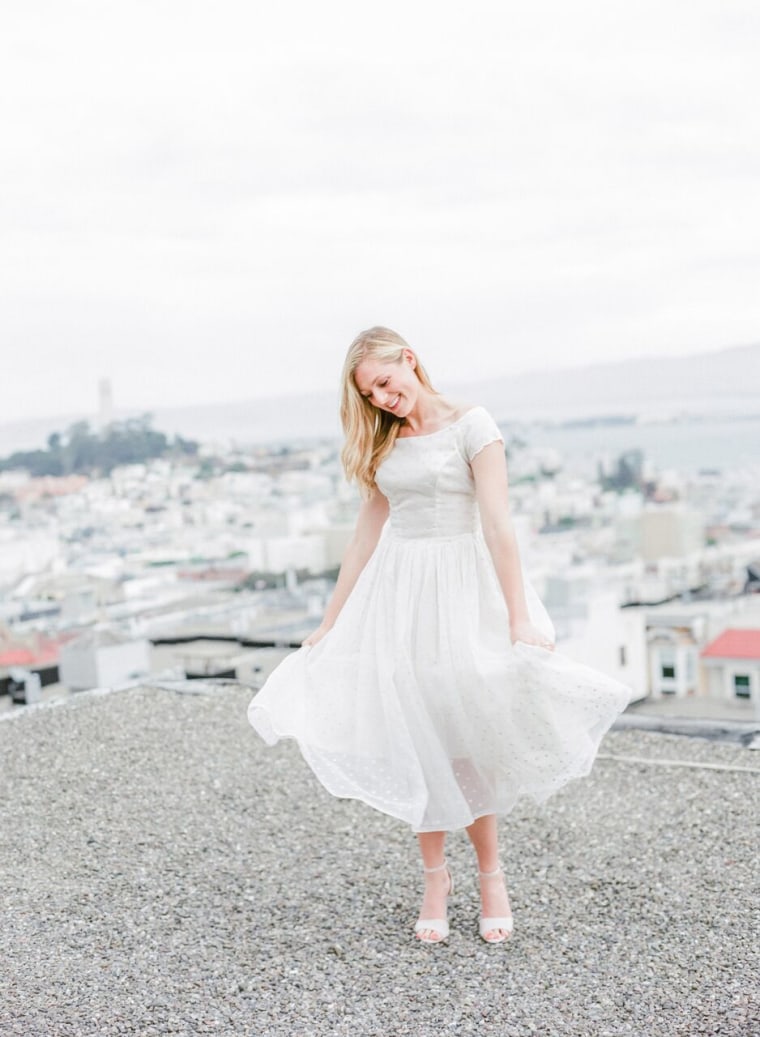 Wagnor had a couple of her favorite photos framed and presented it to her grandparents.
She also plans to use one as the cover of her wedding guest book.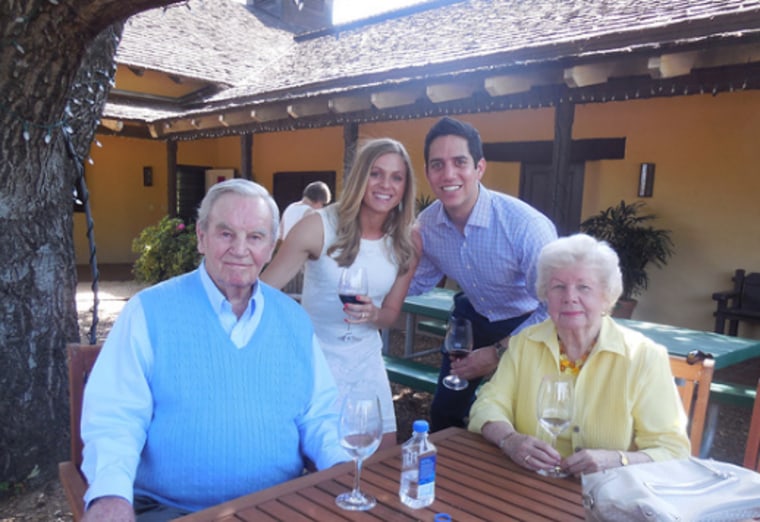 "When I surprised my grandma with the photos, she couldn't believe it was the same dress," Wagnor said. "The polka dots had faded a little bit, but otherwise it's in great condition."
RELATED: Strangers rally to help bride who lost dress in Fort McMurray wildfire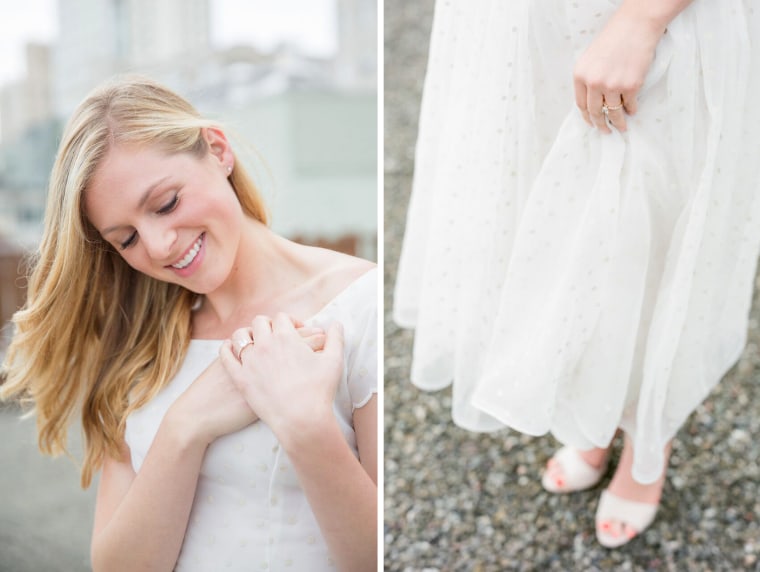 The dress dates back to right after World War II, when Wagnor's grandpa was serving in Germany.
He wrote a letter to her grandma, who was attending University of California, Berkeley at the time, asking to marry her.
It wasn't very long before she was on a plane to Germany to marry the love of her life.
"She needed a dress that she could travel with and had to find one pretty fast," Wagnor said. "Which is why she ended up going with the classic midi-length dress that I feel to lucky to have been able to wear in my engagement photos."