Brian Williams may not be a fan of Twitter, but the NBC Nightly News anchor found his way to Facebook Wednesday night to answer questions from viewers — and from more than one of his co-workers.
Here are a few of the highlights. We left Williams' responses unedited, because really, they can't be improved.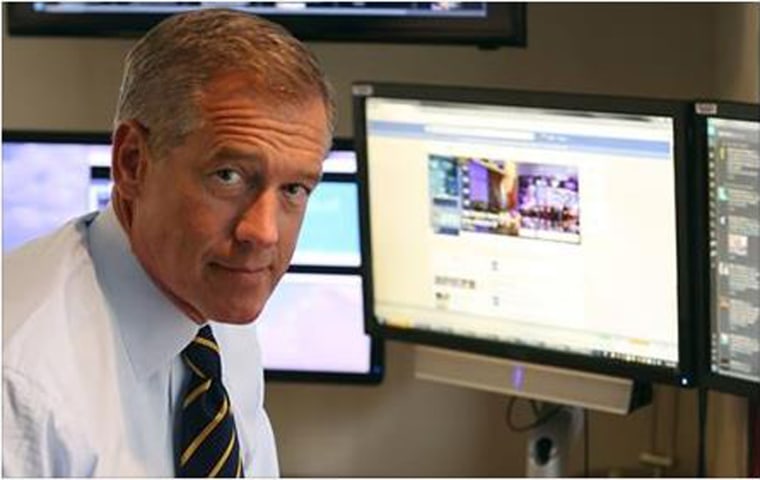 1) Working with Willie
TODAY's Natalie Morales wanted to know: What would Williams be doing if he weren't "Mr. Nightly News"?

WILLIAMS "Any opportunity to work with Willie Geist." (To which Morales replied, "Don't feed Willie's ego please!")
2) Brian Williams as Halloween costume
Viewer Kate Silveira said her three-year-old son wanted to be Williams for Halloween (and was Lester Holt last year). She asked for advice on how to pull it off.

WILLIAMS: "Best advice: have someone break his nose, so it heads off on a weird angle (KIDDING...DO NOT TRY THIS AT HOME. ATTEMPT AT SELF-EFFACING HUMOR DUE TO BROKEN NOSE IN HIGH SCHOOL FOOTBALL) but seriously ... if I'd known I was gonna work in television I wouldn't have settled for having my nose put back into place...after being broken by the bridge of my helmet ... with two popsicle sticks on the sidelines. Other than that: tell him to rock a good tie and walk around saying we'll look for you right back here tomorrow night."
3) Baby, you can drive my car
Ben Smith wanted to know what Williams drives on weekends.
WILLIAMS: "My base car is a Chevy SUV ... I was born into an American-car owning family and I've always been a huge stock car fan and a gearhead ... but I have an '08 Mustang (with some after-market pipes so it sounds real good) with a lot of horses that I enjoy bombing around in on weekends."
4) Fly the friendly skies
TODAY's own Carson Daly poked a little fun, asking Williams, "how much do you drink when you fly?" He then answered his own question with, "A lot, right?"
WILLIAMS: "Carson Daly, ladies and gentlemen! The man, the myth, the LEGEND. I love me some Today Show Carson, but I REALLY love the nighttime show ... ALWAYS intros each segment in a leather jacket, in a bar with mirrors and a vast collection of random light fixtures ... always shot from four camera angles ... "In our spotlight tonight" are among the greatest words in television. I love me some Carson. Anyway: I don't drink! So — when flying, hydrate! But as this week's epic Twitter takedown (by the Modern Family editor -- bravo) taught us ... it's best to limit the alcohol!"
Williams later addressed the reason that he doesn't drink, telling Jack Boler, "Used to/never really loved it/some family members have had a rough time with it ... so I figure since I never know when news is gonna break out ... and I so often need to drive and/or think straight ... it's an easy thing to do without!"
5) Why no tweets?
Ryan Osborn, senior director of digital media for NBC News and the man who set up Williams' unused Twitter account, wanted to know if he'd ever use it. Spoiler: It doesn't look good.
WILLIAMS: "Hey Ryan! Ladies and Gentlemen, this is Ryan Osborn — HE is the guy who activated my Twitter account. It wasn't bothering anyone...and now it's home to 200K+ followers even though I've never said a word on Twitter. I figure: I get 30 mins of airtime every day. People don't need to hear more from me ... and my family has justified concerns about my sense of humor and general mental health ... BUT: I owe a ton to you, Ryan."
6) Williams as rapper
Jon Gutierrez asked if Williams was angry with Jimmy Fallon for repurposing words Williams utters on the news into rap songs. (Listen to "Baby Got Back" and "Gin and Juice.")
WILLIAMS: "Quite the opposite. They've been amazing. Never before have so many words been re-purposed so outside their original meaning. We have interviewed the profoundly talented video editor and will put it on the web before long."
7) Lasting impact
Brittain Jones wanted to know which news story has always stuck with Williams.

WILLIAMS: "I think .. and it's close ... it will always be Katrina ... just because it bonded me with that fantastic place and we saw such profound suffering ... our own people were failed by their own Government in such a profound way. It was hard to watch—- but an honor to tell their stories"
8) Giving some lip
TODAY anchor Savannah Guthrie, now on maternity leave with baby Vale, noted that some lip glosses were missing from her dressing room after Williams borrowed the space. Williams masterfully evaded answering.
WILLIAMS: "Funny. Are all those shoes yours? Have you considered giving to a shoe bank? How's the baby?"
Williams also offered advice to would-be journalists (love it, and work hard), reminisced about his old neighborhood in Elmira, New York, revealed he's considering getting a dog, shunned a career in politics, and even took a whack at one of the most famous interview questions of all time:
9) Underwear? Under where!
Kathy Jones was the viewer who took one for the team, asking the inevitable: "Briefs or boxers?"
WILLIAMS: "I bet a friend of mine some money that I'd get this one in the first 15 minutes. Oh ... look at the time ... gotta run."
Follow Gael Fashingbauer Cooper on Google+.