As Angelina Jolie made the difficult decision to have her ovaries and fallopian tubes removed in March, her mother's own eight-year battle with cancer was never far from her mind.
"We had some of the same nurses, some of the same doctors,'' Jolie told Tom Brokaw in a rare joint interview with husband Brad Pitt on TODAY Monday. "So, the doctor that did my ovary surgery was my mother's doctor. And apparently my mother had said to her, 'Promise me you will take Angie's ovaries out.' So when we kind of got together, we both had a big cry, and she said, 'I promised your mother, and I gotta do this.'''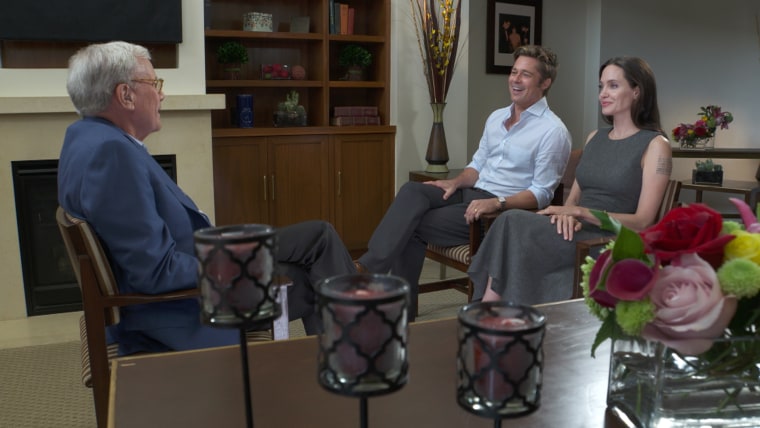 Jolie's mother, actress Marcheline Bertrand, was diagnosed with ovarian cancer in 1999 and died at 56 years old in 2007. Jolie and Pitt's upcoming movie, "By the Sea," was inspired by Jolie's bereavement after her mother's death. Jolie not only acts in the film but also is the writer, director and producer.
"We can't say what the whole film is about, but a lot of the film was when I went to visit my mom in the hospital, when she found out she had cancer the first time, she was gonna have her ovaries removed, (and) she was very upset, feeling like...they're taking out her parts that were female, and there was a woman down the hall who was wailing. I later found out it was a young woman who had not had children yet, and that put everything into perspective."
Eight years after Bertrand's death and months before the death of her aunt from breast cancer, Jolie underwent a double mastectomy in 2013 after testing positive for a gene with an 87 percent risk of her developing breast cancer. In March of this year, a blood test showed she could have signs of early-stage ovarian cancer, leading to her latest procedure.
"I was out in France, and Angie called me and I got straight on a plane to return,'' Pitt said. "Seeing my wife have to be her strongest and knowing that it's the scariest news is terribly moving. And not being there is a horrible feeling."
Jolie's ovarian surgery also brought on the early onset of menopause.
"Every woman is different when they go through menopause, and...I didn't know emotionally how I would feel,'' she said. "I knew the breast would be a bigger surgery and physically changing. The ovaries is more, your hormones changing and your emotions changing, but it's different. You feel different."
Her ordeal only strengthened the bond between the couple, who have been together for 10 years, married for one, and have six children together.
"There was no vanity to my wife's approach,'' Pitt said. "It was mature. 'This is our life and we're gonna make the best of it.' There was a strength in that. It was just another one of those things in life that makes you tighter, and she was doing it for the kids, and she was doing it for her family so we could be together."
"I knew through the surgeries that he was on my side and that this wasn't something where I was gonna feel less of a woman because my husband wasn't gonna let that happen,'' Jolie said. "To face these issues together and speak about them and talk about what it is to be human, I think can be a beautiful thing."
The new film, which is the first time the two are together on screen since "Mr. and Mrs. Smith" in 2005, also depicts Pitt and Jolie in a troubled marriage.
"We were joking at one point,'' Jolie said. "We were saying, like...'See, this is the beginning. And then this is ten years later. This is what 10 years of marriage will do to you.'''
After all their time together, there is still one area where Jolie admittedly needs some work.
"Every three months I'll say, 'Honey, I think I should learn how to cook,''' she said.
"I just humor it,'' Pitt joked. "But really, she has no business in the kitchen."
Follow TODAY.com writer Scott Stump on Twitter.