At first, it was a crafty way for a 10-year-old boy with a rare melanoma to kill time on trips to the Mayo Clinic in Rochester, Minn., about two hours away from his home.
Now, Graham Fowler's hobby of making colorful bracelets has raised more than $8,000 — money he's donating to childhood cancer research "so they find a cure and no one goes through this," he told TODAY.com.
Graham was diagnosed with spitzoid melanoma, a rare skin cancer, in April 2013, after a small, red spot on his arm wouldn't stop bleeding when he picked at it. After numerous tests, doctors discovered it was a rare tumor, and that his cancer was already advanced.
He has since gone through 10 surgeries as he battles the disease. While the scars troubled him at first — one incision reached from his shoulder to his elbow — the hardest part was having to miss out on some of his favorite parts of being a kid, from swimming to lacrosse to playing in the gym, as doctors' orders often limited his movement while he recovered.
The fourth grader, whose favorite subject is science, has also missed about a quarter of the school year so far, including the Valentine's Day party, field trip and class yearbook picture.
"It's hard, it's sad," Graham's mom, Cheryl Trocke-Fowler, told TODAY.com. "The bracelets in downtime are something to look forward to."
Since he couldn't swim or jump on the trampoline, Graham began to spend his time making bracelets, and was able to crank out 15 on his first day.
A Facebook post of his colorful creations received a positive response, and he decided to sell the wristbands at $1 apiece to raise money for cancer research to help find a cure for other kids like himself. He's now raised over $8500, which he is donating to Children's Hospitals and Clinics of Minnesota.
Graham's older sisters — he's one of eight kids — helped him make a Facebook page called Graham's Gift, where he shares updates and exchanges messages with people interested in buying a bracelet and helping the cause.
He can now craft a wristband in just one minute, and each one carries a message. "I put a bead on every bracelet," Graham said. "It's yellow for child cancer research."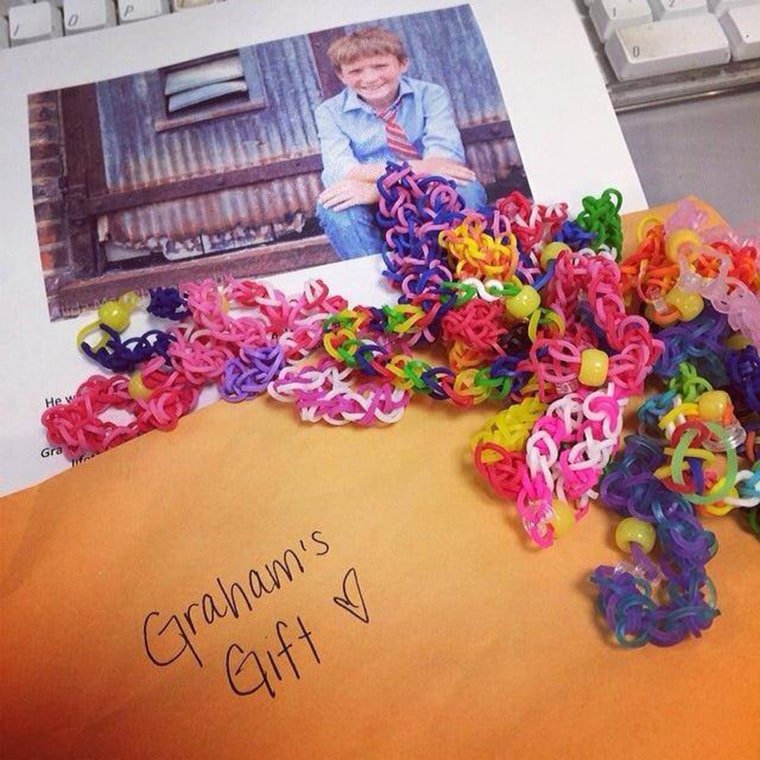 Graham's cancer diagnosis remains a mystery to his parents. "Due to an unlucky straw, he got it," says his mother. She also noted that spitzoid melanoma is too rare in children to determine a prognosis, so they also don't know what to expect as his disease progresses.
Doctors have informed her there is no cure for his cancer, which means Graham will require close monitoring for the rest of his life, must avoid the sun during peak hours, and don sunscreen and protective clothes.
But Graham, who struggled initially after learning his diagnosis, can mostly be found smiling these days.
In fact, he couldn't be happier as he prepares to leave on an upcoming Make-A-Wish trip to Honolulu, Hawaii, where he plans to hike up the Diamond Head volcano, take surf lessons and swim with dolphins. "I'm so excited," he said.
And so is his family. "He's good at the moment so we're just happy," Trocke-Fowler said.