/ Source: TODAY contributor
Some little boys love trucks. Some little boys love trains. Aidan Reed, 5, has always — always — loved monsters.
To Aidan, Wolfman is a scream and vampires are a hoot. He's never seen a single horror movie, but images from such movies — on display at Halloween costume stores and elsewhere — crack him up. His love of monsters is so steadfast that he's been drawing monsters, playing with monster toys and dressing up like monsters for years now.
"I kind of like to draw knights and jesters and scary clowns and aliens," Aidan said. "I like to dress up as nice clowns and scary ones. I can be a wolf or a zombie. ... Oh, and let me tell you something! There's a Sleestak costume that I really want ..."
Since Sept. 13, Aidan has been waging a battle against a monster that is all too real. That's when doctors discovered he has acute lymphoblastic leukemia. He's spent weeks in the hospital and has endured chemotherapy, infections, spinal taps and other painful procedures.
To pass the time, he draws pictures of monsters. Dozens and dozens of them. Aidan's drawings are so adorably scary that his aunt decided to post some of them on the website Etsy, where people buy and sell handmade artwork and other items. She wanted to do something — anything — to help Aidan and his family from a distance, so she figured she'd try to sell 60 prints to help defray their sudden and mounting expenses.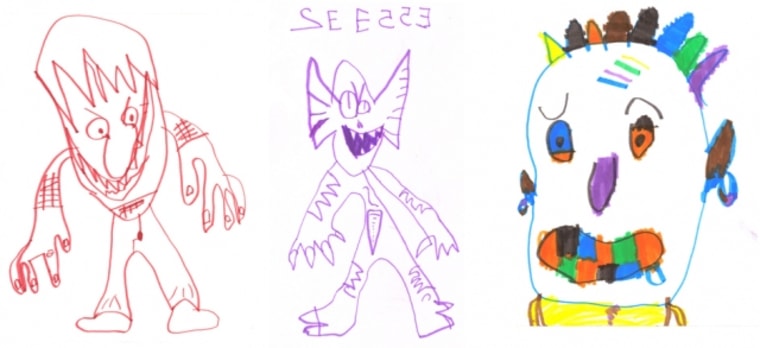 In a few short weeks, she sold almost 2,500 at $12 apiece, bringing in nearly $30,000. Now Aidan's parents are no longer worried about having to sell their house — a looming possibility just last month.
A startling diagnosis
Aidan's mom — Katie Reed, 27, of Clearwater, Kan. — was almost nine months pregnant with her second child when she noticed something wasn't quite right with her goofy, energetic 5-year-old boy.
Aidan had a cough and lingering sickness for well over a week, and antibiotics didn't help him at all. And he had strange bruises that stubbornly refused to heal. She took him back to the doctor so he could be given another once-over.
What followed was a blur. Blood tests. Suspicious white blood cell counts. A bone-marrow test. And then that word: Leukemia.
Her husband, Wylie Reed, 31, left work at once to be with his family. He and his wife were in shock.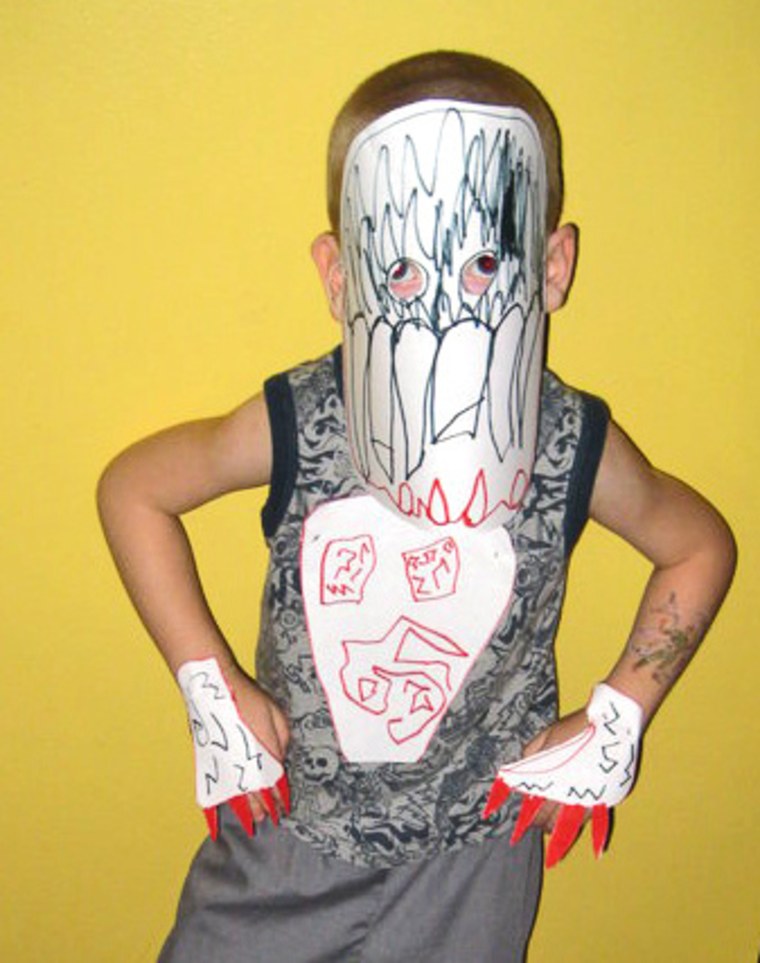 "We knew that leukemia existed, but we didn't know any statistics or true information about it," Wylie Reed recalled. "For about five hours we didn't know whether it was a death sentence. Those five hours — it's hard to even think about it."
The Reeds then met with an oncologist who explained that Aidan's odds of surviving acute lymphoblastic leukemia are higher than 90 percent.
"We learned it was the most common and curable form of leukemia," Wylie Reed said. "That was a watermark for us. I mean, all of this is very unpleasant. The treatments are hard on Aidan; he definitely feels bad. But, you know, we could deal with anything after knowing it was that curable."
On Sept. 26 — less than two weeks after the leukemia diagnosis — Katie gave birth to Aidan's baby brother, Amry. Katie and Wylie found themselves caring for a newborn and a 5-year-old ping-ponging in and out of the hospital.
Weeks passed, and Wylie kept needing to take unpaid time off from work. Under the best of circumstances, Aidan's daily care is highly specialized and time-consuming. And when a staph infection would flare up and Aidan would land in the hospital again, both parents would go on high alert.
Financial pressures increase
The Reeds made a conscious decision to live on one income while their kids were young. Katie has been a stay-at-home mom since Aidan was born; Wylie works full time training technicians who build components for airplanes.
"Before our second baby came, we had already cut everything frivolous out of our budget," Wylie Reed said. "We don't have a cable package. We don't drive new cars. ...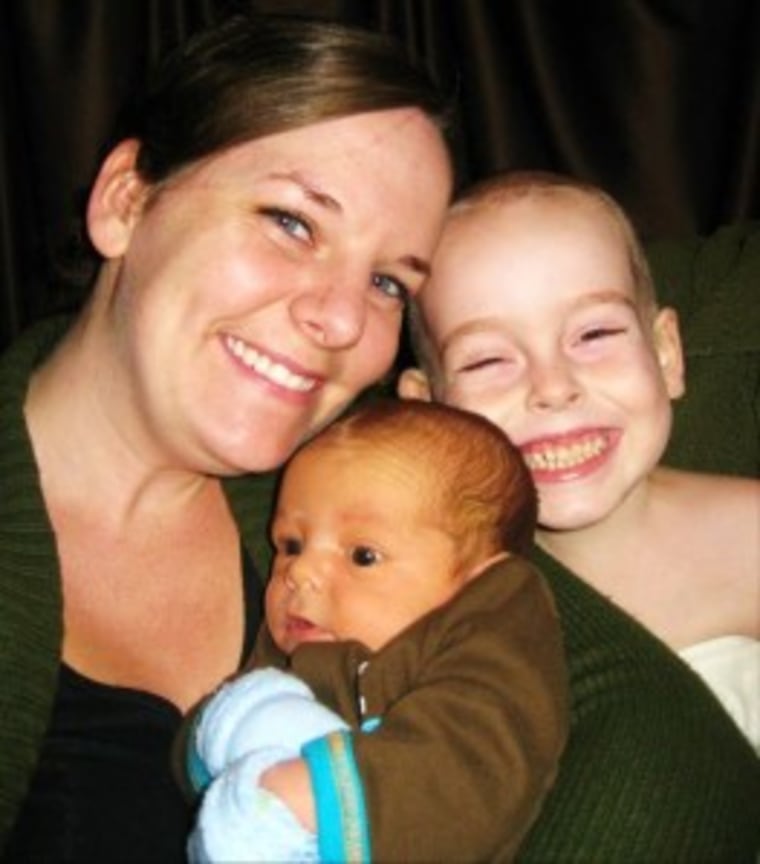 "I talked to my wife and said, 'If I'm going to be missing a week out of every month, this lifestyle isn't sustainable.' The only thing left to cut was our house payment."
The Reeds have medical insurance, but it comes with steep deductibles. Those expenses combined with Wylie's lost wages led the Reeds to have a real-estate expert come out to their house. They received advice about how to paint and stage their home so they could put it up for sale.
That's when Wylie's sister — Mandi Ostein, 26, of Edelstein, Ill. — stepped in. She couldn't travel to help the family in person because she had just given birth to a newborn of her own. But she had this idea: Maybe she could help raise a little bit of money for the family by selling prints of Aidan's fun drawings.
"My lucky number was 60; I just wanted to sell 60 prints," Ostein said. "And now here we are at 2,460. ... I have two printers constantly going in my dining room. In between taking care of my baby, I've been trying to fill orders."
Ostein said she prints out Aidan's drawings of Wolfman, Gill-man, Nosferatu the vampire and other scary monsters on quality photo paper so people aren't "just getting a piece of paper." She's received orders from Japan, Italy, Brazil and other far-flung locations all over the world.
"It's absolutely unbelievable," she said. "We're just small-town people from the Midwest. This doesn't happen to us."
Ostein still remembers the day she received the phone call about Aidan's diagnosis. The sobbing on the other end of the line made her fear complications involving Katie's pregnancy.
"And then I hear Aidan has leukemia — I'm going to cry just saying it," Ostein said. "It was like hitting a brick wall. Aidan has always been this outgoing, silly little kid. Just thinking of him being sick — for someone in your family to be that sick, it's just devastating."
Like Aidan's parents, Ostein felt a surge of relief when she learned about the survival rates for this form of leukemia — and she felt even better when she could give her brother Wylie the good news about monster sales.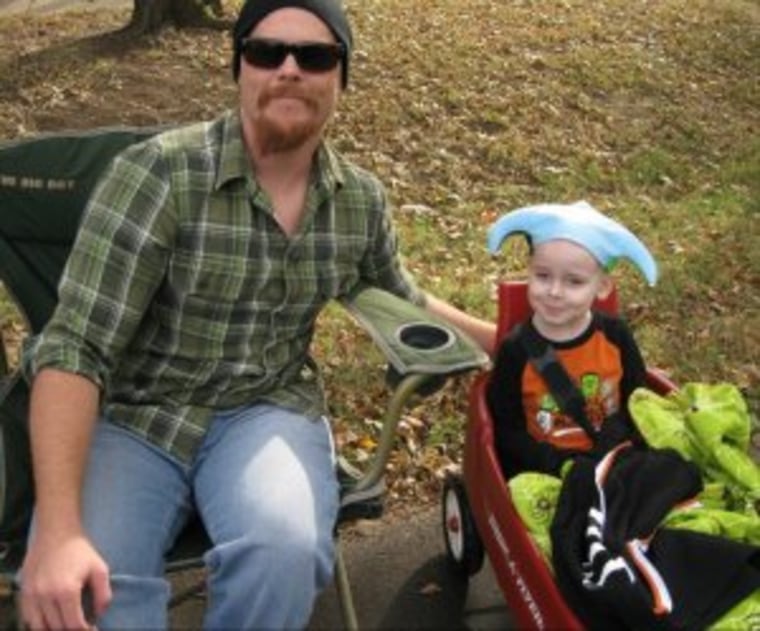 "When I called him to tell him how this thing was taking off, he cried on the phone," Ostein said. "He's not the kind of guy to show emotion. He said, 'You don't understand, Mandi, we were looking to sell the house, I was looking to find a weekend job.' ... They don't live in a nice big, fancy house or anything — just a little house in small-town Kansas."
Moving forward
Aidan is expected to need two years of chemotherapy and other treatments. With their school principal's blessing, Aidan's parents have taken him out of kindergarten this year so he can focus on getting better. The plan is for him to enroll in kindergarten again next school year.
In addition to handling all the Etsy orders, Aidan's Aunt Mandi has been maintaining a blog for the family and providing updates about her nephew's condition and consistently zany antics there. Notes of encouragement have been flooding in from all over the world. One just arrived from Tyler Mane, the actor who plays the very scary Michael Myers in the movies "Halloween" and "Halloween II." Mane read about how much Aidan likes monsters, so he sent him an autographed picture.
The Reeds have been so buoyed by people's generosity and thoughtfulness that they posted a thank-you note on Aidan's blog. It said in part: "Your words and support for Aidan have helped us in ways unimaginable. Aidan has been drawing more than ever, and we do our best to share all of your words with him. Your support has been keeping Aidan's and our family's spirits up."
Mandi Ostein said she's been deeply affected by the outpouring of support from complete strangers.
"It's inspired me," she said. "It changes your outlook on people in general. You get so jaded. You're not expecting this many people to come together. But now you see a person in the store and you think, 'That could be one of the people who's helping Aidan.' "
To learn more about Aidan Reed, check out , read or visit his .
You can friend TODAYshow.com writer Laura T. Coffey on or follow her on .