A Colorado boy will never be able to hear his late father tell him he loves him, but he has unexpectedly received the next best thing — his dad's love in writing.
On March 7, just days before the two-year anniversary of the death of Joseph Torrez from a rare brain disease, his first wife, Julie Van Stone, and son, Rowan Torrez, 10, received a postcard in the mail from Joseph that was postmarked June 10, 2007. He would often send postcards from different states when he was driving home from Boston after working on two master's degrees at Massachusetts Institute of Technology, and one of them just popped in their mailbox nearly eight years after he sent it.
"Hello from Pennsylvania,'' the postcard reads. "I love you and I miss you so much. See you soon. Love, Daddy."
"I feel like that was the final goodbye that he didn't get to say,'' Van Stone told NBC affiliate KUSA.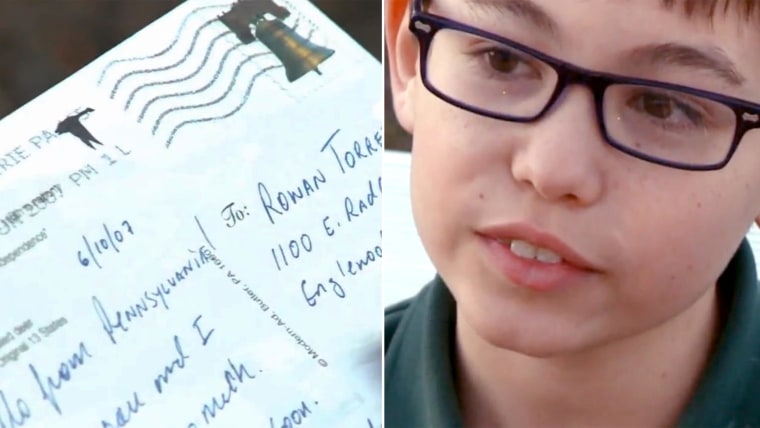 Rowan and his mother have no idea how the postcard just showed up at their home in Littleton, Colorado, but they are thankful for one more precious keepsake from Joseph, who served in the U.S. Navy and was selected to attend MIT. He died in on March 13, 2013, from Creutzfeldt-Jakob Disease, a degenerative brain disorder that affects about one person per million worldwide, according to the National Institute of Neurological Disorders and Stroke. The symptoms usually appear after a person is 60 years old, but Joseph died at 41.
The latest postcard will now be added to scrapbooks of the other ones he sent over the years as well as other mementos. They help Rowan remember his father after losing him at such a young age.
"It's like a keepsake,'' he told KUSA. "I have to say thank you.''
Follow TODAY.com writer Scott Stump on Twitter and Google+.
This story was originally published on March 14 at 10:06 a.m.