/ Source: TODAY contributor
It was no twig the 12-year-old boy held up, but a thick stick, about 9 inches long and as thick as a broom handle. What made it astonishing is that the full length of it had been driven into his neck and down into his chest — through his lung, past vital arteries and his heart.
Yet now Garret Mullikin was sitting with his mother in Houston telling TODAY's David Gregory about the dangers of learning how to ride a dirt bike without adult permission or supervision. He said he was feeling "pretty good — a lot better than I was when I got the stick in my neck."
Tempting offer
It was just over a week ago, on June 9, when Garret and his parents were visiting friends in Conroe, Texas, about 40 miles outside of Houston. They spent the day swimming, then came home to clean up for dinner. Garret and his friend, 10-year-old Seth, got done first. With time to kill, Seth asked Garret if he wanted to learn to ride a dirt bike.
Garret wasn't allowed to ride a bike, but Seth's offer was too tempting to pass up.
"I really wanted to," he told Gregory. "He said he'd teach me how to. I guess I put the throttle on too much or I didn't hold down the brakes, but I kind of shot forward, I bounced off the tree and I had the wreck."
Garret flew off the bike and hit the ground. "There were a bunch of snapping twigs," he said. "I hit the ground and then I looked and there was something sticking in my neck.
"It didn't hurt as much as I thought it would. It's kind of a hard feeling to explain, because I was pretty scared."
Life-saving decisionHis friend Seth helped him stagger back to the house. His mother, Carol Mullikin, went into panic mode on seeing her son with a stick protruding vertically from his neck. His father, a former Eagle Scout, assessed the situation and rejected advice to try to pull the stick out, calling 911 instead.
That action, doctors said, saved Garret's life. If the stick had been extracted, he probably would have bled to death.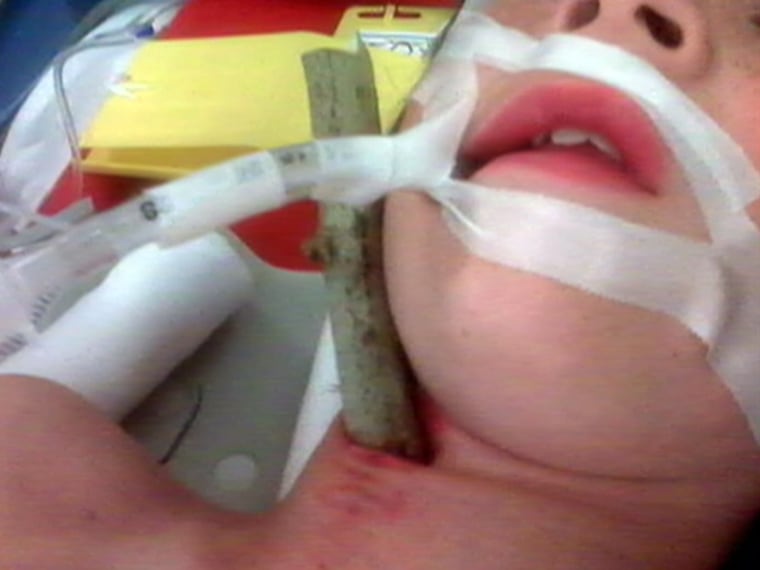 Paramedics arrived, broke off the end of the stick, put Garret in a neck brace, and called for a Life Flight helicopter to transport the boy the 40 miles to Children's Memorial Hermann Hospital in Houston — the only Level I pediatric trauma center in the Gulf Coast.
Carol Mullikin followed in a car driven by a friend. While they were still 20 minutes from the hospital, doctors called to tell her that the stick had missed all vital organs, but that the boy had a collapsed left lung. They wanted permission to crack his chest open to get the stick out.
Surgeons were able to wait until Carol Mullikin got to the hospital. She doesn't remember exactly how long the surgery took, but thinks it was a relatively short 60 to 90 minutes.
When it was done, Garret had bandages all over but was out of danger.
One lucky boyDr. Richard Andrassy, who performed the surgery, told the Mullikins that he had to push the stick out a quarter inch at a time. He talked to NBC News' Janet Shamlian after the surgery and joked, "I'm going to take him to Las Vegas and put some money on him. He was very lucky and very well behaved and a real gentleman through a very stressful situation."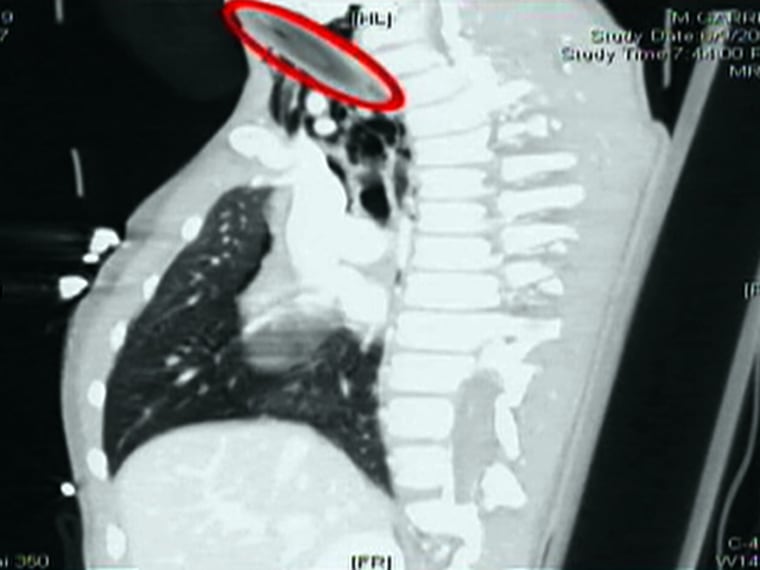 After a week in the hospital, Garret was discharged and was staying with his mother and relatives in the Houston area before going home to complete his recovery in Longview, Texas.
"The doctors told us that he'll fine," Carol Mullikin told Gregory. "He'll probably take the rest of the summer to recover from the surgery, but no lingering effects from the accident at all."
So, Gregory asked Garret, is he a lucky boy?
"Yeah," the boy agreed.
Earlier, when he was in the hospital, Shamlian had asked Garret what lessons he learned from his unauthorized dirt-bike lesson.
"Wear your helmet, ask permission and don't run the wheel of the bike into a tree," he said.